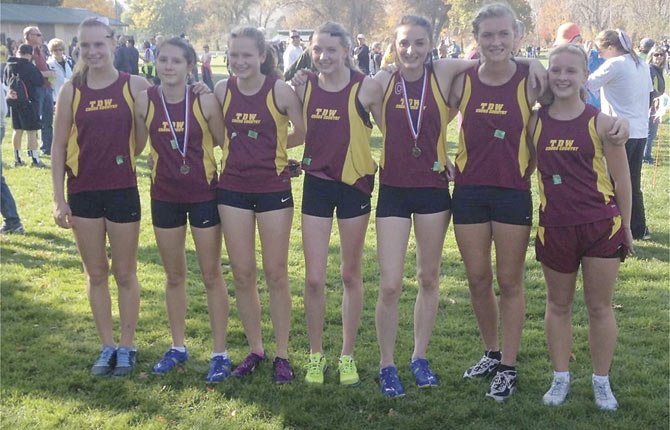 Blessed with depth and talent, there has always been the belief that The Dalles Wahtonka girl's cross country team is a group on the rise.
Saturday, they realized their potential with five harriers ending up in the top-13 for a second-place team finish to chalk up a state berth this past weekend at the Columbia River Conference 5A district meet at McKay Park in Pendleton.
"The season has been really great," said Katie Burns, who finished 13th. "One of the biggest differences is just us doing our best in practices and working together as a team. Everyone pushes each other hard to want to win. I think it makes everyone better."
In the standings, TDW (43) finished five points behind district champion, Hood River (38), who was led by medalist Sascha Bockius' final marker of 18 minutes and 53.51 seconds.
Maddie Wood tallied third place with her time of 20:11.49, and teammate Emily Morin enjoyed a fourth-place outcome at 20:14.74.
Avery Cardosi had a personal-best time for her time on the courses at 21:16.16 for 11th, Caela Dunagan managed a 21:29.96 for 12th and Katie Burns motored home in 21:37.13.
Molly Nelson (23:22.69) and Luisa Meyer (24:49.20) rounded out the varsity marks.
"A job well done by the girls," said TDW head coach Bob Thouvenel.
On the junior varsity side, Tai Rogers (24:11.09) and Kellina Coy (24:14.73) had the best times overall to end up in the top-6.
Hannah Weeks (25:13.04), Rebekah Kohltfarber (27:42.84) and Allie Wood (28:53.62) finished out the rest of the Eagle Indian finishes.
While one end of the spectrum had the Tribe girls punching a state ticket, the boy's team could only muster fourth place with 98 points, as only Elijah Kohltfarber had a final rally that put him in the top-10 after his run of 17:20.67.
Jony Nelson (17:40.16) wound up in 17th place for the next best output, and five other varsity runners ended up in the lower half of the field of 28.
Mark Dunagan (17:59.27), Chase Snodgrass (18:10.18), Luke McLean (18:24.73), Mark Johnson (18:27.54) and Clayton Ringer (18:57.24) capped the order of finish for the Tribe.
"As a team, we ran fairly well but not good enough to finish in the top-2," Thouvenel said of the varsity group. "Our top-5 boys included 3 freshmen runners who had good races today."
Led by Alex Cisneros (16:33.94) and Jose Macias (16:34.24), who finished 1-2, the Hermiston Bulldogs hoisted a first-place trophy with 31 points, finishing a wide margin ahead of Pendleton (42), which also qualified for state competition.
Pendleton's Nolan Bylenga (16:41.45) was third, and Hood River's Ricky Castillo churned out a 16:54.08 for fourth place.
Andy Felderman had the best time of the field of 59 junior varsity participants with his time reading out at 18:05.63.
John Miller had an 18:42.76, Jake Albrecht picked up an 18:54.51, Ethan Shubert was good for 19:22.66, Mitchell Waters slugged out 14th in 19:28.19, and Ming Ou crossed the tape in 19:51.79 for 16th in the standings.
"Andy ran a great race, leading from start to finish," Thouvenel said. "As a team, they (the JV squad) finished in second place, one point behind HRV."
A promising season just took a step for the better and Thouvenel looks forward to seeing how his girls will do against some top runners across the state.
Action starts at 1 p.m. Saturday at Lane Community College in Eugene.
"Overall, a great day for TDW Girls and Boys Cross Country teams and a great season, which produced a lot of personal bests during the season," Thouvenel said.