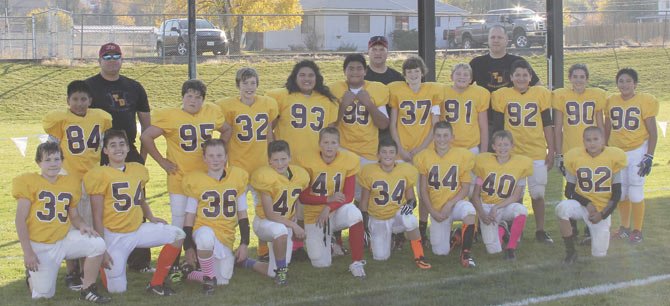 For the first time as youth gridiron athletes, 19 sixth graders representing The Dalles Youth Football League participated in a pair of exhibition games this past weekend versus teams from La Grande and Hermiston, and put forth a promising performance for what could be a bright future in middle school and beyond.
Just some of the names to sign up for an extended season were Josue Quintin, Trenton Schacher, Mac Abbas, Mercy Iaulualo, Dalles Seufalemua, Sam Thalhofer, Hayden Pashek, Miguel Torres, Zac Bullock, and Xavier Orion-Olaez.

Up until Saturday and Sunday, most of these players had previously been dispersed between three fifth and sixth grade squads all season and have never been given an opportunity to play as a complete unit of combined stars.
Blane Turner-Denley, Ophath Silaphath, Mac Cope, Jacob Buell, Caden Mathisen, Gio Avila, Michael Armstrong, Ben Nelson and Asa Farrell put their skills on display on the gridiron as well.
Youth coaches John Schacher, Joe Abbas and Dan Nelson walked away amazed with the level of talent The Dalles has to offer.
"Each of our players improved in the mental aspects of the game," Abbas said. "This gives a glimpse of future football for them. From my seat, it was a complete success. We exposed kids to the freedom of real defense, a higher caliber of opponent, the challenge of travel and spending time together as a unit."
In the past year, The Dalles Youth Football has been contacted by several youth organizations in the Eastern and Central Oregon to participate in some football.
Through the ironing out of logistics and coming together on the rules for nearly six weeks, TDYF asked interested sixth graders to respond if they were willing to extend their season by a week and travel to play.
They were able to make that happen this season.

The youth season ended Saturday, Oct 19, and the next day Abbas said that this group came out with a great deal of enthusiasm to mesh as a team.

In all, they squeezed in just four practices before hitting the road to compete at Eastern Oregon University Saturday against La Grande and Sunday, opposite Hermiston's Travel Squad.
Typically, the youth football organization requires teams to play in only a 5-3 defensive set with no blitzing, so the changes faced against the opponent, Abbas said, were quite the experience.

The two exhibition contests also allowed the team to throw the football more than they ever have, and on one occasion Saturday, they completed passes to six receivers using three different quarterbacks.
"Our goal was to compete as a sixth grade team this weekend," Abbas said. "We did that. Although we dropped both games, we competed well. This is the first time our players have faced unrestricted defenses, blitzing and even fronts."

More than the learning experience for the athletes involved, Abbas said that the coaching staff gained further knowledge on areas they need to improve upon and areas where they are most proficient.

"We can take this back to TDYF and our local league to improve development of our youth for middle school and high school football," Abbas said.
The list of compliments from Abbas spanned from the parents, the opponents and the officials who participated with an emphasis on the tutorial process.
"I would like to thank the Mid-Columbia Football Officials Association for taking the time to help our players learn to play the game correctly," Abbas said. "MCFOA remains committed to safety and helping kids understand football."

When thinking of the experience as a whole, Abbas expressed respect and appreciation to all the players, coaches, families and TDYF sponsors for supporting the program for many years.

With that notion under their belts, the players put their best foot forward playing and competing with the utmost class and dignity.
"These players not only played with great sportsmanship on the field, but represented themselves and The Dalles well as we traveled to and from. Our community should be proud," Abbas said. "This opportunity can do nothing but help develop the future generations of TDW football for Coach (Steve) Sugg and the staff."
For more information on the league, go to www.tdyouthfootball.com.