I will honor Christmas in my heart, and try to keep it all the year.
— Charles Dickens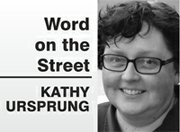 Of holidays to come: I gasped when I heard the dreaded words above echo through the office the other day. "I'M NOT READY!" I yelled inside my head. Halloween isn't even until tomorrow. But leaves have turned, notices of holiday bazaars and concerts are rolling in and, whether we like it or not, Christmas is on it's way.
So is The Dalles' official launch of the Christmas season, the 24th annual Starlight Parade. Entry registrations are due Nov. 15 at The Dalles Area Chamber of Commerce, so pick up an entry form soon, so you can cross this one Christmas task off your list.
This year's theme is a fun one: "Parade of Trees."
Find out more about the parade from Dustin Donnor, the chamber's new membership and events coordinator at membership@thedalles
chamber.com.
And speaking of holidays: Organizers working to develop the Fort Dalles Fourth (of July) celebration are working to raise $15,000 in donations from individuals and nonprofit donors.
They are also looking for major business sponsors to finance and lend their names to five events: $8,000 firework sponsor; $3,500 family festival sponsor; $3,000 evening music sponsor; $2,000 parade sponsor; and $1,500 fun run sponsor.
For details, check out the "Fort Dalles Fourth" page on Facebook.
So close, and yet... Thanks to the online votes of local residents in its bid to win a small business Super Bowl ad, Copa di Vino was one of the top vote-getters in the contest, but that just wasn't quite enough for contest organizers.
"Unfortunately, the judges felt we were not the best common representative of a small business," the Martin family wrote in an announcement this week.
The Martin family and their employees deserve kudos for their creative and energetic efforts to seize every opportunity to grow their business. Just a couple of years ago they were struggling to find capital to expand. Appearances in ABC's "Shark Tank" and USA Today's entrepreneur feature helped the home-grown business gain notoriety — and the capital — to put their product in 44 states and employ more than 100 people.
Their Super Bowl ad bid included a series of entertaining videos featuring the vineyard dog, Mumford, an enthusiastic and "most interesting" basset hound with a flare for the dramatic. Check out the latest Mumford video clip online at http://bit.ly/1adBZa9.
And speaking of home-grown: Those who want to check out the yarn that is bound for the Olympics (see story at right), you can find it locally downtown at The Whole Ball of Yarn. Owner Paulette Brook is having a trunk show of Imperial Yarn.
A tip of the hat to:
• Weinstein PR, celebrating six years based in The Dalles;
• Curves owners Trampus Bringman Sr. and Nikki Lucas, who celebrate one year of business ownership;
• Becky Schertenleib, who was recently elected to the Mid-Columbia Association of Realtors board of directors.
Coat drive: First Community Credit Union is wraping up a drive to collect new and gently used coats for the children of Chenowith Elementary School. Drop off coats until Oct. 31 at the branch, 701 Hostentler Way during regular business hours.