Marilyn Urness will share her latest research on the "Laundry Wars" at the turn of the last century during the annual meeting of the Wasco County Historical Society Saturday, Nov. 2, at the Mid-Columbia Senior Center. Registration is at 11:30 a.m. and luncheon at noon, followed by the program at 1:30 p.m.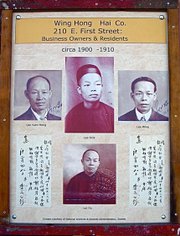 Urness has been researching history of the Chinese community in The Dalles for years.

There was much
agitation in the 1890s
and early 20th century against the Chinese. Many groups were trying to force out Chinese laborers as part of a "Clean Up America Campaign." Unfair lawsuits were brought against the laundries. There were riots in parts of the country. In The Dalles laws were passed and lurid accounts run in newspapers urging patrons not to go to Chinese-run laundries.
Cost of the meal is $15. Call 541-296-5785 to RSVP.