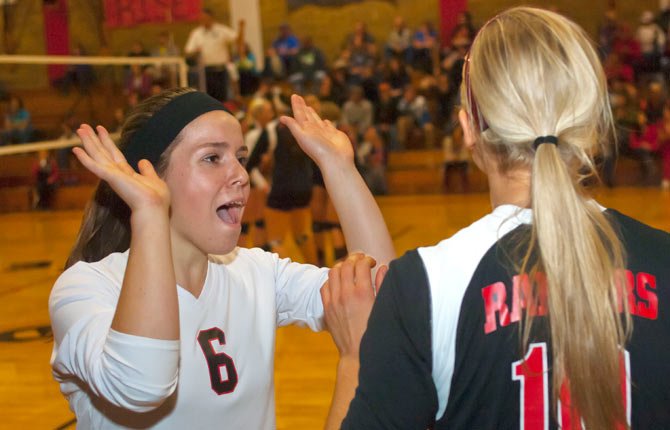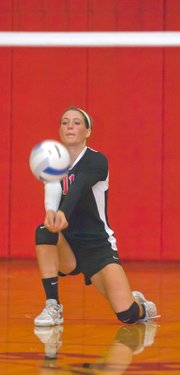 At the start of the week, Dufur volleyball coach Kelly Darden challenged her team to play a much-improved match from their output last Saturday in a district championship loss to Condon-Wheeler.
From the opening serve, the Dufur Rangers had a look of extreme focus in their eyes.
The Rangers went 63 of 71 on kill attempts for 34 kills to post three lopsided wins in a sweep of Cove in Wednesday's state volleyball sub-round match at Dufur High School.
"We have to stay with that sense of urgency," coach Darden said. "I don't care who we play or what court we play on, we still have to play aggressively. We have to play with passion and that sense of urgency we showed tonight. We have a long season left, so we got to keep working hard, keep improving and keep attacking the ball."
Dufur had the early edge in the opening set, by busting open a 7-5 lead with a 10-6 spurt to move ahead 17-11.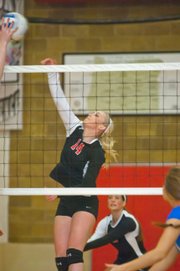 Cove crept closer to within a 19-14 deficit, but the Rangers stopped any thoughts of a comeback with a 6-2 run with kills by Alexa Macias and Taylor Darden, before an ace by Kyla Johnson and a hitting error gave Dufur a 25-16 winner.
Using the momentum from that first game, Taylor Darden went to the service stripe to start Game 2 and rattled home 12 consecutive service points on three aces and three kills from Teneille McDonald to run the count out to 12-0.
Cove got to within 20-8 and used back-to-back kills and a stuffed block by Hailey Hulse to make the score 20-11.
However, with the score 22-13 Dufur in front, McDonald had two kills sandwiched between a kill shot by Taylor Darden to give the team a 2-0 edge after a 25-13 decision.
Needing one more win to move on to the next round, the Rangers fell behind early, but poured it on from the service line again to break open a 10-7 lead.
Taylor Darden contributed nine straight service points from that stage, and capped the rally with three straight aces to pad the Ranger lead up to 19-7.
With the score 19-11 after a Hulse kill, McDonald and Montana Ferres dropped kill shots, and then Macias laced home an ace serve to make the score, 22-11.
Cove battled back from a 23-11 deficit with four straight points, capping the spurt on a kill by Mikayla Murchison and another by Hulse to draw their squad to a 24-15 score.
On the ensuing serve, Taylor Darden received a pass from Macias and fired home the game-clinching kill to end the match at 25-15 for the sweep.
"I saw us all playing together and not separating to all five corners of the court," said Ranger senior Kathryn Johnson. "We all pulled together. Even when they got some good serves on us, we stayed together."
Darden had 17 kills, 10 digs and eight service aces to pace the Rangers. McDonald added 13 kills and six digs, and Johnson had 11 digs.
"We came out fearless," Taylor Darden said. "In the Condon match, we came out edgy playing not to lose. We played to win tonight, so that was the biggest thing."
For the visiting Leopards, Hailey Hulse had seven kills, two digs and a block, and Hannah Hulse added four kills, two digs, three aces and a block.
Murchison was good for five kills, Alissa Hansen notched two blocks and Hannah Duby checked in with two digs.
"Dufur hit more in the front of the court instead of the back and that caught us off guard," said Hailey Hulse, a junior middle blocker. "For some reason, we could not adjust. I don't know. We just did not have our game tonight. They wanted it a little bit more tonight I guess. That happens."
Dufur next hosts Prairie City at 2 p.m. Saturday for the chance to earn a spot in the Elite 8 and a trip to Redmond.
With four seniors on the roster, Taylor Darden, a junior, said the goal is for one final journey to capture a state championship.
"I love those girls. They set a great example for us," Taylor said. "We realized at the start of the playoffs that we are going to be losing four girls that we absolutely love to play with, so we came together and said we were going to go all out for the rest of the year."