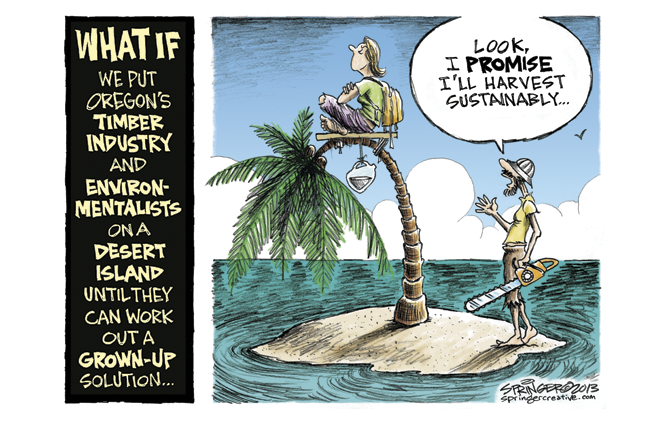 The Albany-Democrat Herald, Aug. 23, on wildfires and forest management:
Running out of money to fight this year's wildfires, the U.S. Forest Service is diverting $600 million from timber, recreation and other areas to fill the gap.
That means, of course, that you can predict the headline next year at about this time: Running out of money to fight next year's wildfires, the Forest Service will be diverting millions of dollars from timber and recreation and other areas.
You'll see the same story — at about the same time — for years to come, unless we start making some smarter choices about how we manage our federal forestlands.
The Forest Service said it has $50 million left in the bank for fighting fires this season. That amount won't even stretch to the end of this month. The agency has spent $967 million on fires so far this year.
It's the sixth time since 2002 that the Forest Service has had to dip into other funds to help pay for firefighting efforts.
At the same time, the AP's Jeff Barnard reported, the Obama administration has been steadily cutting spending on thinning federal forests to reduce fire danger — and has proposed to cut it even more. The acreage treated would drop by nearly two-thirds, from 1.8 million acres trimmed in 2012 to 685,000 acres next year.
The budget for that work was $500 million last year, got trimmed to $419 million this year under the automatic budget cuts known as sequestration, and is proposed to dip even further, to $292 million, next year.
The connection between the two — you cut money to thin federal forests and then spend more to fight fires in forests choked with undergrowth — seems lost on the Forest Service.
But U.S. Sen. Ron Wyden of Oregon understands the cycle at work here: "There are years of neglect," he told the AP. "The fuel load builds up and it gets hotter and hotter on the forest floor. Then you get something like a lightning strike and a big inferno. Then the bureaucracy takes money from the prevention fund to put the fires out and the problem gets worse. The cycle just repeats itself again and again."
And it will keep repeating itself until we finally get smarter about this and understand that a dollar spent improving the health of our forests — and potentially getting people back to work in the woods — is a dollar we save many times over just a few years down the road.