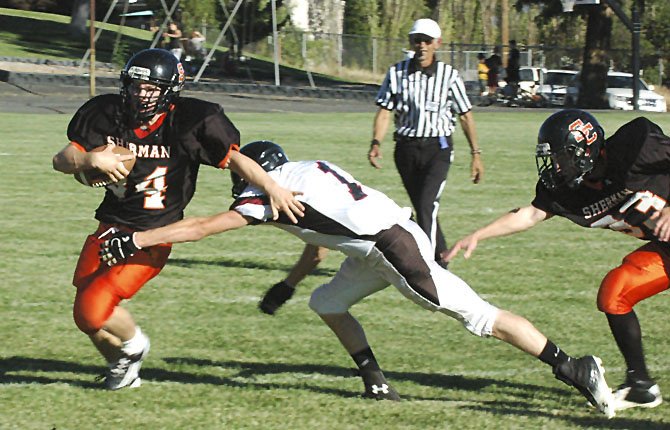 Although down 16-0 through one half of play, the Sherman Huskies never felt they were out of contention.
After a locker room moment to restore order, Brett Evans and company got the jolt necessary to pull off 28 unanswered points for a 28-16 triumph over Perrydale Friday in 1A football action at the 11th annual eight-man classic in Dufur.
"I have never been one to lie down after getting down a little bit in the first half and I don't think Sherman County football has that mentality," Evans said. "After we got a couple of plays broken open, thanks to the linemen, we had the momentum and everyone got excited, so it just went from there."
Evans had a 83-yard kickoff return touchdown, added six second-half rushes for 92 yards and two scores, and twin brother Blake Evans tacked on a 45-yard scoring jaunt to lead the Sherman charge.
In the final 30 minutes, the Huskies ran 24 plays, 23 rushes, and racked up 194 yards.
While the offense finally had things moving in the right direction, the defense allowed 103 yards in the second stanza, 69 of those on 23 rushing attempts.
The Huskies sacked Perrydale quarterback Tyler Ditchen seven times overall, three in the second half, and forced four turnovers.
"I think from a defensive standpoint, that was a flawless second half," Brett Evans said. "We have been working on defense a lot and 28 points on offense is really good too, but the defense impressed me the most. I was not expecting that."
Three times, Perrydale committed turnovers on its first play of drives, but one of the more crucial moments of the contest occurred with 2:33 left in the fourth and the Pirates down by a 28-16 margin.
Perrydale had a 13-play, 74-yard drive working, but it stalled on the Husky 4 on a loss of downs.
Sherman then took over, but on the ensuing snap, a fumble gave Perrydale possession on the 1-yard line with a chance to inch closer on the scoreboard.
On the next snap, however, Ditchen fumbled a handoff and Brett Evans made the recovery in the end zone for the touchback.
Starting from their own 20, the Huskies ran five plays and amassed 23 yards before punting the ball back to Perrydale with nine seconds left in the game.
Sherman linebacker Maverick Winslow then sacked Ditchen on the final play to preserve the win, head coach Todd Swan's first in his new post.
"We tried to tell the kids that football is not played in a half or a quarter. Football is four quarters and it is a collection of about 70-80 plays," Swan said. "While we let up on a few plays in the first half, we knew that if we kept battling in the moment, that eventually we would catch back up and play the type of football that we had been preparing to play."
All it took was Brett Evans' kickoff return with 11 minutes and 45 seconds left in the third quarter to put the Husky side in the right frame of mind.
After that initial tally, Sherman scored on its next three possessions.
"It really took some big plays to get some momentum," said junior lineman Kevin Hart. "When we got that kickoff return, it felt so good because we were right in there."
Down 16-6, Sherman's Kyle Fields recovered a Perrydale fumble to give his team the ball at the Pirate 44 with 9:29 remaining in the thi4d frame.
Sherman did not take advantage of that opportunity, but had another chance bounce its way after another Pirate fumble at the 6:41 mark.
One play later, Brett Evans coasted through the teeth of Perrydale's defense for a 43-yard scamper to make it 16-12.
The Pirates came up dry again on their next possession, on a loss of downs, giving Sherman the ball back with 2:06 left.
Sherman quarterback Nick Coleman had a 20-yard gain on the next drive, and Winslow tacked on a 13-yard run to put the ball at the Perrydale 4.
Brett Evans then capped the drive with a four-yard run to give Sherman its first lead of the game, 18-16, with 11:56 left in the final quarter.
Coleman completed the conversion pass to Winslow to make it, 20-16.
Perrydale's sloppy play reared its head once again on its next time with the ball, as a halfback pass landed in the waiting arms of Coleman, the safety, for an interception.
Sherman landed the knockout blow with 6:42 remaining with Blake Evans hitting the end zone on a 45-yard burst.
Coleman added a quarterback sneak to make the conversion to boost the Husky cushion up to 28-16.
Wyatt Stutzman chalked up the second half as a solid display of his team's personality, hard work and heart.
"I think the first half had to do more with our rustiness," he said. "We came back, punched them in the mouth and all it took was this team believing in ourselves."
The critical thing on the mind of Hart is taking this win as a learning lesson.
On a team of seven freshmen and four sophomores, he feels this could be the start of something promising, but warned that there is no room for complacency.
"It definitely puts us in the mentality that we can do this," Stutzman said. "However, we still cannot let it get to our heads because we still have to approach it week-by-week prepping for a new team. We have to keep the mentality that, 'yeah we won, but we still got to be able to play our next game.'"
In the opening half, Sherman was able to move the ball on a tough Perrydale defense, but turned the ball over twice and had one drive stall inside in the Pirate 15.
With one game in the books, through some film study, Swan can get a better gauge at what to work on in the next few days leading up to Friday's home tilt versus Prairie City.
"It is all about moving on," the coach said. "You cannot live in the past, good or bad, and we will keep going. I have coached these guys for a while, I know them pretty well, and I know that they understand that this is a Week 1 game, a preseason game. In the grand scheme of things, we are very far from where we need to be by the end of the season."