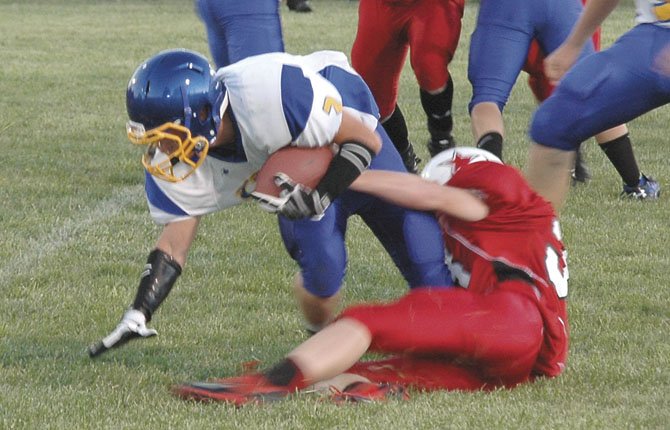 DUFUR – The defending Big Sky Conference champion Dufur Rangers started their 2013 nonleague football schedule quite impressively with a 74-44 season-opening home win over the Cove Leopards Saturday at Dufur High School.
Dufur, guided by head coach Jack Henderson, displayed a very prolific offensive attack and scored on six consecutive possessions, including all five in the first quarter to build a 34-0 advantage.
Dufur had a total of 426 yards of offense in the lopsided win.
Nick Little had a phenomenal performance while scoring eight touchdowns to lead a potent Ranger offensive attack.
"We came out and played very well, so it was a good way to start the season," said Henderson, who earned the 199th win of his 27-year coaching career. "We have a lot of talented kids, but there's still lots of room for improvement on our team. We played well in stages, but then there were other times that we didn't play too well. We made poor decisions and other things like that. We have to work hard at practice to improve so that we can become a much better football team."
Ranger starting quarterback Cole Parke (8-for-15 passing, 178 yards, two TDs), one of just two Dufur seniors along with Austin Olson, had a 22-yard kickoff return to Dufur's 42.
Dufur then proceeded on a six-play, 58-yard scoring drive, capped by Parke's 30-yard touchdown pass to junior receiver Trever Tibbets (five receptions, 78 yards, TD) to make it 6-0 with nine minutes, 51 seconds on the clock.
"We were all in sync offensively and defensively and having lots of fun hitting people hard like we should be doing," said Parke, the 2012 Big Sky Player-of-the-Year. "We played one hell of a game and everyone did a good job tonight."

Dufur stopped Cove on its first series as the Leopards gained just seven yards.
The Rangers took possession after a failed Cove fourth down conversion play and had possession at the Leopards 39.
A quick four-play drive highlighted by Parke's 25-yard TD strike to Nick Little (four receptions, 82 yards, two TDs/eight carries, 113 yards. rushing, three TDs) extended the margin to 14-0 with 7:25 left in the quarter.
Dufur continued moving downfield on every possession, while seemingly getting very little resistance in what was an extremely porous Leopard defense.
A Parke 31-yard TD pass to Nick Little, followed by Parke's two-point conversion run gave Dufur a 22-0 lead with 4:33 on the clock.
Dufur's defense, led by Olson, helped limit Cove to a pattern of three downs and punting most of the game as Dufur regained possession quick and often in the opening 12 minutes.
A 34-yard TD run by Tibbets, followed by Nick Little's 56-yard TD run gave Dufur a 34-0 first quarter lead.
"We had an OK game and we held our ground," said Olson. "They (Cove) had a pretty tough time trying to move the ball offensively in the first quarter."
Tibbets capped an eight-play, 66-yard drive with a nine-yard TD scamper up the middle, giving Dufur a 40-0 lead with 5:41 remaining until halftime.
Henderson inserted ranger reserves Ethan Wetherbee, Kolbe Bales, Kurt Nuevo, Zach Christiansen, Steven Bailey, Alec Smith, Ben Anderson and Jon Keyser into the lineup at that point.
They played a majority of the remainder of the contest against nearly all of the Cove starters and they had a strong effort in sustaining the Ranger momentum.
"Our reserves are capable of going out there and playing hard to help our team win," Olson said. "We're going to strive each day in practice to work hard so that we can achieve our goals, which include winning league again this year."
Cove trimmed the margin to 46-16 at the half, but for all intents and purposes, the contest was effectively over as Dufur was guaranteed the win at that point.
Both teams scored once in the third quarter.
Nick Little, who seemed to score every time he even touched the ball, scored on a tackle-breaking, high-energy 56-yard kickoff return, putting Dufur up 46-16 at halftime.
Dufur continued to lead by a 30-point margin in the third as both teams scored once, making it 52-22.
Nick Little's six-yard scoring scamper five seconds into the fourth gave Dufur a 58-22 lead. Cove responded to make it 58-28.
On Dufur's ensuing possession, Nick Little demonstrated his versatile athleticism when he threw a 16-yard TD to Keever on a halfback pass after getting a shovel pass from his twin brother Jake. Jake Little's two point conversion gave Dufur a 66-28 lead.
On Cove's ensuing possession, Nick Little then scored his eighth TD when he intercepted a Murchinson pass and returned it 45 yards to the end zone and Keever's two-point conversion run made it 74-28.
Henderson will try to achieve a historic milestone of reaching the 200-win plateau when the Rangers meet the Imbler Panthers (1-0) in their next contest Friday at 7 p.m. in Dufur.
Imbler, the defending Old Oregon League champions and a 2012 semifinalist, won it's home opener 46-44 over the Adrian Antelopes.
"Imbler is one of the top-five teams in the state, so it will be an exciting game and a good challenge for us as well," said Henderson. "They're a perennial power in their league, they won a couple of playoff games last year and they'll be a tough opponent for sure on Friday."