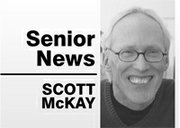 Because of the Labor Day Weekend, I had fewer days to collect my thoughts for this column, so I decided to kick the ball down the field until next week and instead share with you some sagely advise I found called the "Prayer of an Anonymous Abbess." (But I do it with some reservation. I have this notion in the back of my head that I have shared it before. But then I shouldn't be too overly concerned — there's a lot of stuff I've discovered in the back of my head that should be ignored!)
Prayer of an Anonymous Abbess
Lord, thou knowest better than myself that I am growing older and will soon be old. Keep me from becoming too talkative, and especially from the unfortunate habit of thinking that I must say something on every subject and at every opportunity.
Release me from the idea that I must straighten out other peoples' affairs. With my immense treasure of experience and wisdom, it seems a pity not to let everybody partake of it. But thou knowest, Lord, that in the end I will need a few friends.
Keep me from the recital of endless details; give me wings to get to the point.
Grant me the patience to listen to the complaints of others; help me to endure them with charity. But seal my lips on my own aches and pains -- they increase with the increasing years and my inclination to recount them is also increasing.
I will not ask thee for improved memory, only for a little more humility and less self-assurance when my own memory doesn't agree with that of others. Teach me the glorious lesson that occasionally I may be wrong.
Keep me reasonably gentle. I do not have the ambition to become a saint — it is so hard to live with some of them — but a harsh old person is one of the devil's masterpieces.
Make me sympathetic without being sentimental, helpful but not bossy. Let me discover merits where I had not expected them, and talents in people whom I had not thought to possess any. And, Lord, give me the grace to tell them so. Amen"
Last week I mentioned how you can sign up for Citizens Alert, a reverse 9-1-1 system, by visiting www.co.wasco.or.us. But I just learned if you have a traditional listed land line, you are automatically signed up. So you are good — unless you don't have a landline or want to be notified by cell phone, text or email, and then you will need to sign up.
Now that we have passed the unofficial demarcation between summer and fall, many of the center's activities are returning from their summer break. In particular, two activities start on Tuesday, Sept. 10: Tai Chi led by Corliss Marsh from 1 – 1:45 p.m. ($2 a class) and the free Tuesday Lecture Series at 11 a.m. when I will discuss National Senior Center Month and the value of senior centers and meal sites in your communities.
I'll give you a break this week, no Pig Latin or other tricks, just your run-of-the-mill good old American English.
Tonight the Strawberry Mountain band will be playing. And next Tuesday on the 10th, Martin and Friends will be strumming and picking for your listening and dancing enjoyment. Doors open at 6 p.m. and the music starts at 7 — all for a suggested donation of $2 for one and $3 for two.
The answers to last week's "Double Your Fun Remember When" questions were all about royalty: "Queen for a Day" and Nat King Cole. (And the winner of a free Saturday Breakfast on Sept. 21 is Sheila Cooper.)
And now that fall is in the air with football starting and professional baseball coming to a close, it's time for a sports question. See if you are a true sports fan and can answer this one! What was the name of the American professional baseball team based in Seattle that played for just one season in 1969 before moving to Milwaukee, Wisconsin on April 2, 1970, and changing their name to the Brewers?
E-mail your answers to mcseniorcenter@
gmail.com, call 541-296-4788 or mail it with a paperback copy of "Ball Four" — Jim Bouton's inside look at baseball during his 1969 season in Seattle.
Well, it has been another week trying to turn grapes into wine, strawberries into jam and lemons into lemonade. Until we meet again, keep your chin up, your head down and your pants on.
"Keeping up the appearance of having all your marbles is hard work, but important." - SaraGruen.
menu
Wednesday (4) Taco Casserole
Thursday (5) Roast Beef and Gravy
Friday (6) Lemon Pepper Tilapia with Rice
Monday (9) Beef Stroganoff
Tuesday (10) Pork Medallions