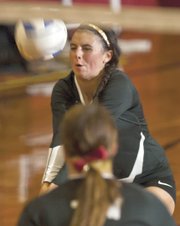 The cheer were loud and proud after the final point hit out of bounds, as The Dalles Wahtonka pulled off a stirring five-game comeback victory Tuesday over Redmond.
Redmond jumped ahead with wins of 25-22 and 25-23 in the first two games, but TDW battled back in the next three sets by posing marks of 25-19, 25-13 and 15-8 to grab the win.
"We all became confident in one another tonight and I think that once all of us are being vocal it gets us pumped up," said Eagle Indian player Timarra Roth. "Tonight, we got a lot of momentum going because we had all of our focus on the win."
After those two close losses, TDW fired away in the third game by taking leads of 10-6 and 14-8 before Redmond came back to tie it up at 14-apiece.
Down the stretch, neither team had more than a three-point lead, until consecutive kills by Olivia Starks put the Tribe ahead, 21-17.
The all-league junior added another kill to run the count up to 24-18, and with the score at 24-19, Redmond served the ball long, giving TDW a 25-19 win.
In the fourth game, the Eagle Indians appeared to have had an energy surge and it translated into an 8-1 start.
The Mustangs got as close as 16-11, but a kill by Starks, a Redmond error and a kill by Lori Cimmiyotti moved the Eagle Indians ahead, 19-11.
With the score 22-13, Starks slammed down another kill, and then senior Morgan Triperinas laced home consecutive services to end the fourth frame, 25-13 and force a pivotal fifth set.
Using their momentum from the rally, TDW led 6-1 at one point, so then Triperinas stepped out to the service stripe to score four points, including one ace to run the count to 10-1.
In that span, Cimmiyotti, Keatin Logue and Hannah Schechtel had kills.
Redmond crept to within 13-7 after a two straight TDW errors, but Starks had a stuffed block to the floor to make it 14-7.
TDW then had a kill attempt go long, but then on the ensuing Mustang serve, a kill try by Shelby Bergum flew long, giving TDW a 15-8 win and the match.
"It is really exciting to get this win," Starks said. "I don't know, maybe it was something in us where the light flipped on and we starting playing like we should have. We also all had each other on the court to help each other out, but also just had in our heads the whole night that we weren't going to lose this game. It was amazing."
With the play of Cimmiyotti, Triperinas, Natalie Moleli, Roth and a few others leading in this comeback, head coach Amy Schwartz is hoping this win could be the beginning of a good season.
She has believed in her team from Day 1.
"That win gave us so much confidence and I really feel like it opened our eyes to accomplishing more as a team," Schwartz said. "We have come together with a common goal and we have set a good starting ground for bigger things down the road."
With much of high school athletic, getting consistent play through the season is high on a list.
Schwartz is looking forward to practice, some tournament games and more matches to get her team playing better volleyball in October and beyond.
"When we are playing really well, we are playing consistent defense. It is like our offense and our overall play gets going, when we play solid defense," she said. "If we can keep our defense up and work on our offense, we will be all right. We have shown some of our capabilities and hopefully tonight we can understand what we did and use it to continue in our move forward."
TDW plays again this Saturday at the Mountain View Tournament starting at 9 a.m.