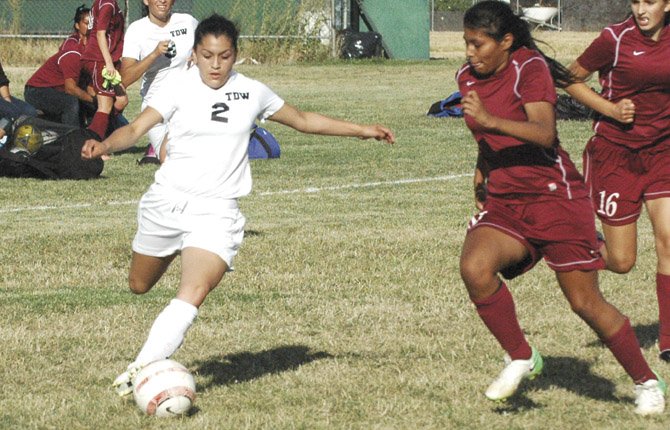 Even with whipping winds wreaking havoc on action, The Dalles Wahtonka girl's soccer team put together a spirited performance in a shutout win over Mac-Hi.
Brooke McCall and Monique Mendiola each tallied goals and goalkeeper Ruthie Ford made three saves to lead the Eagle Indians to a 2-0 victory over the visiting Pioneers Tuesday in The Dalles.
"We played a great game. We passed the ball well and played together," Mendiola said. "I think it shows when we pressure and win 50-50 balls and play good defense, we can compete with anybody."
From the opening whistle, TDW staked an early advantage using pressure on the ball to create some chances at goal.
At the seven-minute mark, midfielder Hannah Walasavage scooped up a loose ball and dribbled a few yards before scooting a pass to an open McCall, who hit the back of the net for her first varsity goal to move T-Dub ahead by a 1-0 margin.
The score remained 1-0 into the second half, as both teams did their best to fight through the winds and played mostly at midfield.
Ten minutes into the second stanza, Mac-Hi had a big chance to even the score on a penalty kick, but the shot missed its mark over the crossbar.
A few minutes later, the Pioneers had a free kick opportunity from 15 yards out, but Ford was in the right spot to make an over-the-shoulder save.
Three minutes later, Ford made another glove save on a shot to keep her team in front.
At the midway point, Marina Diaz broke free down the right sideline and moved past her defender towards the back line.
Instead of shooting, she made a fake and dribbled in a few steps. She then flipped a pass to an open Mendiola inside the penalty area.
In one motion, Mendiola fired a right shot to the low corner past the Pioneer goalkeeper for the goal to make it, 2-0.
With time running out, Ford stopped a scoring chance and snared the rebound to keep the shutout in tact.
"It definitely feels good to start the season with a win, especially since we tied them in our first game last year," Walasavage said. "It feels good to come back as a brand new team of girls coming in to play the way we did."
With only six days of practice, TDW head coach Colby Tonn complimented the play of his midfielders Hannah Harris, Walasavage, Sierra Watson, Emma Ell and Mendiola.
Tonn said there are areas he wants to work on to sharpen up the team.
He talked about more movement up front, Criss-crossing, playing in space, being more aggressive and checking back to the ball as areas this squad needs to emphasize.
Defensively, there were a few tense moments, but overall the core of Bailey Cordell, Marta Gamez, Bri Stavaas-Jamack, Grace Helyer and Shaynie Watson did what it could to keep high-scoring Mac-Hi off the scoreboard.
"The girls have had about six practices with this flat back four," Tonn said. "This is something we have been wanting to go to and we just decided to use it this year instead of waiting until next year. To run a different scheme than you are used to after six days, it is very good to get a shutout no matter who you are playing."
Now that this match is recorded as a win, Tonn said it is a step in the right direction for TDW, a building block.
"I think we can look at this game as one where we played a great all-around game and won," Walasavage said.
"We know what we did right today and we know what we need to work on. We always have to keep wanting to improve every day."
In other news, Ally Gibbons scored two goals, and the goalkeeping duo of Giselle Manzo and Abby Williams combined for five saves and the Tribe junior varsity team came away with a 5-0 win over Mac-Hi.
TDW (1-0 overall) heads to Gresham for a match at 7 p.m. Thursday against Centennial.
TDW loses 2-1 to Clackamas
The Dalles Wahtonka battled back from a 1-0 deficit to tie the score late, but a penalty kick goal with time running out paved the way for a Clackamas High School win Tuesday in non-league boy's soccer play in Clackamas.
Early in the game, the Cavaliers struck first blood with a goal, but then TDW's Christian Garcia netted the equalizer to make the score, 1-1 at halftime.
TDW coach Luis Gamez said his team played much better in the second half against a solid 6A program.
The Eagle Indians (0-1 overall) hosts Barlow at 4 p.m. Thursday.