Always aim at complete harmony of thought and word and deed. Always aim at purifying your thoughts and everything will be well.
— Mahatma Gandhi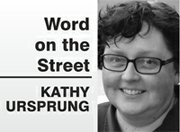 Thought plus leadership: Business operators can often generate value and prestige for their businesses by being considered a thought leader in their field. But how does that happen?
Mitchell Levy, thought leader architect and CEO at THiNKaha, offers a few suggestions for developing your reputation as a thought leader:
• Zero in on an area of the field in which you excell. Focus on one area of the business or profession that excites you, rather than stepping out as a consummate expert on a broad range of topics.
• Develop your own message and share it in a distinctive style. Think about who your audience is and what they want and need, remembering that they don't care about you, they care about themselves. Are their better ways to do something that everyone has been doing the same way for years? Becoming a problem solver or foreseeing trends are ways to become a thought leader.
• Create content that is useful to people. Write a blog, create video tutorials on YouTube, share nuggets of information on various social media sites, write a book. Constantly sharing information that solves problems for people can help you develop a reputation as knowledgeable, helpful and reliable.
A Goodwill visit: The Dalles Area Chamber of Commerce Power Breakfast will host Dale Emanuel of Goodwill Industries of the Columbia Willamette. Emanuel will speak on Goodwill's mission facets; i.e., service to people facing barriers to employment, how Goodwill raises mission funds, Goodwill's recycling program and what Goodwill does outside its mission.
The event will be Friday, Sept. 6, at 7 a.m. in the third floor lecture hall of Building 2 at Columbia Gorge Community College. RSVP to the Chamber at 541-296-2231.
Do you have an item for Word on the Street? Email kursprung@thedalleschronicle.com or call me at 541-506-4601.