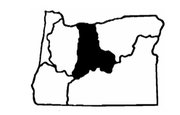 CENTRAL ZONE HUNTING
OPEN: COUGAR, COYOTE, ARCHERY DEER & ELK, FOREST GROUSE, MOURNING DOVE, QUAIL (Wasco and Hood River Counties only)
Archery hunters – Errors in the regulations on Chesnimnus bag limit, traditional equipment only area
The 2013 Oregon Big Game Regulations contain errors in the archery section. On page 51, the "Traditional Archery Equipment Only" restriction should not be for the Columbia Basin, Biggs, Hood and Maupin Units—that restriction is for the Canyon Creek Area only. On page 79, the Chesnimnus hunt bag limit of "one bull elk" (hunt #258R) should be "one elk." These errors were corrected by the Fish and Wildlife Commission in June.
Check fire restrictions before heading afield!
Fire danger is at record levels according to the Oregon Dept of Forestry. Follow all fire restrictions while hunting and see ODF's webpage for the latest on restrictions.
2013-14 Oregon Game Bird Regulations online
See the PDF on the Hunting page: http://www.dfw.state.or.us/resources/hunting/index.asp Note error on pg 6, "What's New" section of printed 2013-14 Oregon Game Bird Regulations. Canvasback limit within daily bag is 2 (not 3). This info is correct on pg 16 and in the online version of regulations.
ODFW pheasant hunts are perfect for beginners!
ODFW is planning a variety of pheasant hunting clinics for youth and adults this September. These are perfect for people new to hunting. See details here:
http://www.dfw.state.or.us/education/outdoor_skills/workshops/index.asp
Mandatory Reporting
Thanks to all hunters who reported their 2012 tags on time. Hunters who did not report 2012 deer and elk tags on time will pay a $25 penalty fee when they purchase a 2014 hunting license. More information on reporting http://www.dfw.state.or.us/resources/hunting/reporting/index.asp
Wolves and coyotes can look alike
Most wolves in the state today are in northeast Oregon but a few have dispersed further west and south. Wolves are protected by state and/or federal law and it is unlawful to shoot them. Coyote hunters need to take extra care to identify their target as wolves can look like coyotes, especially wolf pups in the mid-summer and fall. ODFW appreciates hunters' assistance to establish wolves' presence in Oregon; please report any wolf sightings or wolf sign to ODFW using the online reporting system.
Use the Oregon Hunting Map to see where to hunt.
PRINEVILLE/OCHOCO WILDLIFE DISTRICT
ARCHERY buck and elk seasons opened August 24. Conditions are warm and dry, which will make hunting challenging. The hot and dry conditions have heightened fire concerns, and hunters should consult with the Prineville BLM and/or Ochoco National Forest for the latest fire restrictions. Hunters are reminded that the Ochoco and Maury units are controlled entry only.
Early ANTLERLESS ELK hunts are ongoing in portions of the Maury, Ochoco, and Grizzly units. These hunts are primarily on private agricultural and range lands where hunters need permission from the landowner. Typically elk move into these hunt areas in greater numbers during the late summer to take advantage of the irrigated pastures and hay fields.
MOURNING DOVE season opened September 1. Hunters are reminded that Eurasian-collared doves are now unprotected and can be taken year round.
FOREST GROUSE SEASON opened September 1 and includes both Blue and Ruffed Grouse w/ a daily baq limit of 3 of each species. For Blue Grouse, hunters should concentrate on semi-open ridge lines. Ruffed grouse are restricted primarily to creek drainages.
BEAR season opened Aug. 1 in all units. Bear are present throughout the district, but at higher densities on forest lands at higher elevations on the Ochoco National Forest. The better locations to scout would be on the more densely forested north slopes of the Lookout Mountain and Paulina Ranger Districts in the Ochoco Unit. Remember check in of harvested bears is mandatory, please check the synopsis for required parts and make an appointment.
COUGAR are present throughout the Maury, Ochoco, and Grizzly units. The Maury and Ochoco units are recommended because of their greater amounts of public lands and better accessibility. Remember cougars must be checked in at an ODFW office within 10 days of harvest. Please consult the synopsis for all required parts and be sure to call first to make an appointment.
COYOTES offer an exciting challenge and will be closely associated with deer and antelope. Young have started to leave dens, which makes calling very effective.. Both the Maury and Ochoco have sizeable areas of public lands that provide hunting opportunities. Hunters should use caution, be properly equipped and prepared for whatever the weather might bring.
THE DALLES WILDLIFE DISTRICT
ARCHERY: buck and elk seasons opened August 24. Conditions have been warm and dry prompting some landowners to close their timberlands for hunting, be sure to seek permission prior to hunting on private timberlands. Recent fire activity in the White River WMU may have some portions closed, see link for updates. http://www.inciweb.org/.
Hunters be aware of a typographical error in page 51 of the 2013 big game regulations. "Traditional Archery Equipment Only" does NOT apply to the Biggs, Hood, Maupin, or White River WMU's. Hunters can choose to use traditional archery equipment, but it is not required. Hunters can only harvest an antlered buck in the White River WMU, and any deer in Hood, Maupin, or West Biggs WMU's.
FOREST GROUSE: Hunters seeking forest grouse will find grouse activity typically increase following recent rains. Hunters are also encouraged to place wings in ODFW grouse wing barrels located along roads in district.
COUGAR season is open. Hunters wishing to pursue cougar will find best success near areas of deer and elk concentrations and near recent cougar kills and calling. Successful hunters, remember you must check in cougar (hide and skull) and bear skull at an ODFW office within 10 days of harvest and bring them in unfrozen. It's also a good idea to prop their mouths open with a stick after harvest for easier tissue sampling, teeth collection and tagging. See regulations for details.
COYOTE: Those wishing to pursue will find the best success near agricultural lands. Be sure to ask permission to hunt private lands. Limited opportunities may also be found at White River Wildlife area, and on lower elevation forest service lands.
BLACK BEAR: Statewide fall black bear season opened August 1st. Hunters focusing on berry patches and grassy/forb patches may increase their chance to harvest a bear. Utilizing predator calls may also prove effective. Hunters are required to check in unfrozen bear within 10 days of harvest.
WHITE RIVER WILDLIFE AREA
Vehicle Access: As of January 1, 2013 new rules took effect that prohibit all recreational ATV use on the Wildlife Area, also camping is only allowed in designated camping areas.
A parking permit is now required to use/park on the White River Wildlife Area along with other ODFW wildlife areas.

Cougar - Open all year or until zone mortality quotas have been met. Look for areas that have recent deer and elk activity. Focus your efforts along migration routes, and along rim rocks and canyons. Look for fresh tracks or kills to increase success. Deer are down on the Wildlife Area for the winter so it is a good area to look for cougars.
Coyote - Hunters should be looking in open areas along the eastern perimeter of the wildlife area. Open fields can provide good calling opportunities on the area.