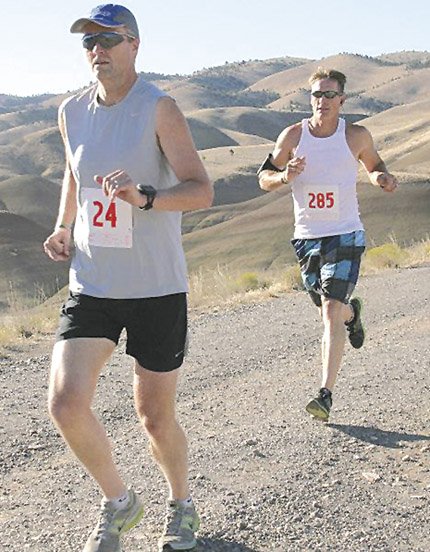 With one race already in the books, many of the members of The Dalles Wahtonka's Cross Country team were on hand at the 17th Eagle Indian 3k, 5k run/walk at Sorosis Park in The Dalles, and they came close to putting up some personal records.
In the 5k event, just two minutes separated the top-11 placers in the standings.
When it was all said and done, Mark Dunagan brought out the big guns and swooped in for a time of 19 minutes and 33 seconds for top honors.
Elijah Kohltfarber had a solid run on his home course to end up in second place with a marker of 20:09, and Chase Snodgrass wound up third at 20:14.
Johnny Nelson slugged out a 20:20, Andy Felderman managed to check in with a 20:34 and Luke McLean hit at 20:49 for sixth place overall.
Tribe senior Clayton Ringer enjoyed a good day with his 21:04, Randall Jones crossed the tape in 21:07, Jake Albrecht had a 21:11, and Jace Bailey topped out for 10th place at 21:39.
John Miller (21:51), Robert Westhafer (22:09), Ethan Shubert (22:09), Maddie Wood (22:39), Emily Morin (22:39), Sant Strassheim (23:19), Ming Ou (23:21), Brian Strassheim (23:32), Joseph Kohltfarber (24:52) and Katie Burns (25:06) rounded out the top-20 participants.
Also from the Eagle Indian team were Murphy Goldsberry, who had a 25:46, Killian Strassheim added a 25:47, Molly Nelson hit at 26:00, Amanda Hoey timed out in 26:40, and Owen Lamp hit 25th place with his 26:58.
In the 3k classification, there were 13 competitors laced up and ready to go for some bragging rights.
Peter Cardosi was best on this day, while running ahead of the pack at 13:35, and Bill Burns ended up in a close matchup duel, but tallied a 13:46 to chalk up second-place recognition.
David Wring jogged home in 14:28, Blake Kienlen churned out a 15:17, and Eliza Tapia ran in at 16:18 for marks less than 17 minutes.
After Tapia's time, the outcomes were from 19:34 to 33:59.
Caitlynne Wring (19:34), Bridget Bailey Nisley (19:41), Eric Nisley (19:41), Jonathan Snodgrass (23:09) and Katie Nelson (32:11) capped the top-10 in the books.
Erin Nelson ended up in 11th place with her 32:13, Travis Nelson came home with a top time of 32:14, and kicking out the finishers in 13th place was Deborah Jaques, who crossed the wire in 33:59.
Up next on the running side is the Mosier Twin Tunnels 3k, 5k and 12k run/walk at 10 a.m. on Sept. 15 in Hood River.
Costs are $18 with a shirt and $8 without for pre-registration before Wednesday, Sept. 11. Awards offered for the top-3 finishers in each race classification.
For more information, call 541-993-2090.