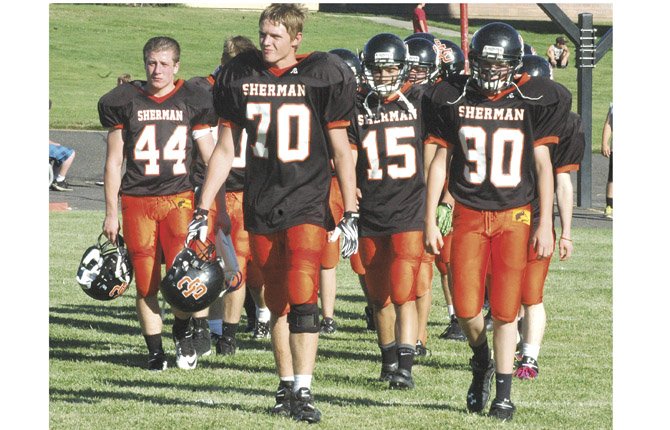 Even with an influx of seven freshmen, coupled with the ascension of Todd Swan to a new post as head coach, the Sherman Husky football team still has high hopes for playoff success in the 2013 season.
Through one game, it looks as though the Huskies are on the right path with a 1-0 record after a 28-16 comeback victory last week over Perrydale.
"I think the previous coach, Mike Somnis, was a great coach and he built a good, strong tradition here," said Swan. "We will continue a lot of those things. We will continue to make tweaks with our personnel, offensively and defensively, and keep working on the fundamentals. Success is achieving our maximum ability. We will see what happens as the weeks go on."
Through previous experience and successes gained in previous years under Swan as an assistant, Brett Evans has thrown in all of his chips on this new regime.
"Coach Swan is a great coach and everything he has been telling us is making a lot of sense," Brett Evans said. "I think, once again, that this group has a lot of cohesiveness and I don't think that a new coach is going to make much of a difference."
Of course if the wins are going to keep coming, the running game is a longtime staple of the Sherman program, solid quarterback play is a pivotal element and Nick Coleman comes in with much fanfare.
"He is our senior leader. He is a great kid and you could see the kids around him take on his personality," Swan said of Coleman. "I think that was big in the second half, not panicking and moving forward with that game."
Last season, Coleman displayed his abilities through the air, running the ball and on special teams for the eight-win Huskies.
He had 15 carries for 160 yards and a score, and he grabbed 17 catches for 360 yards and four tallies.

When passing the ball, Coleman completed 4 of 5 passes for 42 yards and a touchdown, and he added 12 kickoff returns for 172 yards for an average of 14.3 yards per tote.
The Huskies scored 471 to finish in the top-10 in the 1A classification's field and racked up 4,267 combined yards.
If those numbers are going to continue, Coleman and his running backs will be well protected by a small, but athletic offensive line.
Those names consist of Kevin Hart, Isaiah Coles, Wyatt Stutzman, Cody Jauken, and Kyle Fields with Kaiden Paulette and Max Martin rotating in and out of the lineup.
"We are undersized. Every game, we know we are going to be undersized, but we coach fundamentals and technique and angles," Swan said. "If they are doing things properly, you don't have to weigh 200 pounds, you can get away with a 150-pound guard."
Coming off a standout season where he rushed for 1,181 yards and 13 trips to paydirt, Brett Evans is already in top form coming off last week's 147-yard, two-touchdown effort.

On the ground, the junior kicked in 9.1 yards a carry with a high of 75.
He also chipped in for the passing attack with nine catches for 114 yards and another touchdown.
Blake Evans is the power back of the group, and Maverick Winslow brings a change-of-pace attribute to the stable of running backs.
Stutzman likes what they bring to the table.
"Just because we have new coaches, we have the same offense with that running game," he said. "It was always a killer and it will remain that way. We still have the same top-notch running backs. As long as we can keep blocking the opposing team and let those backs do their job, we will keep running it."
On the other side of the ball, fifth-year coach Kyle Blagg brings his hard-hitting 3-3 Stack defense to the forefront with smaller players, but quick enough to go sideline-to-sideline.
Of course, the prevailing hope is to improve off last season's totals.
In 2012, the Husky defense allowed 384 points in 11 contests, but of the 3,456 yards allowed, 762 came through the air.
In all, the Huskies had 15 sacks, 14 picks with four going for scores, five forced fumbles and 11 recoveries.
On the line, Fields, Martin, Jauken and Hart make up this formidable group, with Stutzman and Blake Evans at linebacker.
"We will never be the biggest team, but I think we will be the fastest team," Hart said. "I believe that we have the heart to win and it really feels good when we do."
At secondary, Coleman and Coles will be the last line of defense making hits and breaking up pass plays.
Last year, Blake Evans wound up second on the team with the second-highest tackles at 47.
He had two sacks and three fumble recoveries. Coleman also stood out from the defensive back slot with 47 tackles tying him for second with Evans.
"This is probably a quicker, more fundamentally sound defenses that we have had in the five years that I have been here," Blagg said. "We don't have that big-time stopper guy, but we have eight guys who will flow to the ball and do their job."
Swan said the emphasis in the program is playing fundamentally sound defense, sound tackling and getting stops.
He emphasizes winning the turnover battle as a key priority.
With some veterans sprinkled on the roster with the younger players who are getting a trial-by-fire on the varsity side, teaching and learning become a relevant notion.
"All of them have made football players out of themselves," Blagg said of the youth movement. "They are going to get tested and have their lumps. We will remember that they are freshmen at some points, but right now, we got 19 football players and if they are a freshman, sophomore, junior or senior, it does not matter. A football player is a football player."
Swan is cautiously optimistic that this team can meet or surpass last season's accomplishment of eight wins and a second round state berth, but with preparation, hard work and dedication, everything will take care of itself.
"We feel really good about the team we have here at Sherman County," Swan said. "We will take it one game at a time and work to improve every day. Once this season is over, we will see where it gets us."