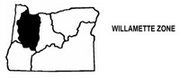 WILLAMETTE ZONE HUNTING
OPEN: COUGAR, BEAR, ARCHERY DEER & ELK, FOREST GROUSE, MTN & CALIF QUAIL, MOURNING DOVE
2013-14 Oregon Game Bird Regulations online
See the PDF on the Hunting page: http://www.dfw.state.or.us/resources/hunting/index.asp Note error on pg 6, "What's New" section of printed 2013-14 Oregon Game Bird Regulations. Canvasback limit within daily bag is 2 (not 3). This info is correct on pg 16 and in the online version of regulations.
Archery seasons continue
Remember errors in the regulations on Chesnimnus bag limit, traditional equipment only area: On page 51, the "Traditional Archery Equipment Only" restriction should not be in the Columbia Basin, Biggs, Hood and Maupin Units—that restriction is for the Canyon Creek Area only. On page 79, the Chesnimnus hunt bag limit of "one bull elk" (hunt #258R) should be "one elk." These errors were corrected by the Fish and Wildlife Commission in June.
ODFW pheasant hunts are perfect for beginners!
ODFW is planning a variety of pheasant hunting clinics for youth and adults this September. These are perfect for people new to hunting. See details here.
ODFW pheasant hunts are perfect for beginners!
ODFW is planning a variety of pheasant hunting clinics for youth and adults this September. These are perfect for people new to hunting. See details here:
http://www.dfw.state.or.us/education/outdoor_skills/workshops/index.asp
Check fire restrictions before heading afield!
Fire danger is at record levels according to the Oregon Dept of Forestry. Follow all fire restrictions while hunting and see ODF's webpage for the latest on restrictions
Mandatory Reporting
Thanks to all hunters who reported their 2012 tags on time. Hunters who did not report 2012 deer or elk, tags on time will pay a $25 penalty fee when they purchase a 2014 hunting license. The deadline to report on spring bear and spring turkey tags is January 31, 2014. More information on reporting http://www.dfw.state.or.us/resources/hunting/reporting/index.asp
Hunter orange required for youth
Don't forget: hunters age 17 and under must wear a fluorescent orange upper garment OR hat when hunting upland game birds (except turkey) and game mammals (deer, elk, bear, cougar, pronghorn, goat, sheep, and western gray squirrel) with a firearm.
Use the Oregon Hunting Map to see where to hunt.
Industrial forestland owners will usually have information regarding access to their property posted on their gates and usually have a "hotline" devoted to providing up-to-date access for hunters. In addition, many private timberlands use the following link to provide information regarding the access policy for their private lands. Hunters need to have permission to hunt or make sure hunting is allowed before accessing private lands:
www.oregon.gov/ODF/FIRE/corporate_closure.shtml
BE PREPARED
Hunters should be preparing now for upcoming big game hunting seasons. Sight-in and practice with your firearms or bows to ensure that when you do get the chance to harvest an animal you are confident in your shooting skills. Many of the local gun ranges will have public sight-in days where you can practice your shooting skills and there are 3-D archery shoots available in the Willamette Valley where you can practice. This is also a good time to ensure that your hunting and camping equipment is in good condition. If not, you will have plenty of time to purchase those items that you need.
Hunters are reminded to be prepared for emergencies by keeping survival equipment such as food, water, signal mirror, whistle, sleeping bag and first aid kit with you and in your vehicle during your outdoor adventures. Don't forget to wear the proper clothing; it is your first defense against the elements. Let someone know where you will be and when you expect to return just in case your vehicle becomes stuck or breaks down.
ARCHERY DEER AND ELK season opened on August 24. As usual for this time of year, temperature plays a major factor in deer and elk activity levels. The animals can be expected to spend most of their time feeding in the late evenings and early mornings. During the heat of the day, they will typically bed in shady, cool locations such as north slope timber stands. Hunters using tree stands or ground blinds could have the advantage early in the season. Hunters should use binoculars to glass for animals in the early morning hours and hunt bedding areas during the heat of the day. As the temperatures begin to cool, animal activity during the day will begin to increase. Elk rutting activity is not yet occurring in most areas. Hunters can expect to find bulls with or near the cow calf groups but most bulls are being fairly quiet. Please remember to check with landowners for current access restriction before hunting on private lands. Many private timberland owners have closed access to their lands due to fire danger.
For 2013, the bag limit has changed for archery elk hunters in the west slope Cascade units. Please refer to the 2013 Big Game Regulations page 80 for details. The bag limit is now "one bull elk" on National Forest lands in the Dixon, Evans Creek, Indigo, McKenzie, Rogue, and Santiam Units. Archery hunters in these units still have a "one elk" bag limit when hunting outside National Forest lands. This bag limit change was enacted to address elk population concerns on National Forest lands in these units.
Field Care of Harvested wildlife
The proper handling of harvested wildlife is the most important criteria to ensure its value as table fare. After properly tagging the animal, the hunter should remove the entrails and get the hide off to start the cool-down process. Wipe down the carcass with a dry cloth to remove any foreign material and keep the carcass clean by placing it into a cloth game bag. Warm weather conditions (greater than 50 degrees) can increase bacteria loads so hunters need to get the carcass cooled/refrigerated as soon as possible. Never place the carcass inside of a plastic bag, tarp or in water since wet or damp meat spoils more quickly. Talk to you local meat processor or butcher to get additional information concerning the proper care of wildlife or go online to find websites that cover this topic.
Upland Game Bird
Quail, Mountain / California – Open season from Sept. 1 to Jan 31. These brush loving birds are often found running between hiding and feeding areas in both brushland and riparian zones. Please remember that the daily bag limit is 10 birds and the possession limit is 30 birds singly or in aggregate when both California and mt. quail seasons are concurrent. Remember that wildlife laws state that the feathered head must be left attached while you are in the field or transporting the bird(s) home. ODFW is conducting a survey to determine Mountain Quail locations east of the Cascade Mountains in Oregon. Please report and observations, including the date, specific location, county of observation, and number of quail to your local ODFW office.
Forest Grouse – Open season Sept. 1 - Jan 31. The forest grouse group collectively includes the Ruffled and Blue (dusky/sooty) grouse species. Look for grouse along the edges of timber patches during morning and evening times. The dry weather we experienced this spring was good for brood production and hunters can expect to find more young grouse in field this year. Remember that the daily bag limit is 3 of each species and possession limit is 9 of each species. Remember that wildlife laws state that the feathered head must be left attached while you are in the field or transporting the bird(s) home.
Your participation is greatly needed
ODFW would appreciate your help in obtaining important information about the health of populations grouse and mountain quail populations. To do so we would like the tail and one whole wing off of any grouse or mountain quail you harvest. Look in the 2013/14 Oregon Game Bird Regulations for specific instructions for removing wings/tails and sending in.
Special youth-only pheasant hunting opportunities will be offered at select locations this September. Within the Willamette Zone, opportunities will occur September 7-8 at Fern Ridge Wildlife Area and September 14-15 at E.E. Wilson and Sauvie Island Wildlife Areas. Please refer to pages 22-23 of the 2013-2014 Game Bird Regulations for reservation information.
The Western Oregon Fee Pheasant Hunts will begin September 9 at Fern Ridge Wildlife Area and September 16 at E.E. Wilson and Sauvie Island Wildlife Areas. In addition to a current hunting license and appropriate validations, participating hunters will need a fee pheasant tag. Please see page 14 of the 2013-2014 Game Bird Regulations for more information.
Migratory Game Birds
Mourning Dove – Open season Sept. 1 - Sept. 30. Scout for habitat with plenty of perch locations near open areas. Many doves leave Oregon once fall weather starts approaching so hunting is best early in the season. Remember that wildlife laws state that the head or one fully feathered wing must be left attached while you are in the field or transporting the bird(s) home.
September Canada Goose – Open season from Sept. 7 to Sept. 15. Remember that the daily bag limit is 5 geese and possession limit is 15 geese. The taking of cackling or Aleutian Canada geese is prohibited during this season. All harvested geese must be presented to an appropriate check station immediately upon leaving the field. When presented, geese must be intact and fully feathered and must be inspected and tagged by authorized ODFW personnel prior to leaving the check station.
Cougar - Season is open. Dry weather conditions will concentrate the cougars' prey species where food sources are more abundant and palatable such as around lakes, ponds, streams and wetlands. Because of the hot summer temperatures, cougars will usually bed down during the daytime. This results in more cougar activity during low light hours and in areas that have less sunlight, like dense forests and north slopes of mountains. Hunters should spend time scouting these areas to increase their opportunity for success.
Successful cougar hunters will need to check-in any cougar taken at an ODFW office within 10 days of the kill. Hunters are reminded that biologists located in field offices may be out in the field handling other issues so call ahead to make arrangements to have your cougar checked-in. The hide and skull must be unfrozen and the skull and proof of sex must be attached to the hide. Hunters are required to submit the reproductive tract of any female cougar taken. Please review the 2012 Big Game Hunting Regulations before your hunting trip to ensure that you are familiar with all of the requirements.
Bear – Season is open. Fall bear hunters find the greatest success targeting natural food sources. In early August, bears are beginning to feed on berries. The huckleberries and Himalayan (Armenian) blackberries are ripening and bears can be found feeding on trailing blackberries, blackcap raspberries, salmon berries, cascara, or other ripe berries. Hunters should look for berry patches with sign of recent bear foraging. It is best to find a good vantage point to sit and wait for a bear to return.
Early in the hunting season bears will be spending the majority of their time in cool and shaded areas trying to avoid the heat. Although bears are most active in the mornings and evenings, on relatively cooler days bears may be active all day. They will be feeding on the abundant berry crops primarily in the early morning hours so hunters will need to be up and on stands before daylight. When out scouting, hunters should be looking for bear sign close to streams, lakes and adjacent to cool north slopes of timber.
NEW: Hunters get a free Sauvie Island parking permit with their purchase of an annual hunting license. Display on car dash. The parking permit is also required at EE Wilson Wildlife Area near Corvallis and a number of other areas. More information.