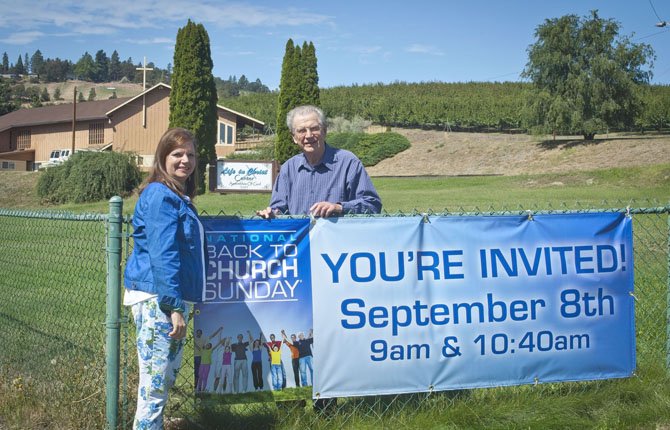 The Life in Christ Center on Cherry Heights Road is trying a first this Sunday and is joining the national "Back to Church Sunday" celebration, with activities planned for people of all ages.
"It's to welcome people who have been out of church for awhile or have had a busy summer," said Cindy McLean, children's pastor at Life in Christ Center.
The national non-denominational event has plenty of promotional material to go with it, and the Life in Christ Center chose a large banner to advertise the day.
"The celebration will be featuring our different church ministries and each ministry will have an information booth and will be sponsoring a fun activity after the services," she said.
Church services are at 9 a.m. and 10:40 a.m., and the activities will run from noon to 3 p.m.
"Events include face painting, water slides, games, horse rides, snow cones and a free hotdog lunch.
"We know families are gone and people are gone, busy and a lot of our activities — our Bible studies, and our weekly activities — stop during the summer, so we start those all back up during the fall so this is a big boost to start all of our activities back," McLean said.
The 200-strong congregation has a committee working on the Back to Church event, she said.
In all, some 14 ministry departments at the church will be involved in the "Back to Church Sunday."
They are: Children Ministry, sponsoring horse rides; Emerge (college age ministry), sponsoring games and face painting; Greeters, sponsoring drinks for the lunch; Men's Ministry, sponsoring hot dog lunch; Missionettes, sponsoring crafts; Missions, providing fun time with "Ling" the clown; Music, providing live music; Prime Timers, providing salads for the lunch; Providers, providing produce samples from the church garden; Royal Rangers, sponsoring water fun with little boat races; Sunday School, passing out free teaching material; Women's Ministry, sponsoring snow cones; Young Married, providing free information; Youth Group, providing the water slide activity.
"In the past, we've had what's called children's ministry days, where we've had these activities, but it was just geared toward the children's ministry," McLean said. "We wanted to reach out to all age groups and emphasize all the different age ministries that we have. And one of the fun ones that we have new this year is a group that's growing a garden and their booth will be handing out examples of their garden produce."
"We're excited," she said for the Sunday event. "When school starts, people start getting regular schedules again and staying home on weekends and start plugging into weekly Bible studies and activities."