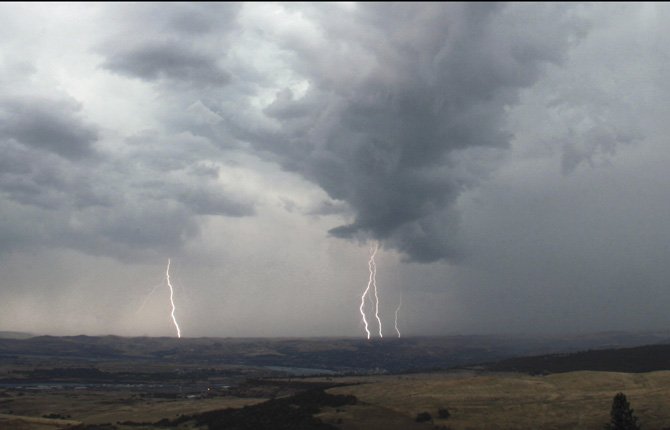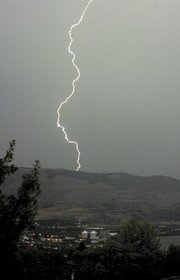 A small lightning-caused grass fire, east of Big Jim's Drive-In and between Interstate 84 and the railroad tracks, was quickly extinguished Thursday night.
It took four fire crew members from Mid-Columbia Fire and Rescue just 20 minutes to put out the small fire, which measured 15 feet by 30 feet and was reported at 6:18 p.m. Crews found scorching on a nearby power pole.
The fire was already out for the most part from the heavy rains, but a few hot spots were still burning.
Crews also responded to a report of a fire on Bret Clodfelter Way, but no fire was found.
Meanwhile, Oregon Department of Forestry crews were patrolling during the storm last night, said stewardship forester Chet Behling. "We were watching it all night long," he said. "We had people strategically placed around Wasco and Hood River counties."
They had "a couple smoke chases" but they turned out to be large yard lights that looked like flames, he said.
"There's a good possibility there were some starts that were put out by the rain," he said. Department of forestry personnel will be out scouring for fire as soon as the weather dries up.
It has a program called Lightning Tracking, Behling said, that closely marks where each strike hits.
"It's kind of like geo-caching for lightning strikes," he said. "It's like printing out a Google Earth map with dots and each dot represents a lightning strike."
Crews wait until the weather dries out because that's when smoldering fires that were dampened by rain can turn into open flames, he said.
"They've been known to smolder for three-four days, a week even, and pop up the first sunny day," he said.
Typical lighting strikes will hit a tree, spiral down to its base, then catch fire in the drier material at the base of the tree, which is protected from the rain by the canopy of trees.