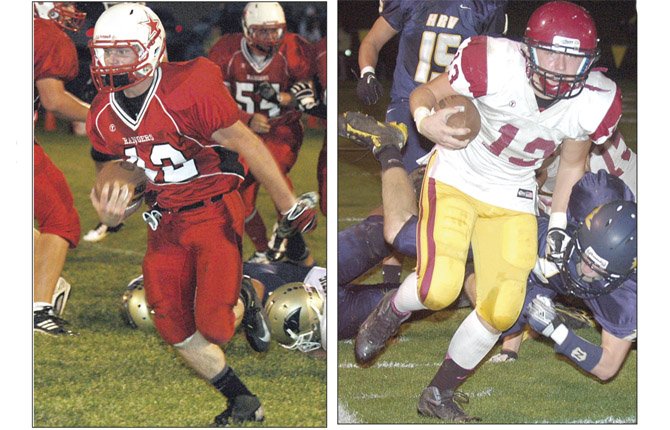 With an opening game loss far in the rearview mirror, The Dalles Wahtonka football team looks to get back on track against the Benson Techmen at 7 p.m. tonight in Portland.
While the Techmen are limping home on the heels of a 35-6 loss last week to Forest Grove, the Eagle Indians are aiming to get a bitter taste out of their mouths after a 33-18 setback to Madison.
In that game, TDW committed 10 turnovers and was still in contention at a 14-12 deficit with less than six minutes left in regulation.
Madison, however, scored 19 unanswered points on three long scoring runs by Brandon McSweeney in a span of one minute and 37 seconds to take a 33-12 lead.
TDW gained 292 yards, 100 on the ground, while Madison managed 342, but 207 came in the final quarter.

"I think they know after watching film that they gave that game away," said TDW coach Steve Sugg. "If we would have eliminated our mistakes, we probably would have won that game."
With weather maybe becoming an issue, Sugg may look to run the ball a little more given the moderate success his group had in the ground game last week.
"We are going to work a little more on our running game this week, but hopefully we can mix it up," Sugg said. "I want to be a 50-50 so the opposing team doesn't know what we are doing. Our goal is to show multiple formations and keep the defensive team guessing so they don't know if it is going to be a run or a pass."
The Tribe defense allowed just 40 yards passing, notched two sacks, forced four turnovers, to interceptions, and gave up a 1 for 11 split on third downs to Madison, so there is plenty to build on.
Against Benson, Sugg said the Eagle Indians should expect an offensive philosophy very similar in scheme with three-wide and four-wide receiver sets.
The Techmen have athletic and tall wide receivers and a quarterback who is a threat to run.
"I think defensively, we will try to get after them like we did against Madison," Sugg said. "We will be real aggressive and try to take their quarterback out of his comfort zone."
For the sake of team morale, Sugg has placed extra emphasis on performing even better to get in the win column.
"This is a big week for us because we need to win just for their mental psyche," the coach said. "We have been working hard and they just need to find a way to win. We need to make plays and do everything possible to get this going in the right direction."
Radio station KODL 1440 AM will broadcast the game live.
Rangers look to get coach No. 200
Things could not have started better for the Dufur Rangers in their first game of the 2013 campaign.
Dufur amassed more than 420 yards of offense and junior Nick Little accounted for 211 yards and eight touchdowns to lead his crew to a 74-44 victory over Cove last weekend.
Dufur coach Jack Henderson feels his team has a great ability to continue to improve.
"Last week we played well on both sides of the ball," said Henderson, who is in search of his 200th career win as a coach. "We threw the ball better than we have been able to in a long time. We need to continue to work to be a balanced offense. We are athletic in the skill positions and need to take advantage of our abilities."
Imbler, the defending Old Oregon League champions and a 2012 Class 1A semifinalist, won it's Aug. 30 home opener 46-44 over the Adrian Antelopes in what was deemed a back-and-forth showdown.
Last season, the Panthers scored 616 points and had a 54-28 home win over the Rangers in a game played on Sept. 7, 2012, so there is recent history between the two programs.
"Imbler runs a pro-style offense, run and throw from multiple formations and did a nice job of taking advantage of any weakness that you have," Henderson said. "They use the play action pass effectively to keep defenses off balance."
The Rangers appear to be on their way to eclipsing last season's point total of 427, but doing so against a perennial powerhouse in Imbler is a totally different task than last week's opponent.
"Defensively, they tend to crowd the line scrimmage and make things happen," Henderson said. "They have great size upfront and create a lot of issues at the point of attack."
In order to gain success against Imbler, Henderson noted a few details of hanging on to the ball, forcing turnovers on defense and creating opportunities on special teams as prime focuses.
"We look forward to taking advantage of what Imbler gives us," the coach said. "We need to be balanced on both sides of the ball and play with passion and we will continue to grow as a team."
Action starts at 7 p.m. tonight in Dufur.
Sherman eyes another notch
According to head coach Todd Swan, one of the most important attributes his team showed last week was its never-say-die focus.
After being down 16-0 at halftime, the Sherman Huskies blanked a powerful Perrydale in the second half and scored 28 consecutive points to earn a 28-16 road win over the Pirates.
"I was most impressed with our team's ability to focus in the present time," Swan said. "Mentally, they are further along than I had even hoped. They did not shut down when a few plays did not go their way. Instead, they continued to battle in the moment. Eventually things turned around and we came out on top."
Without a point for the first 30 minutes of play, Sherman junior Brett Evans had a 83-yard kickoff return touchdown, added six second-half rushes for 92 yards and two scores, and twin brother Blake Evans tacked on a 45-yard scoring jaunt to lead the Sherman charge.
In the final 30 minutes, the Huskies ran 24 plays, 23 rushes, and racked up 194 yards.
Sherman's first-year head coach said he wants to see more sustained blocks to allow his playmakers a chance to be more explosive.
He also wants to spread the ball around more and dig deeper into his arsenal of tricks as league play approaches.
Swan had a poignant analogy for that frame of mind.
"You wouldn't want to be in construction and forget your hammer or bake a cake without the right sized pan," he said. "Likewise, we don't want to show up on a Friday night and find ourselves at a disadvantage because we did not have the right tools in our tool belt. While it is a process, I feel we are getting closer and closer with each practice."
In defending Prairie City, a team the Huskies defeated last year 54-28, Swan said if the opponent is anything like last year, they like to pound the rock on a consistent basis.
Given the uncertainty of playing an out-of-district program, much of those elements could be switched based on personnel.
Swan's plan is not worrying about what Prairie City can or cannot do — he would rather focus on the players on his side of the field.
"Our team philosophy has always been about taking care of ourselves," the coach said. "We pride ourselves in improving on what we do. Sometimes teams can get caught up in what the other teams do and forget to improve on the things we don't do well. This week has really allowed us to continue building on our foundation without being distracted on 'what to expect' from our opponent."
Swan is not a big believer in momentum, saying that there is no magic fairy sprinkling momentum dust on teams throughout a game.
It is all about attitude and a simplistic approach to the game.
This is still Game 2 in a long-distance journey.
"If we want to continue to be successful, we must maintain the right mental attitude, approach every moment as a new opportunity to test our best self, and repeat the process," Swan said.
Kickoff is slated for 7 p.m. tonight in Moro.