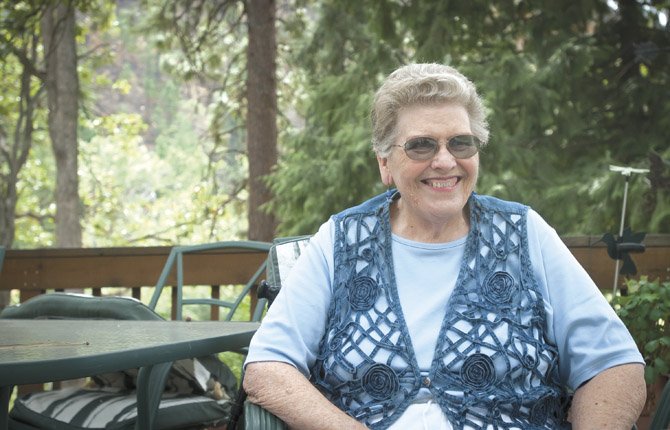 Editor's note: While many residents stayed in place despite evacuation orders while the Government Flats Fire Complex burned, The Chronicle does not advocate such action.
The Government Flat Complex fire that burned up the canyon on Mill Creek Road — and is still smoldering — was not Dorothy Gosson's first rodeo, so to speak.
The self-sufficient octogenarian has been through three fires now, including the devastating Schoolmarm Fire of 1967. So when the evacuation orders came from fire officials, she — and most of her neighbors, actually — stayed put.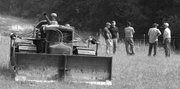 "They wanted me to, but no, I did not go. I've been through it before. I know the situation and there was just no need in it," she said.
"The hillside behind me burned off 47 years ago. It came down on both sides at the same time," she said of the Schoolmarm Fire.
The green alfalfa fields near her house were just about to be cut when the Blackburn Fire — the largest in the Government Flat Complex — ignited with a lightning strike Aug. 16.
The man who leases that acreage was going to cut it that Friday, but changed his mind, Gosson said.
Good thing, because harvesting it would've created dangerous dry stubble. "That's what saved us, and that's what saved us 47 years ago too," Gosson said. "You are well protected. You have green all around you," she said of the uncut alfalfa fields.
As it was, she watched the fire burn down the nearby hillside, which is "steeper than a cow's face, let's put it that way."
It burned down to the creek, but didn't jump it. Firefighters didn't try to fight fire on the hillside — its too steep — but they cleared brush from the other side of the creek.
Her house is on the other side of the creek and she had sprinklers readied on the roof and deck. "If it had jumped the creek we would've strung out the irrigation pipe along the house line," she said.
As for the sound of fire itself, she said, "It's a roar, honey. Oh yeah. It's a roar. It sounds like a roaring fire and it is a roaring fire. And the trees, oh, they just explode."
"I don't know how to explain it honey," she said. "It's exciting to watch but yet it isn't when you know it's going to do damage."
Even the tree roots underground catch fire, she said. "There's so many pine needles on top of the ground and that burns and it gets hot because its pitchy and so then it starts the roots smoldering," she said.
"The roots don't even have to be exposed because the ground gets so hot."
Gosson stayed put during the fire, but she did have company join her. Her daughter came to see her the Monday after the fire started. They called the daughter's husband and asked him to bring them Chinese food. But before he could get there, the roads were closed. The daughter ended up trapped at her mom's house overnight and her husband ended up having several days' worth of Chinese food to nosh on.
On Tuesday, Aug. 20 they were allowed to go to a meeting on the fire, but they had to be back by 10 p.m., and they could only have the same people in the car as the ones who left.
Gosson could understand the need for such restrictions, she said, because "there were a lot of sightseers on our road."
After listening to chainsaws buzzing for days — they laid off that noisy activity at night, if they could — Gosson said earlier this week that just a handful of fire crews are patrolling the area, looking for hotspots.
She recounted how she knew the lightning storm that mid-August Friday night had caused mischief. She saw two Forest Service vehicles head up the road "and I thought, 'Oh God, there's a fire someplace.'
"The whole sad thing is the Forest Service has discontinued so many roads that would've helped them" get to the fire.
Her son Eric led some fire crews up the city's Zig Zag Road, telling them to drive exactly where he was driving, so they wouldn't drop their truck in a rut.
Now, every time she looks at her hillside, there are more and more brown trees. "Everything is turning brown now. They've been scorched, the oxygen was pulled out of them."
It won't be until next year in the spring when the full effect of the fire will be known, she said. "There's going to be some dead trees up there."
She knows the hillside still has hotspots, some of which will flare up occasionally until the snow flies.
"Fires don't go away just because the firemen leave," she said.