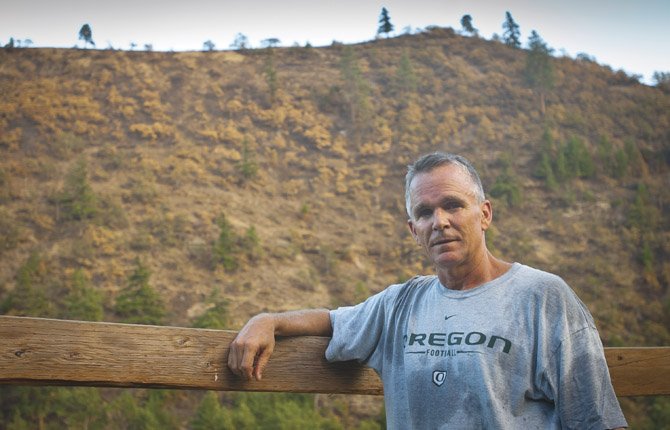 Editor's note: While many residents stayed in place despite evacuation orders while the Government Flats Fire Complex burned, The Chronicle does not advocate such action.
In the scariest moment of a long week, as the Blackburn fire raged around him, Patrick Ashmore watched a fire crew run screaming from a flare-up that almost engulfed them.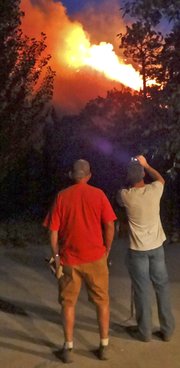 The contract crew was doing a controlled burn-back to eliminate fire fuels, and it got away from them when the wind switched. Ashmore, who lives in the 7100 block of Mill Creek, estimated about an acre of fuel was aflame within the space of one minute.
"Firemen were bailing out of there. It was really a scary event for us to watch," he said. "They literally were running, we could hear screaming, 'Get out! Get out! Get out!'"
Some men were even crawling to get away. "They were barely getting out from in front of the fire."
He realized they were almost killed right before his eyes.
"I've never seen a fire blow up like that. [I have] a huge amount of respect for firemen and what they do."
"What I learned is you can't stop fire," Ashmore said. But he also learned during that long week that his neighbors are unusually helpful — in fact, several firefighters commented that they'd never seen neighbors pull together as much as the residents of Mill Creek did.
When the fire was closely threatening his house, Ashmore put out a call for help. "We had 29 people within an hour and a half helping us clear the fire line."
A neighbor even loaned him a 500-gallon tank that sat in his yard.
"The neighbors were awesome," he said. "Friends were awesome, family pitched in. We got six years of landscaping done in six hours. Bald is beautiful."
"I look at it with a whole new set of eyes," he says of the area surrounding his house. "We're defendable."
The fire came within about 300 yards of his house, he said. It never crossed to his side of Mill Creek Road, he said. "That was a miracle, a lot of the firemen, they couldn't believe it didn't come across" the road, he said. Ashmore recounted seeing big chunks of black charcoal that blew to his side of the road from the fire, but none ever ignited anything. "It was amazing, the wind just kept blowing it the other way, so we were lucky."
The big pile of brush clipped away from around his house is now sitting in the middle of a field below his house, well away from power lines and cable lines.
Like many other residents on Mill Creek, Ashmore's family chose not to follow mandatory evacuation orders. But they did move quite a bit of valuables to safe ground.
They're also sleeping better now that the fire is nearly contained.
"We did a fire watch at night. I went out every two hours and wet the house down, so yeah, it definitely affected our sleep, for several days."
He said neighbors met every morning for a "neighborhood brief and decided what to do for the day, with their chief concern being to "try to stay out of the firefighters' way."
With the worst now over — although Ashmore called 911 on a flareup a week ago — he is left with a feeling of "sincere gratitude to neighbors and friends who helped all of us. We're very sad for those who did lose their homes. We feel very fortunate."