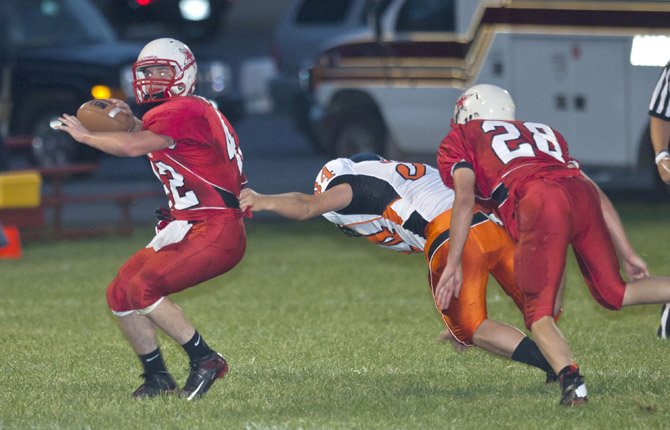 Earning 200 wins is no small feat for a head coach.
When pondering the thought of such an achievement, Dufur coach Jack Henderson was quick to defer all of the credit to those surrounding him in 27 years.
It has been a collaborative effort.
"Sometimes I look back on things and it seems like 27 years has taken 20 minutes," Henderson said. "It is my 200th win, but it is not, it is the Rangers' 200th win under me. There is a reason for 200 wins and it is not because I am a great coach. It is because I have had the privilege of coaching great kids coming from great families, working in a great school district with great assistant coaches through the years. It has been fun."
Nick Little racked up touchdowns 9, 10 and 11, and the Dufur Rangers continued their torrid scoring pace with 284 yards in a 56-28 drubbing of Imbler Friday night in varsity football action in Dufur.
Through eight quarters so far this season, Dufur has notched 710 yards and scored 130 points, a feat last year accomplished in Game 5 on Sept. 28.
In this game, Little did not do a bulk of the scoring, he had some help from Trever Tibbets, Jake Little, and Bailey Keever and all state quarterback Cole Parke.
"Our line blocked really well and the running backs ran hard," said Tibbets, who had 13 rushes for 50 yards and a pair of scores. "We have been executing all of the plays and whatnot, doing what we need to do to be successful on the football field. We have been practicing and it has paid off so far."
In addition to the offense output, the special teams unit chipped in with two trips to pay dirt.
All it took was 14 seconds to put a crooked number on the scoreboard, as Nick Little scampered 75 yards for the opening tally to move the Rangers in front 6-0 with 11 minutes and 46 remaining in the first frame.
The other score came from hulking lineman Jon Buntin.
After Imbler had dropped a touchdown from Ty Tandy to make it 12-6 Dufur with 2:30 left in the first quarter, they attempted a squib kick.
Buntin needed eight seconds to make his 45-yard scoring jaunt to move his squad ahead, 20-6.
"It was a very long 45 yards," Buntin said. "I got a little winded, but when you do something like that, it is thrilling and exciting and it brings energy back into your body when you are tired. It feels great to do this for the team."
Up by 14 points through one quarter, Dufur padded its lead with a 16-8 surge.
Following an Imbler fumble, the Rangers answered the call on a three-play, 30-yard drive.
Nick Little started with a 25-yard run, and then on second down and five, Tibbets cruised in from five yards to give the Rangers a 28-6 lead with 4:39 left in the second quarter.
The Panthers came back on their ensuing drive for a 10-play, 62-yard drive, helped by two Dufur personal foul penalties.
Kyle Johnson capped the drive with a 16-yard touchdown pass to Rustin McDonald to run the count to 28-14 with 48 ticks left on the watch — too much time for Parke and this prolific offense.
Dufur took the ball on its own 44-yard line and ran three plays in 29 seconds.
On second down and four from the Imbler 26, Parke lofted a ball down the right sideline into the waiting arms of Nick Little for the touchdown and a 36-14 Ranger halftime cushion.
From down in the trenches, Brent Sumner always loves seeing his mates scooting into the end zone.
"Our offense has been doing very good," the lineman said. "Everyone is thriving to get better and better each day. It is exciting to see it all work out. We are actually communicating a lot better and talking a lot more as a whole. We have been able to get some good plays out of it too."
In the opening half, Dufur's defense forced two turnovers and two punts, while surrendering 150 yards.
Imbler's leading rusher, Joe Griffin, had 37 yards on 11 rushes, as his team had nine plays go for two yards or less.
The Panthers also had a 72-yard touchdown pass to Griffin called back due to an illegal forward pass penalty.
Holding Griffin in check was a huge priority heading into Friday's contest.
"We had to keep outside contain and whatnot," Tibbets said. "Our line did good and our linebackers came up and filled the holes. We flew to the ball and made plays."
In the second half, Nick Little had a four-yard scoring plunge, Tibbets jumped in from a yard out and Parke capped the scoring binge with a 23-yard touchdown pass to Jake Little with 10:36 left in the final quarter.
With the game well in hand, the Panthers hit the end zone, using a 65-yard run by Johnson and a one-yard score by Griffin.
The little scatback rushed 21 times for 90 yards, and he led the air attack with four catches for 35 yards.
Johnson rushed for 102 yards and completed 13 of 23 passes for 130 yards and a score.
When Imbler was not scoring, they were committing mistakes.
The Panthers punted three times, had two drives end in a loss of downs and they fumbled four times.
For the Rangers, Nick Little carried the rock 16 times for 145 yards to pace a 201-yard team effort on 20 attempts.
Parke had an efficient game from quarterback, as he completed 4 of 8 passes for 83 yards and three touchdowns.
In two games, the Rangers have enjoyed immense success against two solid programs.
Buntin is not worried about that anymore, though, he has larger goals on his mind.
"I am a firm believer in that you are never at your full potential," he said. "You can always improve through hard work and the will to get better. It is very important for us to not focus on how many games we have won, but to continue to look forward at each game individually. Yesterday does not matter; it is all about today and tomorrow."
Dufur (2-0 overall) heads to Perrydale next Friday.