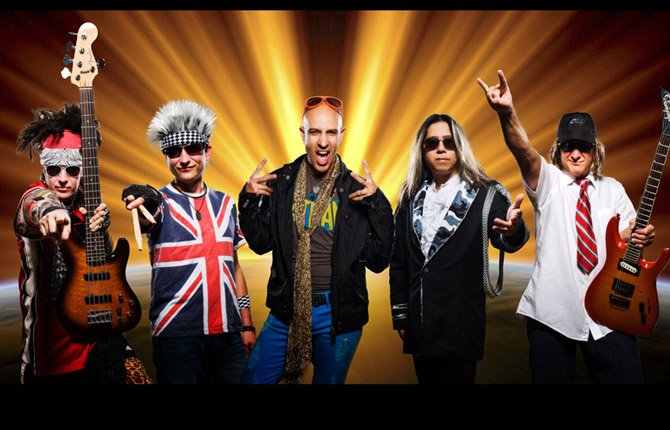 HIT MACHINE WILL play Friday, Sept. 20, at Clock Tower Ales to support the United Way of the Columbia Gorge. The local United Way helps fund agencies such as HAVEN, Meals-on-Wheels and CASA. Doors open at 5 p.m. and the band starts at 7 p.m., for those 21 years and older. Tickets are $10 in advance, $15 at the door and are available at Clock Tower Ales, The Dalles Fitness Club and Klindt's.
Announce your public, nonprofit activities here, 75 words or less. E-mail to tdchron@thedalleschronicle.com or fax to 541-298-1365 or drop off at the Chronicle, 315 Federal St., PO Box 1910, The Dalles OR 97058.
New Entries
CHOIR REHEARSALS: The Cascade Singers will prepare works this fall by two great composers whose 200th birthdays are celebrated in 2013: Ciuseppe Verdi and Richard Wagner. "Verdi, Wagner, et al" is the theme for the community choir's holiday concert Dec. 7 and 8.
Singers meet under the direction of Lloyd Walworth Mondays form 7 to 9 p.m. at Zion Lutheran Church, 10th and Union streets, in The Dalles. A one-hour work session takes place Thursdays at 7 p.m. Rehearsals are open to all interested singers, who will then audition with the director. The choir often appears at community events with formal concerts at Christmas, St. Patrick's Day and late spring.Director Lloyd Walworth can be reached at lloydwalworth@gmail.com or 541-340-9858 for more information.
September 8
POTLUCK SUPPER: The Dalles AFS chapter has four new students to meet and welcome: Botond from Hungary, Rocco from Italy, Torbjoern from Switzerland, and Xavier from Italy. AFS Potluck Supper, Sunday, Sept. 8, 4:30 to 6:30 p.m., Sorosis Park.
Bring a dish to share (main dish, salad, or dessert). Utensils and beverage will be provided.
September 10
TAI CHI CLASSES: Tai Chi is starting again at the Mid-Columbia Senior Center on Tuesday, Sept. 10. The class is taught by Corliss Marsh and is once a week on Tuesdays from 1 to 1:45 p.m. Sign up by calling the Center at 541-296-4788 or attend the first class on the 10th. The cost is $2 for each session.
TERM CARE: The Oregon Ombudsman Representative is coming to Hood River Library on Tuesday, Sept. 10, at 10 a.m. to address issues and answer questions about resident rights, medications, billing, lost property, meal quality, evictions, guardianships, dignity and respect, and care plans.
This program serves residents in nursing facilities, residential care facilities, assisted living facilities and adult foster care homes.
For more information, contact Hood River Library District at 541-386-2535, info@hoodriverlibrary.org.
September 11
ANNUAL MEETING: The Dalles Friends of the Library Annual Meeting will be Wednesday, Sept. 11, at 7 p.m. in the library meeting room. Refreshments will be served. The presentation will be "The Library of the Future; We've got Google and Kindles, so why do we need a library?" Speakers include Buzzy Nielsen, director, Hood River County Library District, and Jayne Guidinger, teen program coordinator, The Dalles Wasco Library. Everyone is welcome.
September 12
KIWANIS PROGRAMS: Sept. 12, is Marvin Pohl on Area Agency on Aging.
Sept. 19, is Anya Kawka on "Building with Trash: Our Eco Adventure in Guatemala" — how a community in the highlands of Guatemala is using plastic bottles, old tires, and mud to create schools, homes, and hope for a new generation.
Sept. 26, is the monthly club business meeting.
For more information go to www.thedalleskiwanis.org/. Kiwanis meetings are held every Thursday noon at Spooky's and visitors are welcome.
September 13
CHURCH MEETING: Come join us for fun and creative fellowship at Heritage Bible Baptist Church the second Friday of each month (Sept.13, is the next meeting day). Lots of ideas and materials free for you to become creative and to start those holiday projects now. Bring a friend and share your ideas with us. We meet at 905 Heritage Way (the church building) and start at 7 p.m. If you have any questions, you can call 541-298-1727.
September 20
BENEFIT CONCERT: Hit Machine will play Friday, Sept. 20, at Clock Tower Ales to support the United Way of the Columbia Gorge. The local United Way helps fund agencies such as Haven, Meals-on-Wheels and CASA. Doors open at 5 p.m. and the band starts at 7 p.m. 21 years and older. Tickets are $10 in advance, $15 at the door and are available at Clock Tower Ales, The Dalles Fitness Club and Klindt's.
September 21
SATURDAY BREAKFAST: The Mid-Columbia Senior Center's Sept. 21 breakfast, from 8 to 9:30 a.m., is sponsored by The Dalles High School Class of 1963. Texas-style French toast, scrambled eggs, sausage, fruit and your choice of beverage will be on the menu. Cost is $5 for the general public and $4 for center members or '63 graduates of TDHS.
September 24
LECTURE SERIES: Intuitive Eating: Creating a Healthier Relationship with Food Tuesday, Sept. 24, 7 to 8:30 p.m. eat when you're hungry and stop when you're full. Sounds simple and common sense, right? But many people know it's not as easy or simple as it sounds. Join Jordann Kearns, RD, as she discusses reconnecting with our innate ability to listen to our body's cues about eating to develop a more satisfying and realistic relationship with food that can lead to better emotional and physical health.
All Lectures are Free and held at Water's Edge, second floor, Deschutes Room551, Lone Pine Blvd., The Dalles. Call 541-296-8444 or visit mcmc.net/library to register.
September 28
CONSTITUTION SEMINAR: The Coalition for an Educated Electorate will host a Constitution Seminar with the Wall Builders and Tim Barton Saturday, Sept. 28, from 1 to 3 p.m. Introduction will be by historian John Brennan of Hood River. Seminar speaker will be Oregon Rep. Dennis Richardson from U-Choose.
The event will be at the Columbia Gorge Discovery Center, 5000 Discovery Drive, The Dalles. Cost is $15 per person in advance. Seating is limited. For reservations call 541-467-2371 in Wasco County, 541-980-0605 in Sherman County, and 541-308-5375 in Hood River County.
September 29
WHITEWATER RAFTING: The 2013-2014 Sense of Place lecture series will kick off with a place-based lecture on the scenic White Salmon River, Sunday, Sept. 29, from 11 a.m. to 2 p.m.
Join a guided whitewater rafting trip on the White Salmon River and learn about the process of removing the Condit Dam from some of the key players involved with the project. Plus, enjoy light fare and refreshments at the end of the float. http://gorgeown
ed.org/programs/sense-of-place

October 5
HOME TOURS: Gorge Green Home Tour will be Oct. 5, from 9 a.m. to 4 p.m. in Hood River and Mosier. The tour offers a unique opportunity for residents and visitors to connect with homeowners, designers, do-it-yourselfers and contractors around a range of topics related to sustainable design, building, and living. Online: http://gorgeowned.org/programs/gorge-green-home-tour.
Ongoing
FARMERS' MARKET: White Salmon Farmers' Market is every Tuesday through Sept 24, from 4 to 7 p.m. in the Feast Market parking lot, White Salmon. It includes barbecue, live music, beer and wine. Online: http://www.gorgegrown.com/resource/White-salmon-market.cfm.

DAM TOURS: The U.S. Army Corps of Engineers will offer tours of The Dalles Dam this summer, every Saturday and Sunday at 10:30 a.m., 12:30 p.m. and 2:30 p.m. Tours will end the last weekend of September.
Pre-registering for tours is strongly recommended, as space is limited. Details: The Dalles Dam Visitor Center at 541-296-9778 or The Dalles Dam Ranger Office at 541-506-7857, and
http://1.usa.gov/1785NtD.
To reach The Dalles Dam Visitor Center, from Interstate 84, take Exit 87 and go east on Bret Clodfelter Way, located at the junction of U.S. Highway 197 and I-84.
ZUMBA PROGRAM: Northern Wasco County Parks and Recreation along with Licensed Zumba Instructor's Marsha Morrison and Brenda Green are offering Zumba to the community at the Muscle and Fitness Center, 915 Garrison St., Mondays at 9 a.m., Tuesdays 9 a.m. and 6 p.m., and Thursdays 9 a.m. and 6 p.m. Drop-in fee is $5. A punch card is available.
Contact the Parks District at 414 Washington St. Suite 1D, The Dalles, 541-296-9533, or email programs@nwprd.org for more information.
SOIL TESTING: OSU Wasco County Master Gardeners now offer soil testing every week through October 2013. Garden soil will be tested for nitrogen, phosphorous, potassium, pH, humus, and texture.
The cost is $25 for each sample tested. For information on how to collect a sample, contact the OSU Wasco County Extension Service at 541-296-5494, or find out online at www.extension.oregonstate.edu/wasco. This service is available to home gardeners only.
GENEALOGY MEETS: The Columbia Gorge Genealogical Society meets the second Saturday of each month at the Columbia Gorge Discovery Center. The public and guests are welcome. A no-host lunch starts at noon in the Basalt Cafe.
For more information, call Sandra Bisset at 541-298-1240 or email wildflowers@gorge.net. Get a membership application or more information online at http://community.gorge.net/genealogy/about.html Blog: http://cggsblog.blogspot.com. The society is also on Facebook.
SUPPORT GROUP: Reach support group meetings are on the last Monday of the month, 5:30 to 6:30 p.m. at Spooky's Pizza Parlor. Contact Lori Carter 541-980-9464 or www.reachthedalles.org.