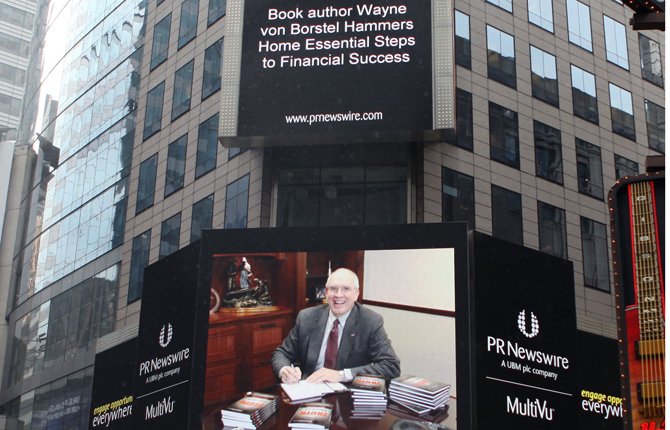 The Dalles — Wayne von Borstel has found his purpose in helping people realize financial wellbeing.
He has been a financial planner for 28 years and recently wrote "The Truth Project: Finding the Courage to Ignore Wall Street," as a way to share his knowledge and encourage people to learn how to maximize their potential.
Von Borstel says everyone has their own individual financial DNA and once we find that, we can "all maximize ourselves to a higher end result. Your goals are different from someone else's."
The people in an individual's life, the events in their life and a host of other factors play into that DNA, von Borstel said, including what is learned from watching parents as a child, what is gleaned as an adult from friends and associates, and the "popular financial myths perpetuated by the media and the omnipresent marketing machines of Wall Street" — what von Borstel calls the "financial pornography" of the industry.
Not all people in the financial industry take the distinctions of financial DNA into account, he said.
"The vast majority of my peers are more interested in their golf game than their clients," von Borstel said, adding that most financial advisers are selling products.
"I don't have to make a sale," he said. "I can allow you to be the engine of your plan."
Von Borstel aims his book at a relatively small target audience: "the 10 to 15 percent of you who are coachable when it comes to your financial future," he writes in his forward. "Unfortunately, most people are so preoccupied with the spending habits they have cultivated throughout their lives, they are not willing to learn."
He says his job is to deal with people, not with investments.
"Ninety-five percent of your success is based on the choices you make in life," he said.
Von Borstel's book isn't about getting rich quick. Instead, it describes four core truths of financial planning:
Investing should be systematic, unemotional and diversified.

"Peace of mind" should be your goal.

Your financial DNA is unique.

Planning is a process, not an event.
Unfortunately, many people proceed from an emotional standpoint, looking for the quick riches and easy answers.
"Anybody knows you should not buy high and sell low," von Borstel said, but many people do just that, relying on the false idea that an investment that has done well in the past few years will continue to do well in the future.
"There will be another bad market," he said. "Nobody can tell you if it will be two weeks from now or two years from now. Emotions are your enemy."
"Financial planning is just the ability not to think about money — to have faith in the process enough that you can live life, be the best grandparent, best neighbor, best parent, best fisherman — whatever — that you can be," von Borstel said. "And hopefully, you can be a better steward of the community."
Typically, he said, a financial plan should include an emergency fund that covers six months of living expenses, five years worth of conservative assets, a budget that allows for comfortable living on 3 percent of wealth annually and no debt.
"Every decision either takes you closer or further from those four things," he said. "If you have those four tenets, you should be able to adjust and be OK."
Von Borstel urges parents to help their children develop a pattern of savings early in their lives, which will help them to build a financial base over time.
"We have become a society of moneyholics and nobody talks about it," he said. "The number one disease in the U.S. is being a moneyholic. Net worth should go up every year. Debt should go down. Debt-to-equity ratio should go down. If you're not able to do that, then you are a moneyholic."
He likens financial planning to putting together a puzzle.
"There's no way you can get the last piece without the boring, mindless edge pieces," he said. "What Wall Street sells is the last piece without the edge pieces."
Von Borstel believes God gave him a purpose to affect people's lives for the better. "If I can affect enough people's lives for the positive, they can affect other people's lives and maximize their potential," he said. "Then we can change the world."
Find more information about "The Truth Project: Finding the Courage to Ignore Wall Street" online at www.vonborstel.com/books.
Von Borstel's office is located at 308 E. Third St. in The Dalles, or reach him by phone at 503-257-6969.