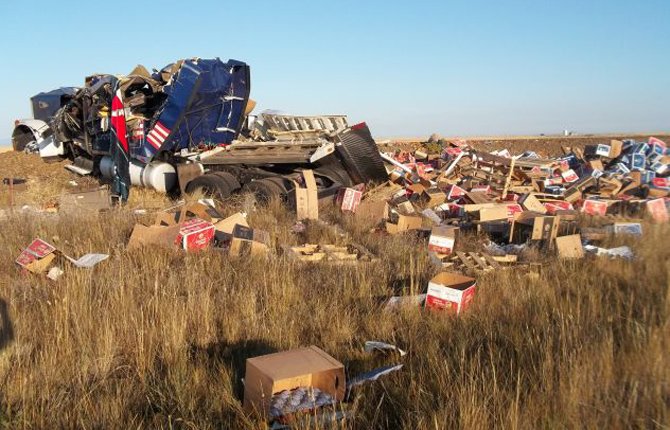 Oregon State Police (OSP) is continuing the investigation into an early Sunday morning commercial truck injury traffic crash along Highway 97 about five miles south of Grass Valley in Sherman County.
The crash totaled the truck and trailer transporting apples.
The northbound lane was affected while workers recovered a portion of the load and then removed the truck and trailer.
State police reported preliminary information that on Sept. 8, at about 5:25 a.m., a 2003 Peterbilt truck pulling a semi-trailer loaded with apples driven by a 47-year old California man was traveling southbound on Highway 97 near milepost 34.
As the driver was negotiating the truck through a curve, the truck and trailer traveled onto the shoulder. The driver over-corrected and the truck and trailer rolled off the highway before coming to rest.
The injured driver got out of the crushed occupant compartment and was later transported by ambulance to Mid-Columbia Medical Center in The Dalles for treatment of non-life-threatening injuries.
OSP, South Sherman Fire and Rescue, and ODOT personnel responded. According to Senior Trooper Michael Holloran, a local tow company is working with the trucking company, Uncle Sam Transport out of Yakima, Wash., to salvage unopened boxes of apples not affected in the crash.