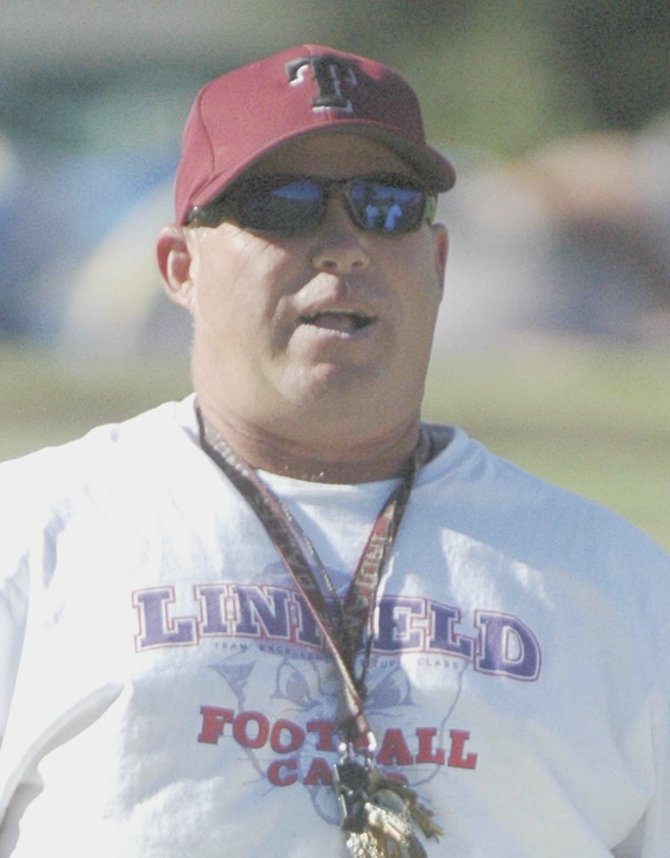 With win No. 1 under their belts, The Dalles Wahtonka head coach Steve Sugg feels that the pressure is off and now his team can steadily build towards the bigger picture down the line.
"It is definitely a starting point. It is always great to get that first win. I am excited. I know the rest of the coaches on staff are excited," said Sugg. "Now we can get the kids to try to believe in themselves a little bit more and gain some more confidence as we go."
In Friday's road win over Benson Tech, Chaise Shroll rushed for 129 yards and three touchdowns and he added a 30-yard scoring pass to Austin Wilson to pace TDW to a 34-24 win over Benson Tech.
In all, TDW carried the ball 39 times for 288 yards, and tacked on 97 yards through the air.
Aside from Shroll and Wilson, Zach Cantrell capped the scoring in Friday's contest with a 47-yard run with two minutes and 29 seconds left in the fourth quarter to give TDW a 34-18 lead.
"Offensively, we ran the ball a lot better," Sugg said. "I think we came out with more of a concentrated effort on running the ball as opposed to passing the ball. Even though Benson put eight and nine guys in the box, we were still able to run against that fairly well."
One of the biggest differences was in the turnover battle, where the Eagle Indians had just one miscue to Benson's three. TDW notched 5.5 sacks, had 10 tackles for loss and held a strong running program in Benson to 184 yards on 37 rushes.
There were a couple of teachable moments defensively, where the Tribe was caught in some blown coverages and option misreads, but overall, Sugg was happy with the effort on that end of the field.
"For the most part, we saw some good things," Sugg added. "Obviously, we still have a lot of work to do. That is why we play nine games, so we can try to get better each and every week. That is our goal."
Sugg said the win took a lot of pressure off, so for a team that won one games in each of the past two years, the focus is on adding to those numbers.
"They have been working hard all summer in the weight room, team camp and daily doubles, so they need to be rewarded for that," Sugg said. "It was good to see this team finally get the monkey of their backs. For those seniors, they can get refocused and ready for the next game. My hat is off to them."
TDW (1-1 overall) kicks off its home slate at 7 p.m. Friday against Crook County.
TDW 34, Benson Tech 24
TDW 14 7 0 13 -- 34
Benson 6 6 6 6 -- 24
Scoring Summary
1st Quarter
T - Austin Wilson 30 pass from Chaise Shroll, (Schroll run), 7:44.
B - Andy Hak 5 run (Pass failed), 2:45.
T - Shroll 21 run (Eli Holeman kick), 2:48.
2nd Quarter
T - Shroll 4 run (Holeman kick), 2:48.
B - Hak 3 run (Run failed), 1:11.
3rd Quarter
B - Noah Terry 73 pass from Alan Meza (Run failed), 3:08.
4th Quarter
T - Shroll 9 run (Pass failed), 9:18.
T - Zach Cantrell 47 run (Holeman kick), 2:29.
B - Hak 22 pass from Meza (Pass failed), 1:00.
OFFENSIVE GAME STATS












Rushing: TDW, Shroll 13-129; Cantrell 4-49; Holeman 7-45; Billy Brace 2-25; Blake Diede 7-26; Nolan McCall 1-9; Devin Wilson 5-5. Benson Tech, Hak 17-131; Meza 12-60; Thomas Wallberg 3-37; Ben Gilmore 1-0; Darian Romero 1-0; Robert Coleman 1-0.
Passing (Comp, Att, Int): TDW, Shroll 9-25-1 86 yards; Cantrell 2-3-0 11 yards. Benson Tech, Meza 10-25-1 226 yards; Coleman 0-1-0 0 yards.
Receiving: TDW, Devin Wilson 4-1; Cantrell 3-53; Austin Wilson 2-31; Zach Nerdin 1-9; Brace 1-3. Benson, Katahdin Bosco 3-47; Hak 2-30; Scott Williams 2-28; Terry 1-73; Romero 1-33; Freddie Sly Jr. 1-15.
DEFENSIVE GAME STATS












TDW, Holeman 6; Nerdin 6; Riley Bardes 5.5; Storm Douthit 5.5; Devin Wilson 5; Connor Shortt 4.5; Diede 4.5; Brace 3.
Forced Fumbles, Bardes 1; Fumbles Recovered, Devin Wilson 1, Shortt 1; Interceptions, Cantrell 1; Sacks, Devin Wilson 3.5; Brace 1; Justice Tyler 1.