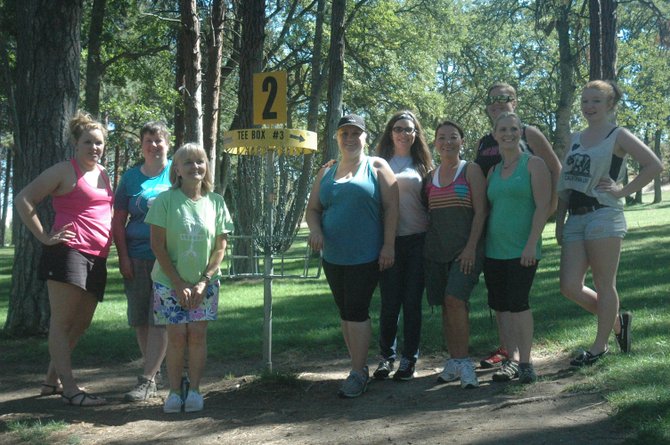 The Dalles — With every flip of the wrist, Rebecca Tobias is playing for the women of disc golf.
It is a role she enjoys playing.
On Saturday, at the Treetop Golf Course at Sorosis Park in The Dalles, nine female disc golf players gathered for their monthly 'Chick Flick' casual round of disc golf to network and they learn from each other.
The scores were tabulated, but for the most part, this round was mainly a fun takeaway from the rigors of tournament and travel and everything else involved in being a competitive player.
"We just wanted to meet up and have some fun," said event organizer Rebecca Tobias, a registered nurse at the Oregon Veteran's Home. "It was a good turnout. We like to see as many people as we can. It is a good chance for us to get closer and talk the sport, rather than just competing. You can get some great feedback from everyone."
At this event, Tobias purchased gifts and prizes for the participants, who were matched up in three three-person teams.
There was a closest-to-the pin award, hole prizes and a $20 gift certificate provided by Rivertap of The Dalles.
Following play, the players congregated for a barbecue lunch to share some more laughs, but then play turned serious with mixed doubles action, pitting spouses together for bragging rights.
This event marked the first women's disc golf match held at Sorosis Park. Tobias wants to make it a regular occurrence, as she strives to have more female members playing a sport she loves.
To the novice, disc golf is similar in ways to ball golf, where no two rounds of play are alike.
Players have putters, mid-range discs and drivers.
Each disc is made of re-inforced plastic and can travel as far as 500-feet.
At Sorosis, all of the cages are three-par distances, but at other big courses, there are some long courses that challenge even the most highly skilled participant.
Now, there are professionals who can earn $30,000-$50,000 a year on tour.
"I have seen the number of women grow substantially in the past couple of years and I think it is only going to get bigger," Tobias added. "You don't have to be an expert or professional to play, you just have to have an open mind, because after one round you will be addicted."
Along with Tobias, Samantha Stephens, Cindy McMahan, Benita Harper, Jennifer Barajas, Shawn Wilberscheid, Judy Martinez, Kristy Cole and Sky Wilberscheid were on hand for the festivities.
Tobias and Cindy McMahan are two of the names prepping for the upcoming 2013 USWDGC (United States Women's Disc Golf Championships) to be held from Sept. 21-23 in Portland.
"It is just as competitive as the men's division," said McMahan. "We have so many talented women on tour, it is scary. It is evolving and I believe women can make this an even more popular sport."
Women compete in weekly and monthly tournaments.
McMahan has seen a steady progression in her play.
It has given her confidence to compete in these prestigious events.
"My game has improved as I have played more," McMahan said. "In the beginning, you are not sure if you can compete because your main worry is about getting the disc to go straight. With practice and some trial and error, my scores have really improved. We will see how this championship goes, but i like my chances."
For more information on women's league or for a tutorial, call 541-296-7190 ext. 252 or log on to www.facebook.com/gorgediscgolf to check on the latest news, events and updates.