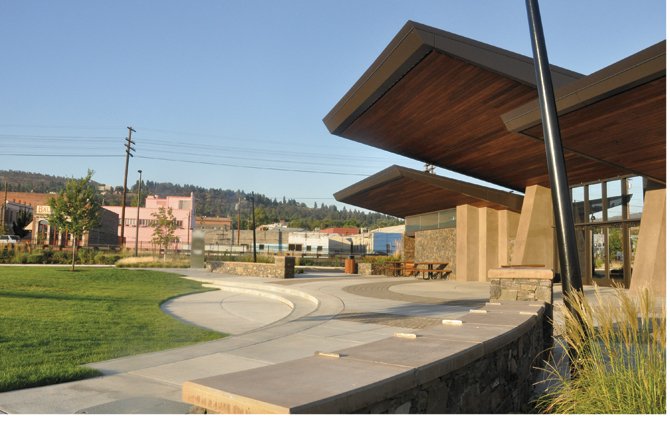 The Dalles City Council was asked Sept. 9 to discourage all tobacco use, including snuff and chew, within the Lewis and Clark Festival Area at the foot of Union Street.
"Because it's a brand new park, my sense is the sooner the better," said Mary Gale, an administrator from the Wasco Sherman Public Health Department, who made the appeal. "When you upgrade the environment people take notice."
Councilor Dan Spatz was joined in support of Gale's proposal by Councilors Tim McGlothlin and Bill Dick. Spatz said it would be desirable to have a consistent policy in place for all green spaces, such as Heka Park, within the city.
"It doesn't make any sense to have this policy in place at one park and not others," said Spatz.
Not everyone at the Sept. 9 meeting agreed with that plan.
"I have some problems with the Nanny State expanding its power," said resident Rodger Nichols.
He said the only reason to include chew and snuff, which did not produce second-hand smoke that could affect others, in the proposal was to further an agenda of regulating people's choices.
The state's Smokefree Workplace Law prohibits smoking within 10 feet of building entrances, exits, windows that open, and ventilation intakes of workplaces or public places. The law does not apply to chew or snuff.
A fact sheet provided to the council by Gale and Debby Jones, director of YOUTHINK, a prevention organization that seeks to help teenagers make healthy lifestyle choices, showed that education and regulation since 1996 had lowered statewide smoking rates.
Most notable on the sheet was that smoking had decreased 74 percent among eighth grade students in the last seven years — and had gone down 57 percent among 11th graders. Other data showed that smoking during pregnancy had dropped among birth mothers by 40 percent and smoking among the general population had gone down by 14 percent.
Gale said 3,070 adults smoke out of the 28,945 total residents in Wasco, Sherman and Gilliam counties served by the health department. She said 1,480 people suffer from a serious illness caused by tobacco use within that service area, driving medical costs into the millions and causing lost work productivity.
"Three out of four people who use tobacco want to quit," she said. "The best way to get them to quit is to raise prices and provide spaces where use of tobacco isn't acceptable."
She said more than half of all Oregonians with subsidized incomes smoke.
"These are the people who can least afford it," said Gale.
She said travelers arriving in cruise ships at the dock next to the festival area could be encouraged to use smoke replacement therapies instead of lighting up. She said signage would get the word out about the city's stance but a policy needed to be put in place to strengthen prevention efforts.
She said a person at the park who knew the city had a tobacco-free policy might feel empowered to speak up to someone who was smoking.
"Everyone needs to be encouraged to quit," she said. "Our belief is by raising the standard, we are going to encourage other good behavioral standards." Her comment referenced recent incidents of vandalism and graffiti at the Festival Area.
Gale said Wasco County has created a tobacco-free zone outside the health department , as well as the grounds of its Mid-Columbia Center for Living property and the site that formerly housed La Clinica del Carino, which has since moved to new quarters. The policy does not extend to other county-owned buildings, although cessation advocates hope that one day it will.
Northern Wasco County Parks and Recreation District has tobacco-free environments at all parks under its jurisdiction.
The council asked Gale to work with Gene Parker, city attorney, to develop language for a policy that will be reviewed at a future meeting.