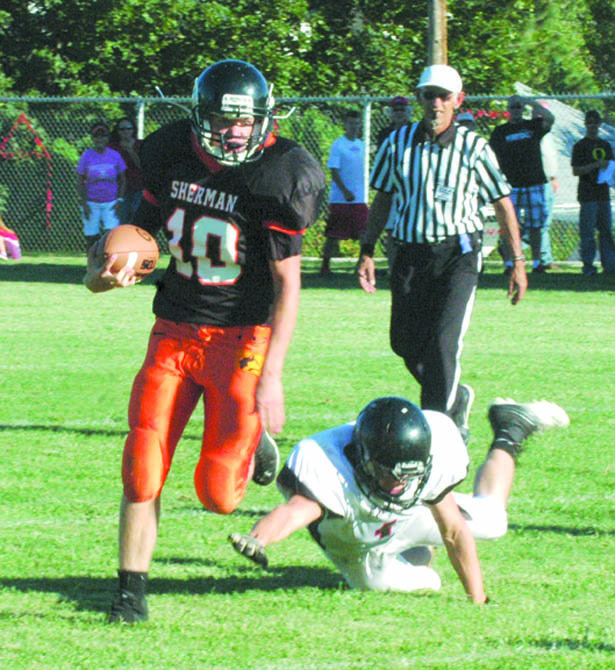 Moro — It has been an impressive two-game start to the season for Todd Swan and his Sherman Husky football squad.
The Huskies have scored 90 points, 800 yards of offense and the defense has allowed 30 points in victories over Perrydale and Prairie City.
While the first two games have been close to home, this time around, the Huskies will head 186 miles east to take on Imbler for a game at 2 p.m. Friday.
The Panthers are licking their wounds after a 56-28 setback last week against Big Sky opponent Dufur, so they are 1-1 on the season.
With Imbler always a threat to do damage in the state scene, Swan is well aware of the threats they pose offensively.
Last season, the Panthers scored 616 points and they have tallied 74 points in just eight quarters, using Joe Griffin, Kyle Johnson, Luke Silbermagel and a mammoth offensive line to rack up the points.
With long-time coach Lee Lowe on the sidelines, Swan is prepared for anything and everything.
No previous offensive philosophy is set in stone.
"We know they can spread the field and create space for their athletes," Swan said. "We also know that they can pound the ball, running behind their big boys on the line."
Sherman does not have the ideal size in the trenches, but they have done their best to master technique and finding angles and the results are impressive.
Griffin is quick scatback, who can go the distance at any moment and Johnson is a dual threat at quarterback.
"We continue to work hard at the fundamentals." Swan said of his defense. "We spend a lot of time on tackling, pursuing the ball carrier, and being in position. There is nothing fancy with what we do. We play fast, smart, and under control."
Last week, the Imbler defense allowed 284 yards of offense to the Dufur Rangers and they were burned on three long passing plays.
On the ground, Imbler allowed more than 200 yards and 5.7 yards a carry.
It could be a boon for Blake and Brett Evans along with Maverick Winslow.
That trio amassed 366 yards rushing and six touchdowns in Sherman's 62-14 win last week over Prairie City.
This week, the Husky offense will match wits against an Imbler defense that is very similar in scheme to their own, so Swan feels his group is prepared in terms of knowing assignments.
"However, we know as a team that getting into position is only half the battle," Swan said. "The next piece is willing to challenge yourself to the mental battle of competing. I am starting to see some of our kids realize what can be accomplished when you empty your tank and leave everything on the field."
This good start to the season has re-energized a Husky program that is still very young in terms of playing a high-caliber of 1A varsity ball with seven freshmen on the roster.
The wins have been nice and have created a profound zest in practices this week.
"From day one, the energy at practice has been positive," Swan said. "While this week does seem to have a little extra buzz, I think it is more related to some of our kids growing as leaders and even more of our kids being open to leadership. I am extremely proud of the type of young men they are becoming on and off the field. The fact that we are playing the greatest game in the world is just gravy."