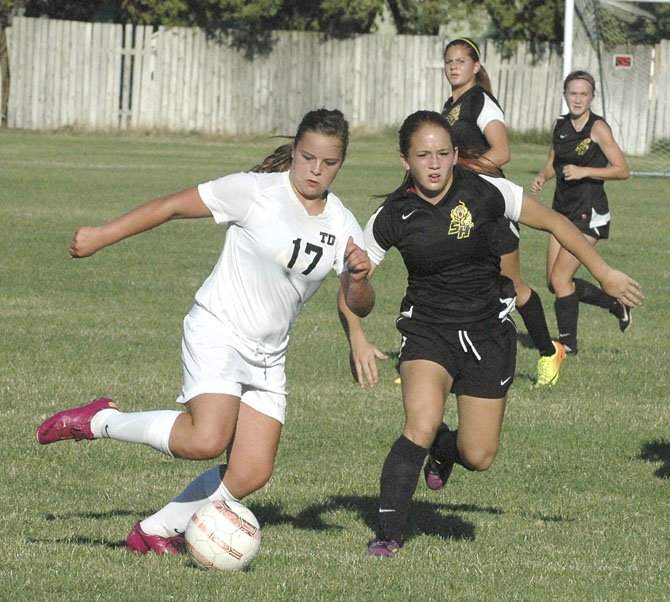 The Dalles — Usually, the road team struggles to get going after a long bus ride.
Not for St. Helens.
The Lady Lions scored a goal from Stevie Strawn in the first three minutes and added two other tallies to post a 3-0 shutout victory over The Dalles Wahtonka in girl's soccer play Thursday in The Dalles.
"We need to come out ready to play," said TDW head coach Colby Tonn. "They got a quick one on us three minutes into the game and it kind of set the tone on our home field. It has to be the other way around. We need to start faster and get on them early."
Up 1-0, the Lions added another goal off the foot of Ashley Giesbers to make it 2-0 at the break.
Down by two at the start of the second half, TDW finally had things working on offense with seven solid opportunities by Brooke McCall, Hannah Walasavage, Monique Mendiola and a few others.
Unfortunately, those shots either sailed high, went wide or were stopped by St. Helens goalkeeper Athena Dugga.
"Our shots did not go in for us," said TDW goalkeeper Ruthie Ford, who had six saves.
"We will work on finishing our shots a little bit more in practice, so next time, those goals will go in. I think we have the talent to do it. We just need to have the confidence."
With five days to settle things, Ford said it is important to come back stronger and keep going.
It is a long season and there still are high hopes for the squad, as they make their way towards league action on Oct. 1 at home versus Hermiston.
"We need to work on connecting the offense and defense to our midfield," Tonn said. "We will also try to perfect our transitioning and counter attacks. Those are the main things that we need to work on. That and just work a little more on finishing. This way, when we get the chances, we can put them away."
TDW (1-2-0 overall) will look to end its 80-minute scoreless streak with another non-league tilt at 4 p.m. Tuesday at Madison.
The Dalles Wahtonka's junior varsity team hit the field as well Thursday and lost 3-2 to St. Helens.
Jennifer Bonham scored a goal in the first half, and with the Tribe down 3-1 in the second stanza, Giselle Manzo added a penalty kick tally to to cap the scoring.
Hannah Lupke added eight saves in net for the Eagle Indians.