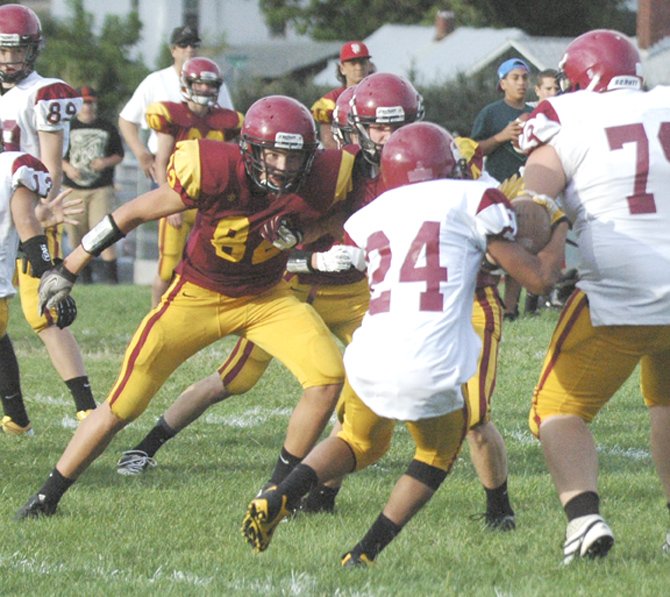 The Dalles — Now with win No. 1 in the books, The Dalles Wahtonka football will look to build a winning streak at 7 p.m. this Friday with a home-opening matchup against a tough Crook County team.
The Cowboys bring a rough and rugged philosophy to the mix, and Tribe head coach Steve Sugg has prepared his team to deal with the physical toll this next 48 minutes will have.
"You are looking at a bunch of country boys with a blue-collar work ethic," Sugg said. "We know that they are going to come after us. I am looking forward to a hard-fought and physical battle. I told the kids that we will need to bring our 'A' game physicality wise, because Crook County likes to hit."
So far this season, the Cowboys have struggled offensively scoring just 20 points in a pair of losses to Henley (21-14) and Cascade (33-6).
Last season, Crook County, which uses the double-wing spread offense, scored 269 points, including a three-game stretch where they racked up 156 in wins over TDW, Madras and Madison.
The win against TDW was a lopsided 42-6 affair on Sept. 14, 2012.
Sugg has emphasized with his defense to play a fundamental game to stop this offense.
"They do a lot of counters and reverses off their double wing spread, so we are going to have to be extremely disciplined on the defensive end," Sugg said. "We need to stay in our lanes and not chase the ball."
Offensively for TDW, they will continue their quest to get the passing game more involved, as the running game appears to be improving week-to-week.
In their last game, a 34-24 win over Benson, the Tribe carried the ball 39 times for 288 yards, and tacked on 97 yards through the air.
Sugg said Benson stacked eight and nine defenders in the box to try to stop the running attack, but TDW was able to gain some big yards through its zone read.
Versus Crook County, Sugg envisions his offense facing a soft Cover-2, so the goal is to methodically move the chains in time-consuming possessions.
"My guess is that they are probably going to make us string together 10-12 play drives together and try to take the big play away and make us earn it," Sugg said. "We are just going to have to take what they give us, put some drives together and get it done."
TDW still has Chaise Shroll at quarterback, and Eli Holeman, Blake Diede, Devin Wilson, Zach Cantrell, Nolan McCall and Billy Brace running the ball.
On passing routes, Storm Douthit, Austin Wilson, Zach Nerdin and Payton Eaton will have the responsibility of getting the air attack going.
Another key element is the return of wide receiver Austin Dehart.
The speedy 6-foot-1 inch, 185-pound wide receiver makes his 2013 home debut, a return that could open up the deep play to new levels.
"Our point of emphasis this week is to try and score off our passing game," Sugg said. "We need to get that going more consistently. We are going to try to establish that off-tackle play right out of the chute and try to keep them guessing with our passing game. That is our game plan."
Radio station 1440 AM will broadcast the game.