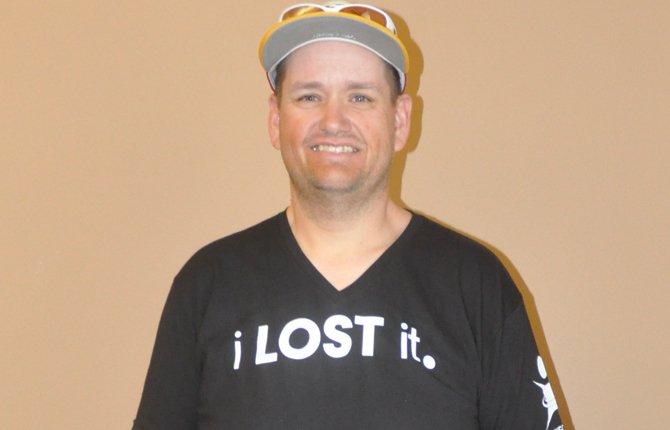 Chris Brumfield was in a deep depression at the start of 2013 after losing a job and separating from his wife at a time when he was experiencing serious health problems.
He weighed in at 392 pounds and was taking medication to reduce anxiety, stabilize moods, regulate diabetes and lower his cholesterol level that was in the danger zone.
"I didn't want to leave the house or see people, I even thought about suicide a few times," said Brumfield. "I finally came to the point where I thought it was time to quit using the meds and fix things."
He had been challenged by a friend to substitute two meals a day with ViSalus Shakes and decided to try the protein mix to see how it worked. The website for the product, www.visalusshakes.com, said the powder tastes like a cake mix and when blended with low-fat milk and a banana, provides 20-25 grams of protein, a full serving of fiber, calcium, prebiotics, digestive enzymes, vitamins, minerals and more. Each shake is about 240 calories and low in sugar, fat, carbs and sodium.
He eats regular food for dinner but tries to stay away from high-fat choices and limit snacks between meals.
He said weight loss started almost immediately after he began drinking the shakes. He noticed an almost instantaneiys uptick in moods and sense of physical wellbeing.
In March, he suffered an emotional setback when his father, Fred, died in his arms of asphyxiation at the age of 66.
"I felt responsible for my dad's death and that was tough," said Brumfield.
Instead of falling back on his old habits of self-medicating with food to get through the crisis, he stayed on track with the shakes and continued his daily walks. Since he started the program Jan. 6, as part of The Chronicle's annual Slimdown contest, he has logged in 1,500 miles and is now walking 10 miles per day. He is also spending time toning up the loose skin that is a result of the rapid weight loss.
"ViSalus was definitely the start for me, I could see the weight going down almost immediately and that just made me want to keep going."
Nine months later, Brumfield weighs in at 244 pounds and plans to continue losing for a while, although at 5-feet 10-inches tall, he is not sure whether it will be a healthy move to go below 190-200 pounds. He has set a goal to be at his ideal size by the end of 2013 and said the more he loses, the higher his energy level becomes.
"I'm not taking any meds now, my health problems have taken care of themselves since I started losing weight," he said.
Brumfield, 41, grew up in Hood River and moved to The Dalles in 1994. The job he lost was helping people with disabilities reintegrate into the community. The one he has now at Flagstone Senior Living also allows him to help others, something that is important for his sense of purpose.
When not working, he is taking online classes in the field of criminal justice to help further his career goal of becoming a corrections officer.
"I'm definitely where I need to be right now," he said.
He recommends that anyone else who decides to shed pounds ditch the scale because he has found himself weighing in almost obsessively.
"You are going to have good days and bad days but it will all work out," he said. "It takes a lot of time to put the weight on and it's going to take a long time to take it off."