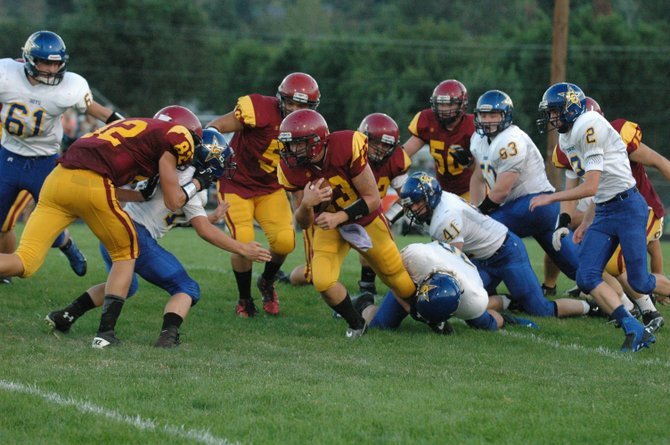 The Dalles — Entering Friday's game, The Dalles Wahtonka head coach Steve Sugg had a feeling Crook County would bring a physical brand of football to Sid White Field.
His assessment was right on cue.
Instead of shying away from the 48 minutes of mashing, the Eagle Indians answered the bell and delivered a 45-28 knockout blow to the Cowboys in Friday's non-league gridiron tilt in The Dalles.
"We started out and hit them in the mouth and they came back and hit us in the mouth. We came back, we hit them in the mouth again and we did not back down," said TDW senior tight end Zach Nerdin. "We were more physical with them. We pushed them around a little bit and everyone did their job. We were an 11-man unit playing together like the brothers we are. If we can continue to play physical football, then we can come out with a 'W' more times than not."
With five minutes and 36 seconds left in the third quarter, it appeared as though TDW would cruise to a dominant win, as 38-yard touchdown pass from Chaise Shroll hit the waiting arms of wide receiver Austin Wilson to make the score, 38-14.
Crook County bounced back with a pair of scoring drives to make it 38-28 with 6:57 left in regulation.
Previous TDW teams maybe would have wilted under the pressure of a team storming back into contention, but not on this night.
The Eagle Indians responded on its ensuing possession, using a 13-play, 55-yard drive that amassed 6:09 on the clock. Shroll, who rattled off 392 yards of offense using his arm and his legs, capped the drive with a 1-yard plunge with 48 ticks left on the watch to give TDW its 17-point cushion.
Even when his linemen were dead tired from running a fast-paced offense, they found some energy in reserve to get the job done against the stout Cowboys.
On the drive, TDW ran the ball 10 times for 42 yards and hit on a fourth down and seven conversion.
"I was very impressed with that. That is something that we have not been able to do in the first couple of weeks, is put together a 10-12-play drive," Sugg said. "That is how teams are playing us. They are trying to take away the big play and they are making us put those long drives together. If we can start doing that on a consistent basis, then we are going to keep teams a little more off-balanced."
The Eagle Indians had their offense hitting on all cylinders in the first quarter with touchdowns by Nerdin, on an eight-yard pass from Shroll and a 15-yard pitch and catch from Shroll to Austin Dehart to move ahead 14-0.
Crook County quickly countered with consecutive scores of its own on a 25-yard run by Blake Bartels and a 9-yarder by Clark Woodward to even the count at 14-apiece with 8:45 left in the second frame.
In the final 3:42, Shroll raced to paydirt from 10 yards out, and he capped the opening half with a 1-yard dive as the buzzer went off to move his squad in front, 30-14 at the break.
All told, TDW totaled 481 yards of offense, 257 on the ground on 36 carries.
Blake Diede had seven rushes for 47 yards, and Nolan McCall tacked on five carries for 14 yards.
Dehart, playing in his first game of the season, led the receiving corps with seven catches for 78 yards, and Austin Wilson followed with three grabs for 84 yards.
Nine different players had either a catch or a rush that gained positive yardage.
TDW went 7 for 14 on third-down conversions, added a 5 for 6 split on fourth downs and closed out drives by going 5 for 5 in the red zone.
Slowly but surely, Sugg sees his new-look offense continuing to evolve.
"I think our running game is improving, our passing game is getting better and our quarterback is starting to read defenses better," the coach said. "I think we are going to get better and better. There are still a lot of things we can put into our offense that we haven't put in yet, so I think the kids are working towards making more gains."
For Shroll, he said it was good to finally play a home game in front of a capacity crowd, putting a solid display forth.
To be 2-1 is nice, but in all reality, there are thoughts that this team could have an undefeated record, if not for a rough first game.
He and his teammates are not looking back. They are looking forward to what could become something meaningful down the line.
"The hard work that we have been doing every week is starting to pay off," Shroll said. "I know next week at practice we will see a lot more smiles and we will work harder because we know that if we work hard, we will get what we did tonight and that is another 'W' next week."
TDW travels to Bend Friday for a non-league game at 7 p.m. against Summit.
TDW 45, Crook County 28
C. County 0 14 0 14 -- 28
TDW 14 16 8 7 -- 45
Scoring Summary
1st Quarter
T - Zach Nerdin 8 pass from Chaise Shroll (Pass failed), 8:01.
T - Austin Dehart 15 pass from Shroll (Shroll run), 4:07.
2nd Quarter
C - Blake Bartels 25 run (Kick failed), 11:39.
C - Clark Woodward 9 run (Aaron Swindle run), 8:45.
T - Shroll 10 run (Nerdin pass from Shroll), 3:42.
T - Shroll 1 run (Devin Wilson pass from Shroll), :00.
3rd Quarter
T - Austin Wilson 38 pass from Shroll (Dehart pass from Shroll), 5:36.
4th Quarter
C - Ryder Shinkle 8 pass from Mike Irwin (Run failed), 11:55.
C - John Crites 62 pass from Irwin (Irwin run), 7:09.
T - Shroll 1 run (Eli Holeman kick), :48.
Offensive Statistics
Rushing: TDW, Shroll 18-168; Blake Diede 7-47; Holeman 2-19; Devin Wilson 1-3; Billy Brace 3-6; Nolan McCall 5-14. CC, Swindle 17-89; Collbra Meeker 16-86; Woodward 12-60; Irwin 7-39; Bartels 7-34; Cole Evans 2-12; Gunnar Robirts 1-6; Nash Porfily 1-5; Rick Hernandez 1-0.
Passing: TDW, Shroll 17-34-0 224. CC, Irwin 3-8-0 73; Bartels 1-4-0 19.
Receiving: TDW, Dehart 7-78; Austin Wilson 3-84; Nerdin 3-20; Brace 1-19; Zach Cantrell 1-11; Devin Wilson 1-7; Holeman 1-5. CC, Shinkle 2-11; Crites 1-62; Bartels 1-19.
DEFENsive Statistics
Tackles: TDW, Connor Shortt 12; Riley Bardes 10.5; CV Regalado 8 .5 sack; Austin Wilson 5.5 1 sack; Storm Douthit 5.5; Devin Wilson 5.0 .5 sack; Brace 3.5; Dehart 3.0; Payton Eaton 3.0; Kauone Sefo 2.5; Addison Smith 2.5; Diede 2.0. CC, Evans 8; Trayton Libolt 6; Robirts 5; Crites 5; Meeker 5; Meeker 5; Woodward 4.5; Dylan Coffman 4; Swindle 4.