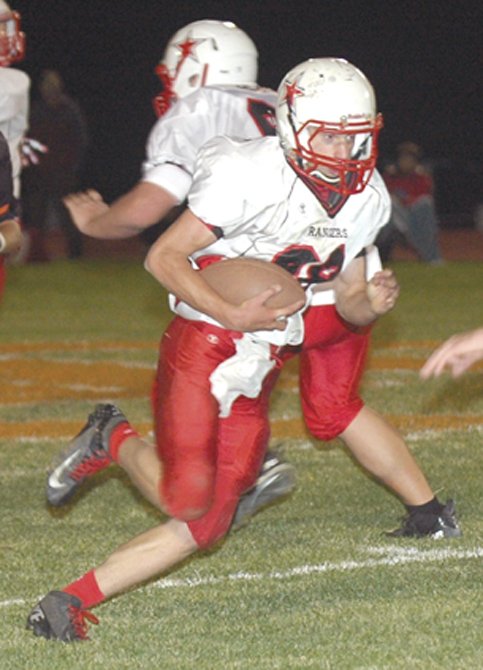 Putting up numbers at an eye-opening rate has been one of the highlights for the Dufur Rangers so far in three games this season.
Opponents should not forget about the defense, though.
The No. 3 Rangers tallied 501 yards of offense and held high-powered Perrydale to less than 150 yards in a dominant 54-8 drubbing on the road Friday against the Pirates.
Perrydale punted the ball seven times and had four three-and-outs and two turnovers.
"We flew around and got after it for pretty much the entire game," said head coach Jack Henderson. "We hit a soft spot in the second quarter a little bit where we let them move the ball on us. After that, we flew around and made things happen to make it a long night for the Pirates."
Henderson added that Perrydale tried to attack the perimeter all game long, but linebackers Nick Little and Trever Tibbets arrived with authority to cut down the runners.
Down in the trenches, Zach Christiansen, Austin Olson and Brent Sumner bottled up any plays up the middle.
"Our kids executed the game plan very, very well. We did not let them get out," Henderson said. "They did not have a single play over 10 yards, which is unheard of in eight-man football. We played really well on defense."
The Rangers scored three times in the opening quarter on a three-yard run by Cole Parke, a 70-yard scamper by Nick Little and a 36-yard strike from Parke to freshman Bailey Keever to run the count up to 22-0 after 12 minutes.
Little then notched a two-yard run to add to the lead, 30-0 at halftime.
In the third quarter, Jake Little marched home on a 35-yard scoring reception, and Keever hauled in a 49-yard toss from Parke to make it 46-0 entering the final frame.
"Cole is just amazing," Henderson said. "He is throwing the ball exceptionally well. We haven't thrown the ball this well in years. He has multiple weapons to go to on offense and he spreads the ball around. The eight-man football field gets pretty big when you throw it to a bunch of different kids."
The all-state quarterback, Parke, capped his team's scoring splurge early in the fourth with a 17-yard scramble to swell the lead up to 54-0.
With time running out, Perrydale etched a crooked number on the scoreboard for the final margin.
Nick Little had 167 yards on 12 carries, and Tibbets churned out 46 yards on 11 rushes.
Parke completed 8 of 15 passes for 234 yards and three scores. Keever finished with 148 yards, and the Little brothers had a combined four grabs for 86 yards.
So far in three games, Dufur has scored 184 points and it appears that this offense could only improve from here.
Henderson has emphasized that his team is not looking too far ahead.
"We just have to not thinking about winning games and how many games we have won, we just need to continue to work on how to improve every day to the point in the season when the games really matter," the 27-year coach said. "It will be exciting to see for the rest of the season."
Huskies tripped up by Imbler
Imbler running back Joe Griffin had 135 yards receiving and 105 yards rushing and eight touchdowns, as the Panthers scored 66 first-half points on their way to a 72-20 victory Friday in 1A football action in Imbler.
The Panthers had 19 first downs to Shermna's six, and had nearly a 3-to-1 differential in yards gained.
Sherman scored three times, twice in the opening 24 minutes of action.
Nick Coleman hit the end zone from 47 yards for the Huskies' first score with one minute and 38 seconds left in the first frame, and early in the second, Maverick Winslow grabbed a 57-yard touchdown pass from Coleman.
In the third quarter, Blake Evans hit from 64 yards to cap the scoring.
Sherman (2-1) is on the road next week in Echo.