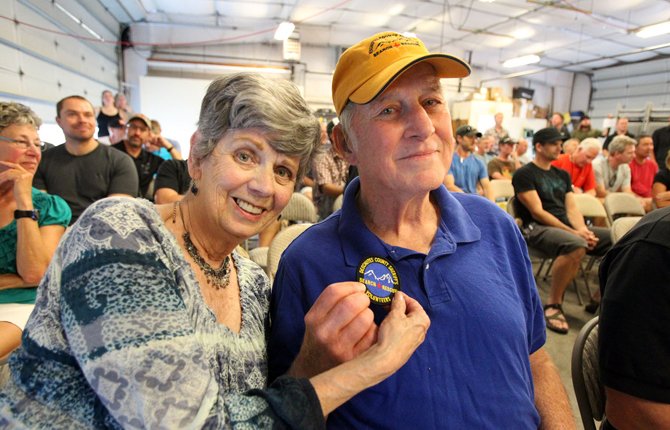 BEND (AP) — An 82-year-old retired doctor from Bend who hiked to the top of Oregon's third-highest mountain says he really didn't need the helicopter that others on the trail called in after watching him making his way slowly down the mountain.
"But everyone was clustered around me and we'd had such a nice visit, so I went," said Robert "Franc" Haynes in an interview published Friday.
Haynes makes an annual trek to the summit of South Sister, at 10,358 feet. It doesn't require technical climbing skills.
This year, he set out Sunday morning, reached the summit, and about 8 p.m. camped at Moraine Lake. He knew he would be staying the night and came with a hat, gloves, a thermal blanket, energy bars and sport drinks.
"I got down in the bowl by the lake to keep out of the wind," he told The Bulletin newspaper in Bend. "When the wind would shift, I'd move to another spot or do some exercises to keep warm."
The next day he headed on down the trail, his pace drawing attention.
"It really was a shuffle," said Chris Sabo, a trails specialist for the U.S. Forest Service who came to Haynes' aid when other hikers called 911. "I was checking his speed as we went on my GPS, and it was 0 miles per hour up to about 0.6 miles per hour."
Haynes, who lives in Bend, has had two hip replacements and hikes with the help of two ski poles. He's a distance runner who as a younger man ten times completed the Western States 100-mile Endurance Run, a trail race in which runners climb more than 18,000 feet and descend 23,000 feet.
Sabo said he knew Haynes was in no immediate danger but might have been dehydrated and maybe a little disoriented.
Haynes said he was figuring on another night outside before he reached his car at the trailhead.
"I had two flashlights and plenty of juice," he said. "I had plenty to go on."
But others on the trail insisted on help, saying he was clearly exhausted.
"It was mainly to avert a possible problem because we were all concerned that he wouldn't be able to rescue himself if something happened," said Dara Christante, a physician who works at Bend Memorial Clinic. "If we had let him continue and heard the next day that he'd fallen or been injured, I would have felt so terrible."
Haynes said he didn't know they had called for a chopper until he heard it coming.
He said Sabo and Christante told him they wouldn't leave him alone on the mountain.
"They weren't prepared to stay overnight," Haynes said. "I didn't want to worry them or make them stay with me."
At St. Charles Bend, doctors checked him out and sent him home with his wife. Thursday, the couple thanked the search and rescue personnel at a pizza get-together.
---
Information from: The Bulletin, http://www.bendbulletin.com