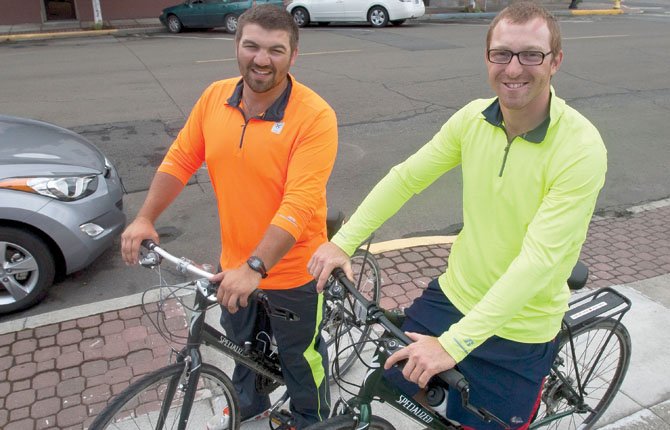 Cousins Jack Chambers and Nick Roach wanted to do an epic road trip while they were young, so, as Nick so eloquently put it, "our children wouldn't think we were pansies."
Well, no one would accuse them of that, since their adventure, a 1,300-mile trek on horseback, got switched up midway — they are now finishing the last half of their journey on touring bikes, which saw them towing their bulky trailers through 50 mph gorge winds this month.
But they're not just proving themselves to their future progeny, they're also raising money to fight Crohn's Disease, an auto-immune disease that afflicts six members of their extended family, plus Jack himself.
Their journey is chronicled online at CowboysvsCrohn's.com, which says they've raised $34,570 so far. They hope to raise another $20,000, and encourage donors to visit their website. The money will go to the Crohn's and Colitis Foundation of America.
The cousins — who have a local relation, Diana Mengis of The Dalles — grew up in different Washington towns, Nick, 23, in Pasco and Jack, 24, in Bellingham, but their families frequently got together, six to 10 times a year.
When they got older, they both ended up working at Hells a' Roarin Outfitters, a dude ranch and guided hunting outfit in Montana.
There, they guided hunters, trained U.S. Marines how to effectively pack a mule to take into the mountains of Afghanistan, and trained horses.
Their trek began July 10 at that ranch in Gardiner, Mont., and will end at Jack's house in Bellingham.
When they reached Pasco, Nick's hometown, they rested their stable of five horses and one donkey for nine days. On the eighth day, a vet checked them out and found the animals were showing tightness in their joints and tendons from walking on packed dirt and concrete.
"So we decided to continue on bikes and wreck our bodies instead of theirs," Nick said.
Their arrival in The Dalles was just their third day on bikes, and they were suffering a bit for their bravado.
Their friends couldn't believe they simply put down the reins and hopped on bikes to pedal for eight to 11 hours per day.
Nick recounted a friend's incredulity: "You guys just made the switch? With no preparation? That's just insane."
Their Sept. 5 ride was particularly grueling. Jack said he powered through with "determination, perseverance and just bullheadedness."
Nick said the wind was blowing them off the road, and their trailers are virtual sails.
"My only hope was just to keep angry and keep pedaling," Jack said.
But Nick thought the day was kinda fun.
"You had these semis whizzing past us."
They even ran into a guy in Roosevelt, Wash., — which is a popular stopping point for
trekking bicyclists — who has pedaled 17,000 miles around the world.
In Roosevelt, the cousins loaded up on calories, eating the biggest burger on the menu.
They burn through 5,500 to 7,500 calories per day. But, they've actually gained weight since taking to their bikes, which they picked up at a nice discount from a bike shop in the Tri-Cities.
The fact that Jack is downing burgers for the calorie impact seems a bit incongruous, given that Crohn's Disease is a disease that causes inflammation of the digestive tract.
But Jack said it affects everyone differently — symptoms can include fatigue, drowsiness, nausea, upset stomach and internal abscesses — and he's been lucky to not have dietary impacts.
He was first diagnosed at age 11, in 2001. He was helping the family build their house over the summer, and by July, he could only work half a day. His lethargy finally got so bad he was unable to help at all. He was diagnosed in September, but the doctor was afraid to give him more powerful drugs, so he continued his decline.
He lived on the couch and lost 30 pounds, because he lost his appetite.
"Every time I'd eat it'd stir things up in there and it'd be so painful," he said.
"We all thought he was dying," Nick said.
"I looked like Skeletor," Jack admitted.
"There were four of us guy cousins that were the same age and he was an integral part of the quartet," Nick said. "He was on the couch watching Disney Channel. 'C'mon dude, there are pranks to be played.'"
Finally, the family went to a specialist and Jack was put on prednisone, the powerful drug his first doctor was afraid to prescribe. Within three weeks, he was feeling better.
Jack was sick for a year, then had 11 symptom-free years. He had a flareup in 2012, where two abscesses in his gut had to be drained. "Knock on woods it's another 11 years" before he has another problem, he said.
Jack's cousin also has Crohn's and has had a much harder time. A few years ago, surgeons removed six inches of her colon. Jack knows that someday the meds he's on will lose their effectiveness, and then he might have to pay closer attention to his diet.
But he's always eaten fairly healthy, and has always been active, doing three sports in high school and playing hoops for three hours a day at college. Both he and Nick graduated from Gonzaga University, and both are on hiatus from jobs working in marketing for two software companies.
But neither plans to return to their desk jobs. Rather, they're heading to Austin, Texas to check out the music scene, since Nick also plays country folk music. In fact, he was hauling a guitar along on the trip until a few days ago, when his parents visited him on the road and relieved him of some items, including the guitar, that were proving too heavy.
When they were on horseback, they each rode a horse, had a pack horse, and then trailed a third horse who had a rest day. They'd switch horses each day.
While the horses did develop some joint and tendon issues, it wasn't for lack of diligent care by their riders. Of the 650 miles they'd done on the horses before switching to bikes, Jack estimates he and Nick walked 300 of them themselves, leading their horses down hills and during the heat of the day.
So, Coyot, Ringo, Festus (the donkey) High Tide, Ex and Shortstack are resting now in a cousin's field in Pasco.
For the first two weeks of their journey, their cousin, Sean Johnston, was along for the ride.
"He was a huge help," Jack said.
Having three people meant "we could ostracize one of them," Jack explained.
"That was me," Nick deadpanned. "Because I was so popular in social settings, Sean and Jack would get extremely jealous. In fact, violently jealous."
This kind of ribbing is a mainstay of their entire interview.
Now that they are doing the work to get themselves further down the road, their schedule has changed. They were on horseback by 8 a.m., but they haven't been able to start pedaling until around 10 a.m., Nick admits.
"We were really tired," he said.
Nick can also clarify any misconceptions about different kinds of saddle soreness.
"Someone said, 'You'll have the same type of saddle sore, right?' No."
Spending all day in a horse saddle causes skin irritation, but spending all day on a bike creates muscle irritation, Nick said.
"My legs are sore," Jack said. "Mine are too," Nick quipped, "but strong."
He's on a roll, and adds, "We're studs."
But then he admitted they were spending the day in The Dalles "to let the butt recover."
But they're not slacking off on their overall goal. In fact, they plan on adding more mileage to their trip, since they're covering so much more ground per day than they did on horseback. They may venture down to Eugene, and also plan to troop through the Olympic Peninsula before heading home to Bellingham by Oct. 15.
Both Jack and Nick have decided they won't be returning to their marketing jobs at their respective software companies. Rather, they'll be chasing their dreams in Austin and looking for other things to cross off their bucket list.