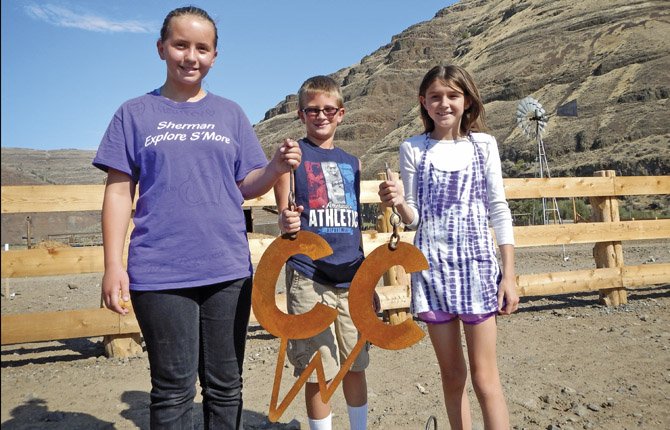 Rugged, open and wild.
Those are a few of the words students from Gilliam and Sherman counties used to describe Cottonwood Canyon State Park.
And that is what inspired their branding of the place.
Park gates are slated to open Sept. 25 to the public, revealing access to 14 miles of riverfront on the John Day and 7,800 acres to explore.
Cottonwood is a former cattle ranch that was sold to Oregon State Parks several years ago when owners — the Murtha family — decided that the place should be shared with the general public.
Parks wanted to maintain the cattle ranch feel of the place and went to local students to properly brand it.
"It has open space, and it is beautiful," said Isabella Mills, a fifth-grader at Grass Valley Elementary.
Mills and two other students, Cash Helms, 10, and Jordan Barrett, 11, designed the brand for the park.
Local students submitted 89 different brands. Theirs was then chosen by popular vote on Oregon State Park's Word Press website as the icon to
represent the rawness of Cottonwood Canyon. It is a connected C-W-C.
"I thought the C connecting to the W and the other C connecting to the other side of the W would be pretty cool," said Cash Helms. "I was surprised that my design was chosen."
Jordan Barrett and Isabella Mills were also excited to find out their brand was chosen.
"I just took the initials and found a way to connect them," said Jordan, who has helped brand cattle on a friend's ranch outside The Dalles.
The new park is located 15 miles southeast of Wasco on Highway 206, near the bridge crossing on the John Day River.
On the Sept. 25 grand opening, the park opens at 9 a.m. and activities including hikes, tractor rides and a branding of fence boards will follow.
Bring a cattle brand to add a personal stamp on the state's newest park.
The Wheeler County Ramblers will entertain with music.
In addition, there will be activities for children, short guided hikes and programs on geology, Native American history, ranching history, birding and camping. Activities will end at 3 p.m.
A recreation open house is planned Saturday and Sunday, Sept. 28 and 29 from 9 a.m. to 1 p.m.
Cottonwood Creek State Park is located on Highway 206 between Condon and Wasco.