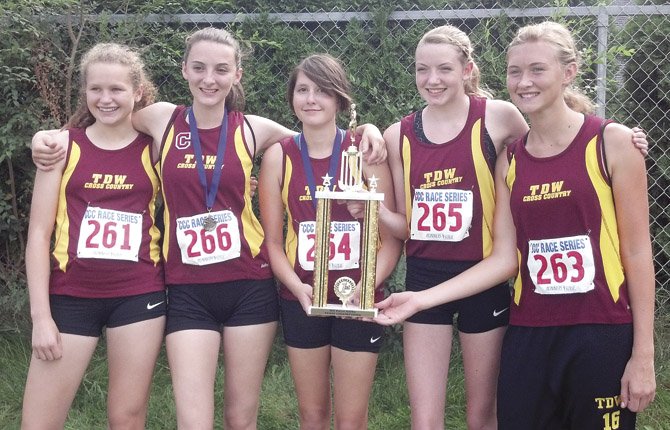 At the start of the season, The Dalles Wahtonka junior Maddie Wood felt like the girl's cross country team could be very good this season.
Saturday, that potential showed through with a first place trophy.
The varsity girls had five harriers end up in the top-13 and both Wood and Emily Morin notched final times of less than 22 minutes for the first time this year at the Runner's Soul Cross Country Fest on a hot day in Hermiston.
"It was an outstanding effort by our five varsity girls," said TDW head coach Bob Thouvenel. "I believe that is the first time girls or boys have won this meet."
Wood had a season's best, as she clocked in at 20 minutes and 59.09 seconds for third place, behind Umatilla's Berenice Chavez (20:42.42) and Hermiston's Katie Markwick (20:56.89).
Also on the Tribe side, Emily Morin ended up in seventh place with her 21:51.64.
Staked by those two times, the Eagle Indians accumulated 37 points to secure the event title. Columbia River Conference rival, Hermiston, had 52 points for second place, Oregon City (59) grabbed third and Umatilla (67) rounded out the standings in fourth place.
Caela Dunagan placed 11th at 22:59.01, Katie Burns added a 12th place outcome of 23:01.99, and Molly Nelson strutted home in 13th place with a 23:05.74.
"I think that individually, they had their own goals at the beginning of the season which they each wrote down," Thouvenel said. "Now, I think as a group they realize that they can do better. A little more confidence in what they are doing and can accomplish as a team. Some girls will have to re-write their goals."
Thouvenel commended the junior varsity girls for running well on a hot day in Hermiston.
Freshmen Hannah Weeks and Luisa Meyer, both hit home with personal bests, with Weeks chalking up fourth place with her 24:46.28 and Meyer crossed the line in 24:46.31 to grab fifth place.
Tai Rogers added a 26:17.49 to end up 10th place, and Rebekah Kohltfarber ran in at 23rd place with a final marker of 29:25.63.
There were seven squads making up the boys side and Hermiston ended up on top with 25 points, using the times of Alejandro Cisneros (15:26.51) and Jose Macias (15:49.63) to roll through the field.
Oregon City scored 53 points for second place and TDW had 77 points for third place.
Chiawana (109), Hanford (144), Umatilla (165) and Griswold (190) rounded out the team tallies.
Leading the way for the Eagle Indian boys was Elijah Kohltfarber, who added another personal best time to his record of 17:36.22 for seventh place.
"Elijah Kohltfarber continues to improve with a personal best," Thouvenel said.
Mark Dunagan timed out in 18:27.76 for 15th place, Mark Johnson added an 18:27.76 for 16th and Jony Nelson churned out an 18:31.54 for 17th place.
Luke McLean (18:49.05), Mitchell Waters (19:15.41) and Andy Felderman (19:18.50) all ended up in the top-25.
"It was a good effort from the boy's team," Thouvenel said. "We had numerous personal and seasonal bests."
The Tribe junior varsity boys were led by Clayton Ringer (18:47.40), Chase Snodgrass (19:07.04) and Jake Albrecht (19:32.27), all ended up with top-10 finishes.
John Miller placed 17th with his 20:02.63 and Ethan Shubert cross the tape in 18th place at 20:03.35.
Robert Westhafer (20:14.03), Ming Ou (20:35.88), Ian Corey (21:17.28), Chase Nagamatsu (21:55.47) and Murphy Goldsberry (22:02.54) wound up in the top-40 overall.
TDW hits the courses again on Sept. 21 for the Oregon City Invitational.