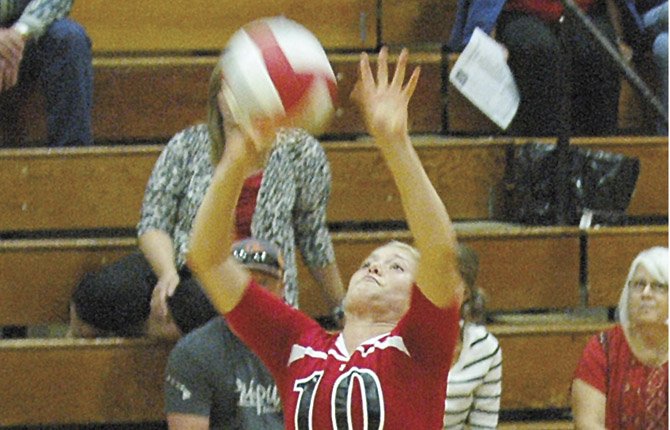 The Dufur Rangers improved their record with a 5-1 effort and used Saturday's performance at the Husky Volleyball Tournament as an opportunity to iron out the fundamentals, develop more depth and add confidence to this team that has high expectations for the 2013 campaign.
"We approached it like an opportunity to get our swingers playing time and rest our other girls," said Dufur head coach Kelly Darden.
In this tournament, teams played one game to 25, like a jamboree and the final match of the day was scheduled to be the best two out of three.
The Rangers started the tournament with five consecutive wins by an average margin of 18.8 points.
Dufur dropped Klickitat, Wash. by a 25-12 score to start the tournament, and the positive run continued with a 25-14 surge past Big Sky Conference opponent, Central Christian, 25-14.
Up next, the Rangers faced another league foe, South Wasco County, and reeled off a 25-15 victory.
Dufur then defeated The Dalles Wahtonka's freshman team by a 25-6 marker to go 4-0.
The Lady Rangers tacked on another top effort in their match by beating Lyle-Wishram by an impressive 25-3 score.
In their last match of the day, Dufur and SWC battled it out again, as the Redsides wound up getting the 25-21 win.
The trio of Kelsey Johnson, Tianna Ellis and Abbey Stelzer combined for four kills and five digs.
With this performance in the books, coach Darden now wants to build towards bigger matches down the line.
Playing time for everyone can only help.
"Hopefully we realize we have a lot to work on still," the coach said.
Kathryn Johnson had nine kills and 10 digs, and Alexa Macias added two kills, seven aces and five digs.
Teneille McDonald had 17 kills, four aces and seven digs, and Montana Ferres checked in with three kills, four aces and eight digs.
Ranger sweep two Friday night
Friday, the Dufur volleyball team played in a three-way dual in Perrydale and walked away with a pair of three-game sweeps over Perrydale and Damascus Christian.
Against Perrydale, the Rangers had a stout beginning with a lopsided 25-11 tally in the opening set.
The final two games were a little more competitive, but the Rangers came out on top by marks of 25-18 and 25-18 to complete the sweep.
Taylor Darden had 12 kills and five digs, and Teneille McDonald added nine kills, six digs and two blocks.
Top setters, Kyla Johnson and senior Alexa Macias, dished off a combined 19 assists, two aces, two digs, two blocks and two kills.
"The girls played great tonight," said Dufur coach Kelly Darden on Friday's match versus the Pirates. "(We had) tough serves, passing, and great hitting. Taylor, Teneille and Kathryn played great at the net. (There was) great passing from Mo, Teneille and Kathryn. I liked that we spread the attack more against a good Perrydale team."
Coming off that impressive effort over Perrydale, the Rangers slammed down a season-high 30 service aces in a three-game whitewash over Damascus Christian.
Dufur won the opener by a 25-9 tally, and motored home with a 25-15 output to lead the match 2-0.
The Ranger netters put a bow on their sweep with a 25-3 drubbing in the finale.
"We served tough and kept playing well," coach Darden said. "It was great to see the girls compete and play tough back-to-back."
Kathryn Johnson racked up five kills and four aces, Kyla Johnson had six aces and a dig and Kelsey Johnson hit on four kills.
Taylor Darden chipped in two kills and a team-high nine aces.
Dufur (12-4 overall) traveled to Culver today for a three-way match versus Heppner and Culver at 3 p.m.