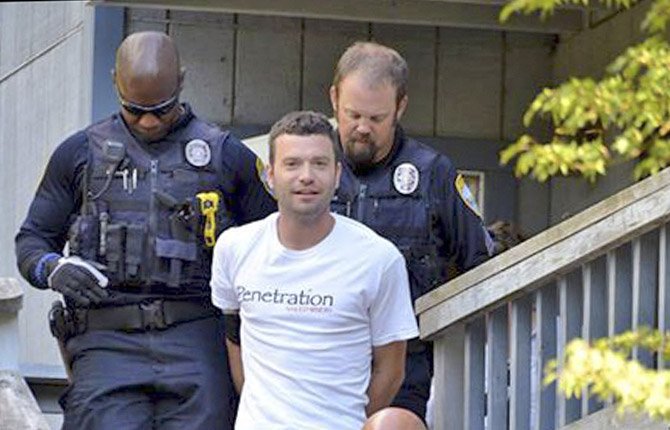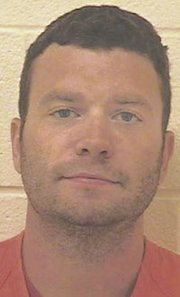 About 20 people watched from across the street Monday at 4:30 p.m. as Hood River Police arrested Timothy Bryan Glenn, 28, of Hood River, the suspect in the Sept. 12 bank robbery of the Hood River branch of U.S. Bank.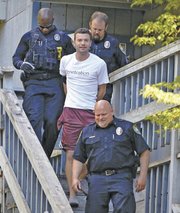 Police led a smiling Glenn out the door and down the steps of the 20th Street four-plex where he lives, between Columbia and Wasco streets across from Hood River Skate Park.
"How you folks doing?" said Glenn, handcuffed and smiling, as he was led down the stairs of the residence. An FBI agent was seen carrying apparent drug paraphernalia out of the house; Hood River County District Attorney John Sewell said marijuana possession charges against Glenn are "under review."
Glenn was charged with first-degree robbery and second-degree theft, both felonies.
He was scheduled for video arraignment at 11 a.m. Tuesday in Hood River County Circuit Court.
Police chief Neal Holste said an investigation into the bank robbery by the Hood River Police Department culminated in a search warrant at the suspect's residence.
Members of the Hood River Police Department, FBI and Hood River Sheriff's Office executed the search warrant at about 1 p.m. Monday.
"We began getting tips and based on evidence we gathered starting on the day of the robbery, we were able to make the arrest," Holste said.
He declined to elaborate on the evidence found at the scene, but stated it was collected "in the Hood River area."
He said Officer Juan Pulido and Detective Mike Martin gathered "evidence linking (the suspect) to the scene" that led to the search.
"They worked throughout the weekend, putting things together," Holste said. "It was excellently handled."