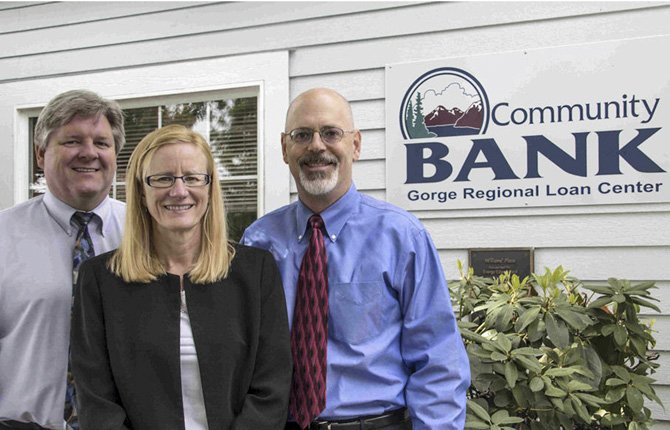 Community Bank has announced the opening of a new loan production office to service the Columbia River Gorge area.
The new office is located in The Dalles at 320 E. Fourth St. The bank has occupied the space since August while improvements to the facility were made. It's now officially open for business.
Britt Thomas, a veteran gorge area banker, is senior vice president and regional manager for the area. He is joined by vice president John Gass, Commercial Loan Officer; as well as by Holly Wells, loan assistant.
"We are very excited to expand into this market," said Tom Moran, president and chief executive officer from his office in College Place, Wash. "This new location will allow us to deliver our relationship-focused business banking model into the gorge area. Britt and his team will provide all facets of lending, primarily focused on the commercial and agricultural arenas. They also have strong ties to the community which is a critical aspect of our approach to banking."
Prior to this new role, Thomas was most recently the chief credit officer at Centerpointe Community Bank in Hood River. Gass and Wells were previously employed by Centerpointe Community Bank as well.
"Our team is committed to the gorge and we are pleased to bring Community Bank's brand of banking to The Dalles and Hood River," Thomas said. The team has more than 52 years of cumulative commercial banking experience.
The Dalles Loan Production office is open 8 a.m. to 5 p.m. Monday through Friday. The phone number is 541-296-0779.
Community Bank was founded in Joseph in 1955 and has 15 full-service branches throughout Eastern Oregon and another loan production office in Pullman, Wash. It has more than $350 million in assets.
Online:
www.communitybanknet.com .