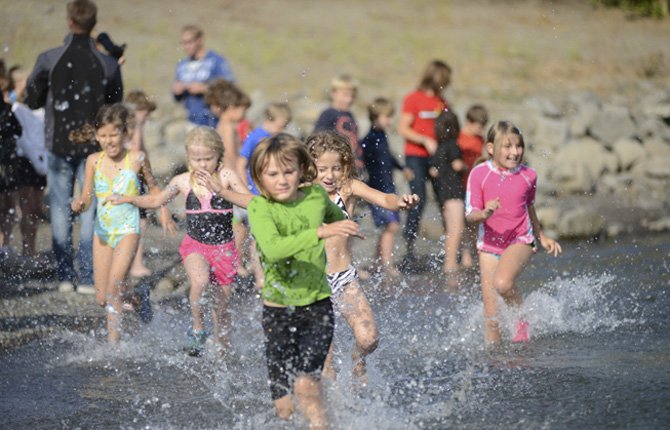 ­HOOD RIVER — The Gorge Kids Triathlon returns to Waterfront Park in Hood River on Sunday, Sept. 22.
The event is an entry-level triathlon open to elementary-aged kids. Three separate start waves accommodate kids in grades K-1, 2-3, and 4-5, and are designed to allow kids of varied skill levels to participate. The swim portion is inside the designated swim park; non-swimmers may walk or run through shallow water along the shore. The Hood River Fire Department will provide safety personnel along the beach. The bike and run courses are within the park area, which will be closed to traffic.
"The Gorge Kids Triathlon is a great event to expose kids to triathlons while raising money for our schools," said Caleb Sperry, PE and Health Department chair at Hood River Valley High School. "My daughter loved the diversity of the events, and was super proud of her accomplishment. Our family is excited to continue to be involved in the event."
Entry fee for the Gorge Kids Triathlon is $20 prior to Sept. 20 and $30 on the day of the event. All participants receive a T-shirt and swag bag. Proceeds from the event go to Hood River County elementary schools to enhance physical education programs and promote health and fitness.
Registration opens at 8:30 a.m. and participants should be ready for the opening ceremony and pre-race instructions at 9:45 a.m. by the swim beach. Age group waves will start from there. After all children have completed the event, a closing ceremony will honor all participants. Food vendors will be on site selling lunch items, coffee and other refreshments.
Registration for the Gorge Kids Triathlon can be done online at active.com. For more information, go to Facebook: "Gorge Kids Triathlon" or call 541-490-6844.