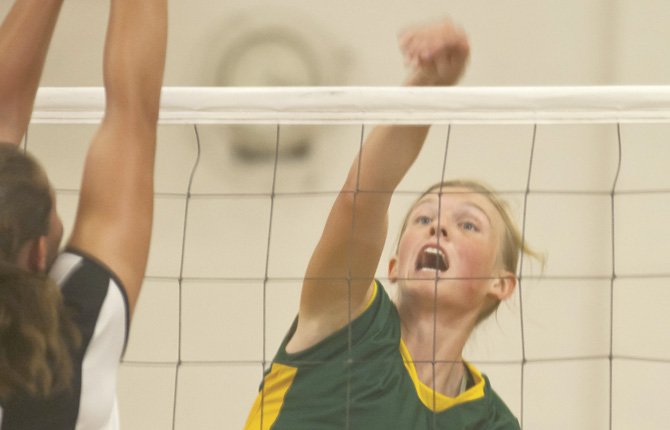 The No. 3-ranked South Wasco County Redsides won their third and fourth consecutive non-tournament matches Tuesday with a pair of three-game sweeps over Big Sky Conference opponent Central Christian and Irrigon Tuesday night in varsity volleyball action in Maupin.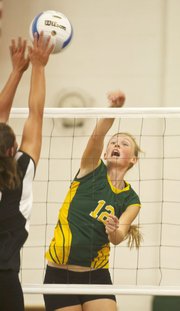 In their opening match versus Central Christian, the Lady Redsides breezed through by double digits in all three games.
SWC kicked things off with a 25-12 winner in a set that proved to be the closest margin overall.
This dominance continued in the second game with a 25-9 decision and then they completed the clean sweep by a 25-11 score.
"The first match against CC was a league match and it is always good to start league with a win," said SWC head coach Ron Townsend.
After that big win, Irrigon was a tougher test, but the Redsides still walked away with a whitewash.
SWC dominated on the front end led by Joy Kelly and Zoe Morelli, and rattled off a 25-15 tally in the opener to go up, 1-0.
In the second set, the Redsides worked a 25-21 split and dropped the hammer down with a 25-16 winner to keep the streak going.
Coming off a championship berth in last weekend's Husky Tournament and the ongoing four-match winning streak, the Redside coach is enjoying the current successful trend his group is on.
"The girls played some good volleyball tonight," Townsend said. "It was good to see us be aggressive and play offensive volleyball. Hopefully, we can continue to improve."
South Wasco County heads to Hood River for another league match at 5 p.m. Thursday.
Saturday, SWC hosts its Redside Tournament at 9:30 a.m. in Maupin.
No. 8 Rangers sweep Heppner
Early on in the season, Dufur volleyball coach Kelly Darden likes to see her team challenged.
It happened 12 days ago in a match versus Imbler and Tuesday, the Lady Rangers went to work opposite defending 2A champion Heppner.
Dufur rolled out 14 service aces and defeated the Mustangs in three straight sets.
The No. 8 Rangers secured a 25-12 win in the opener and kept their momentum going with a 25-15 winner to move to within one win of a sweep.
There was no letdown in the offense, however, as Dufur sent Heppner packing after a 25-12 margin.
Teneille McDonald paced the Rangers with nine kills, three aces, three digs and a block.
Kathryn Johnson added five kills, nine digs and a block, and Montana Ferres rattled home five kills and eight digs.
From the setter slot, Alexa Macias dished up 16 assists, five aces, a dig and a block.
Coach Darden spread her compliments across the board starting with the passing execution of Kathryn Johnson allowing Macias and Kyla Johnson to run the offense.
She added that McDonald, Ferres, Kathryn Johnson and Taylor Darden had great hitting.
"We played with a lot of composure and consistent play," said coach Darden. "I was really pleased with our blocking tonight. Alexa had some great ones. We served tough tonight, as we knew they had some great power hitters. Overall, I was really pleased with our effort against a great team."
Once that top performance went into the books, the Rangers had 11 aces, but hit a speed bump with 20 hitting errors in their four-game loss to Culver.
Dufur actually kicked off play with a dominant effort, a 25-13 rally, but the Bulldogs restored order and posted two wins by scores of 25-21 and 25-16.
In the finale, the Rangers fought hard and 25 points was not enough to settle this tilt.
Both teams fought to a 26-all score, but Culver dropped the last two points to pull out the win.
McDonald led with 16 kills and six digs, Kathryn Johnson tallied five kills and eight digs, and Taylor Darden followed with 14 kills and seven digs.
Kyla Johnson dished off 15 assists, four aces and four digs and Macias added 15 assists, nine digs, two aces and two blocks.
"During the second set, we let down a little, so we called a timeout to get refocused," coach Darden said. "From that moment, we came back and played tough and made some amazing defensive hustle plays. I was really happy to see how we played hard for each other tonight."
Dufur (13-5 overall) travels to Redmond to play Central at 5 p.m. Thursday.