If you do not change direction, you may end up where you are heading.
— Lao Tzu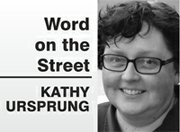 Things are starting to churn: It's exciting to see more activity on the commercial real estate front, particularly in the business corridor.
Two local businesses, Maupins and Norco, are making the investment in the purchase of their own buildings after leasing for a number of years. They're vacating property that could become sites where other businesses either expand or get started.
More changes are on the horizon, particularly downtown, and we will be reporting on those in future issues. We hope these are encouraging signs of a revival in the city's core.
BAH gets comfy: Downey Furniture will host The Dalles Area Chamber of Commerce Business After Hours this Thursday from 5 to 7 p.m.
The monthly event is a casual opportunity to network and catch up with business people in the community.
Pull out that twenty: The Chamber's 20-20 program is focusing on Double Berry Frozen Yogurt this month and asking that you treat friends, family and co-workers to $20 worth of frozen yogurt on Sept. 20.
The idea behind the program is to have an immediate postive impact on the local economy.
Good news from worker's comp: Worker's compensation costs in Oregon will decrease an average 7.6 percent in 2014, thanks to lower medical costs and fewer and smaller claims for lost wages, the Department of Consumer and Business Services has announced.
The department approved the average decrease in "pure premium," which is the portion of the premium employers pay insurers to cover anticipated claims costs for job-related injury and death.
The pure premium reflects only a portion of the cost, but is a key factor in annual cost changes.