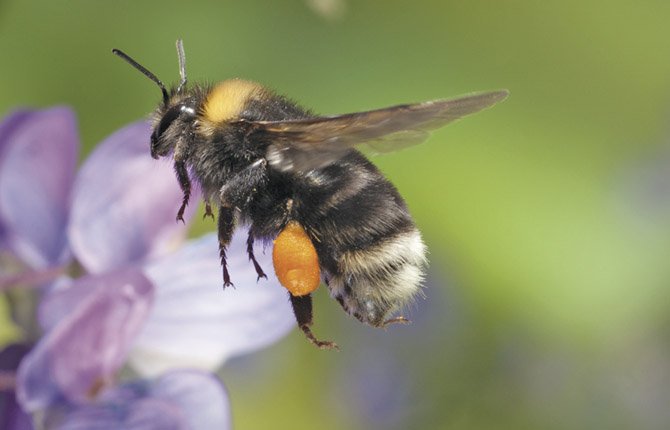 PORTLAND — If you ate a Willamette Valley-grown tomato or pepper before the mid-'90s, there's a good chance it was pollinated by the western bumblebee. The inch-long, white-bottomed bee — which you'd also have to thank for countless wildflowers — was one of the most common pollinators in the west. But around 15 years ago, they mysteriously disappeared west of the Cascades.
Now, a recent survey by the Xerces Society has uncovered what appears to be Oregon's westernmost stronghold of this increasingly rare bumblebee, an announcement from the Oregon Zoo reports.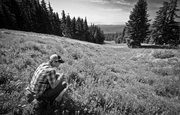 With funding from the Oregon Zoo Foundation's Future for Wildlife program, Xerces Society biologist Rich Hatfield spent six weeks this summer identifying bumblebee species in the Mount Hood National Forest. It wasn't until week four that he discovered a dozen of the rare western bumblebees near Timberline Lodge.
"In the last 15 years there have only been about 15 sightings of this bumblebee west of the Cascades," Hatfield said. "This discovery suggests that this species might have a chance to repopulate its range."
To see Hatfield's discovery on video — including high-speed images of the rare western bumblebee — go to bit.ly/chasingbees.
The western is one of five once-common native bumblebees whose populations have plummeted in recent years. Franklin's bumblebee — a close relative of the western, native to a small area in southern Oregon and northern California — may already be extinct. The declines are part of a global bee crisis that threatens food production.
"One out of every three bites of food that we eat comes from a plant that was pollinated by an animal, and usually those animals are bees," Hatfield said. "The fact that any bee could disappear is a scary proposition. We're approaching a tipping point where our food security will be at stake."
Scientists attribute bumblebee declines to a variety of factors. Introduced pathogens are the leading hypothesis for western bumblebee decline. Pesticides were to blame for killing 50,000 bumblebees in Wilsonville last June. Rounding out the threats are habitat loss and climate change, and when all of these factors are combined, the implications reach far beyond food production.
"Pollinators are critically important to the function of many ecosystems," said David Shepherdson, Oregon Zoo deputy conservation manager. "They provide the seeds and berries that feed our songbirds and mammals. Protecting pollinators helps to protect all wildlife."

The Xerces Society survey produced the first official list of bumblebees present in the Mount Hood National Forest, and the resulting data will assist the Forest Service in better safeguarding the area for wildlife.
"The western bumblebee is a red flag," Hatfield said. "Their disappearance is not a natural process. But the thing that gives me hope is that if their disappearance is caused by people, maybe we can do something to reduce or reverse it."
The survey also provided a unique glimpse into a miniature world that few ever get to see. With the help of a laser-triggered shutter and a flash that fires at 1/50,000th of a second, and a bee caught during Hatfield's survey, zoo photographer Michael Durham captured what is believed to be the first high-speed photo of a western bumblebee in flight.
To find out how to provide backyard bumblebee habitat, stop by the zoo's Backyard Makeover exhibit or visit the Xerces website.
The zoo is a service of Metro and is dedicated to its mission of inspiring the community to create a better future for wildlife. Committed to conservation, the zoo is currently working to save endangered California condors, Oregon silverspot and Taylor's checkerspot butterflies, western pond turtles and Oregon spotted frogs. Other projects include studies on Asian elephants, polar bears, orangutans and giant pandas. Celebrating 125 years of community support, the zoo relies in part on donations through the Oregon Zoo Foundation to undertake these and many other animal welfare, education and sustainability programs.
The zoo opens at 9 a.m. daily and is located five minutes from downtown Portland, just off Highway 26. The zoo is also accessible by MAX light rail line. Visitors who travel to the zoo via MAX receive $1.50 off zoo admission. Call TriMet Customer Service, 503-238-RIDE (7433), or visit www.trimet.org for fare and route information.
General zoo admission is $11.50 (ages 12-64), $10 for seniors (65 and up), $8.50 for children (ages 3-11) and free for those 2 and younger; 25 cents of the admission price helps fund regional conservation projects through the zoo's Future for Wildlife program. A parking fee of $4 per car is also required. Additional information is available at www.oregonzoo.org or by calling 503-226-1561.