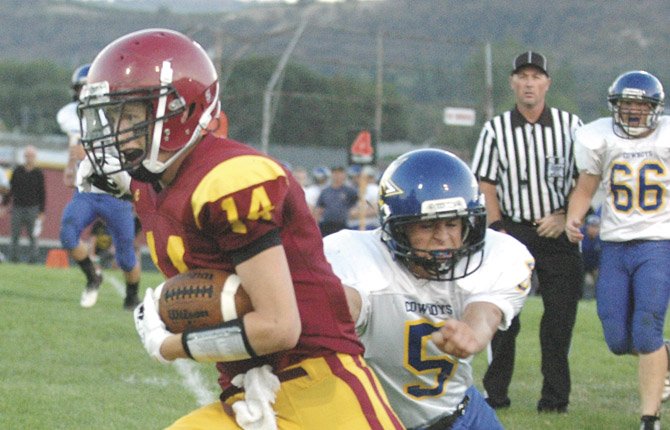 After doubling its win total from the previous two seasons last week in a 45-28 tussle versus Crook County, The Dalles Wahtonka has shown a little more pep in their step this week at practice.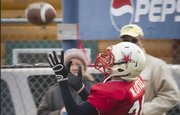 They will need that confidence in full force when they hit the gridiron at 7 p.m. Friday in Bend against the Summit Storm.
"It is a talented group, just they haven't had the success in the last couple of years. They didn't know how to win," said TDW head coach Steve Sugg. "Now, I think they are starting to believe and seeing all the hard work paying off. I think the monkey is getting off their back a little bit and now they can enjoy themselves a little bit. Winning is contagious and infectious, so we need to keep building and get better and better and put some more wins on the board."
Summit boasts an impressive coaching duo with former NFL players Drew Bledsoe at offensive coordinator and Kevin Boss as its offensive line and receivers coach.
So far, the Storm has used that experience to their advantage in posting a 2-1 record with victories over North Eugene and Klamath Union.
Last week in Klamath Falls, Summit's Tyler Mullen caught a 15-yard touchdown pass from Bransen Reynolds with 14 seconds left to beat the Pelicans by a 28-22 tally.
All told, Summit has scored 117 points in three games including a season-high 56 on Aug. 30 at North Eugene. It is definitely an uptick in production thus far after they scored 125 last year in nine games.
Wideouts Josh Cherry and Pat Leiphart are threats with their speed, Marc Hasenoehrl is a quick fullback option and Merritt Barber brings a shifty element from the backfield.
The Tribe defense has been a bend-but-not-break group, but has racked up eight sacks, three fumble recoveries, five interceptions and allowed 91 points.
Opponents have converted 9 of 34 third downs, and the secondary has held strong, only allowing 119.3 yards passing per matchup.
TDW's pass rush will get a boost with the return of all-league lineman Lio Tunai and Damion Morris makes his return to the lineup at linebacker.
Sugg is anticipating an air attack, so his defense needs to prepare for a tough offset I, single back group.
"Their offense is being coached by two former NFL players, so they are going to be well coached," Sugg said. "Defensively, we are really going to have to be on top of our game, especially our young kids. We are looking forward to the challenge."
Things could be interesting as both of these offense go toe-to-toe in Bend Friday. Summit's defense has given up 30 points a clip.
TDW averages 196 yards rushing, 171 yards passing, and 32.3 points a game.
Last week, TDW totaled 481 yards of offense, 257 on the ground, in its 45-28 win over Crook County last week in The Dalles.
Quarterback Chaise Shroll leads this group along with Austin Dehart, Austin Wilson, Devin Wilson, Blake Diede and Zach Nerdin.
The Tribe went 7 for 14 on third-down conversions, added a 5 for 6 split on fourth downs and closed out drives by going 5 for 5 in the red zone.
Much of the same offensive crispness needs to be displayed against Summit.
"We are looking at their scores in the last couple of weeks, they have been putting points on the board, but they have been giving up some points too," Sugg said. "Offensively, we are going to have to bring our 'A' game obviously."
Action starts at 7 p.m. Friday. Radio station 1440 AM KODL will broadcast the game.
Rebound-mode key for Sherman
The mark of a good team is how they respond to adversity.
Friday's Big Sky Conference football showdown between Echo and Sherman will test their rebound abilities in a major way.
Last week, Echo lost 60-14 to Powder Valley, and Sherman experienced a little hiccup with a 72-20 road setback versus Imbler.
"We have energy in practice, but it is because of the leadership amongst the players of this team," said head coach Todd Swan. "They do not accept anything but a positive, upbeat, energy-filled practice. Win or lose, I don't see this changing."
In their Imbler game, the host Panthers were able to exploit the ground and air for 574 yards, 317 rushing on 52 attempts, as speedy Joe Griffin had 135 yards receiving and 105 yards rushing and eight touchdowns, as the Panthers scored 66 first-half points.
While Echo may not have the high-caliber athlete of Griffin's ilk, they do have Ulissess Barrera and Devin Sather towing the rock.
Barrera leads the squad with 351 yards and six scores.
Once this season, Echo has scored as many as 50 points, but in two losses, they have scored a combined 14 points, once being shut out in a 32-0 decision in Crane on Aug. 30.
In their loss last week, the Cougars rushed 34 times for 94 yards and passed five times for nine yards.
"They basically bring two different styles to any given game," Swan said. "At times, they like to spread the formation and throw the ball around or they like to bring everything into what we refer to as a 'Base Formation' and run more of a traditional style of running base offense, very similar to ours."
The Husky defense has allowed 102 points on the season, so the ability is there.
In their two wins, Sherman's defense has allowed an average of 15 points.
"We have been working on making sure we all know our responsibilities on defense," Swan said. "Whether it is a basic power run, option series, or spread passing attack, we need to know what our role is supposed to be on defense."
Sherman's offense, led by Nick Coleman, Maverick Winslow, Blake and Brett Evans has scored 110 points, using a power run attack to wear teams down.
Against Imbler, Coleman had a rushing score, Winslow had a 57-yard touchdown catch and Blake Evans hit from 64 yards to account for the offense.
Swan will look to get those aspects going again.
"Offensively, we will look to improve on our running game, specifically the option," the coach said. "We were very sloppy this past week in terms of executing properly. We will stay true to who we are. It is an ongoing process of fine-tuning what we do and adding small tools to our tool belt as the year progresses."
Sherman went 5-1 in league play last year, and had a narrow escape early in 2012 with a 36-32 win over the Cougars.
"To be successful on Friday, we will need to be in position on defense, eliminate turnovers on offense, and maintain blocking assignments in our run game," Swan said. "If we can improve in those areas this week, we will feel confident about our progress."
No. 5 Dufur tries to stay unbeaten
The first three games of the year, although wildly successful, are long in the rearview mirror.
Now the No. 5 Dufur Rangers are sharpening up their claws for the grueling Big Sky conference, as they look for a repeat run at the league crown with an opening date at 7 p.m. Friday in Arlington.
Last year, Arlington struggled on both offense and defense, and in two losses to Triangle Lake and Dayville-Monument, those elements appear to be rearing its head once again, as the offense has scored 48 points, while defense has allowed 104 points (52 points in each game).
Last week, in a 52-34 shootout setback against Dayville-Monument, the Honkers gave up 425 yards, with the bulk of the damage done through the air (350 yards).
Dufur coach Jack Henderson is aware of threats Arlington poses on defense.
"Arlington does blitz and try to create problems at the line of scrimmage," the coach said. "They have guys that tackle well and are aggressive to the ball."
The Honkers will face a Dufur offense that is running on all cylinders so far.
Dufur has scored 184 points in three games, and last week they reeled off 501 yards, 234 yards passing in a 54-8 drubbing of Perrydale.
In that game, Nick Little had 167 yards on 12 carries, and all-state quarterback Cole Parke completed 8 of 15 passes for 234 yards and three scores.
Henderson liked the fact that multiple weapons came through.
"We will continue to develop our offensive attack and become more diverse," he said. As the season unfolds, we need to be able to take advantage of our opponents in multiple ways."
Arlington did put up some good yardage running the ball against Dayville-Monument, but trying to do so against a gritty Dufur defense is another task altogether.
The Ranger defense is playing lights-out, allowing a scant 26.6 points a contest.
In their 46-point romp last week, Dufur gave up less than 150 yards of offense to Perrydale and forced seven punts, four three-and-outs and two turnovers.
The Honkers like to bring a physical dimension to the mix, so line play and linebacker outputs are critical.
"Arlington is a multi-dimension offense that can hurt you with the run and pass," Henderson said. "They can pound it at you and spread you out with success."
Henderson discussed in detail that his team is doing a great job of coming to practice every day prepared.
He wants to see more consistency, so that the wins continue through the next two months.
"Being successful helps build the fire for sure that is needed to have success in November," the coach said.