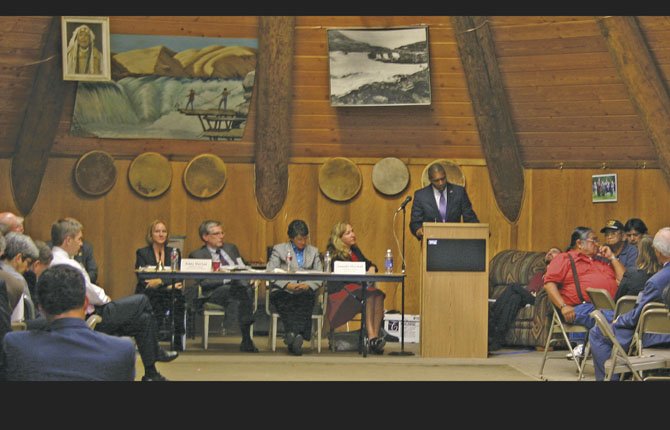 CELILO VILLAGE — U.S. Attorneys from around the nation met in Celilo Village to talk about the issues of Indian Country, in particular violence and Columbia River jurisdictional issues.
They were part of a three-day meeting of the Attorney General's Advisory Council Native American Issues Subcommittee. The other two days were based in Hood River.
U.S. Associate Attorney General Tony West and Assistant Attorney General for the Office of Justice Program Karol Mason joined the Celilo session.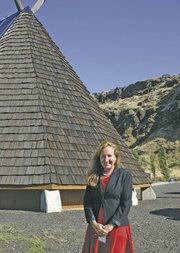 West spoke before tribal leaders from Oregon, Washington and Idaho on issues ranging from public safety to strengthening tribal sovereignty through implementation of the Tribal Law and Order Act and the Violence against Women Act amendments. He also announced the availability of $4.2 million in new grants for five Native American tribes in Oregon, designed to offer remedies to alcohol and substance abuse, and violence against women. The Confederated Tribes of the Warm Springs Reservation are among the recipients.
The meeting is the only Justice Department in-person advisory committee meeting held this year, said Amanda Marshall, U.S. Attorney for the District of Oregon. Though normally advisory committees meet annually, all others were cancelled in light of sequestration funding restrictions.
"It's a trust relationship with the tribes," Marshall said. "So we determined this was too important to cancel."
This committee is also the U.S. attorney general's oldest advisory committee. This is the first time it has met in Oregon, Marshall said.
"It's the most fantastic thing ever to bring people here to listen to the Northwest tribes," Marshall said. She is a longtime advocate for Indian rights.
Rights along the Columbia River are one of the most complex jurisdictional issues in Indian Country and the United States, Marshall said, and involve the longest continual federal litigation in Oregon, U.S. v. Oregon.
It includes issues ranging from access to salmon and treaty fishing rights to in-lieu and treaty site law enforcement jurisdiction.
"Oregon is a Public Law 280 state," Marshal said. The law outlines a "method whereby states may assume jurisdiction over reservation Indians." The law applies everywhere in the state except the Warm Springs Reservation and allows state police to provide law enforcement at tribal sites.
Washington relies on a legal decision in State v. Jim that gives the state no criminal jurisdiction on tribal sites. Ironically, an Oregon case with the same name reached the opposite conclusion. The differences affects not only police coverage, also coroner, medical examiner and district attorneys.
The confusion over jurisdiction and its impact on the tribes came into sharp focus several years ago when three Native Americans drowned on the river and the bodies of two members of the Yakama Nation lay in a fishing boat for three hours while authorities argued over jurisdiction, Marshall said.
"It's a real-life horror story that comes out of this confusion," she said.
The U.S. attorneys announced a proposed memorandum of understanding between the four treaty tribes that could clarify this issue. A panel discussion on the issue was held during the meeting.
"The U.S. attorney's office in Washington will have jurisdiction to prosecute cases on the Washington side of the river," Marshall said.
Thirty U.S. Attorneys from districts with Indian country or one or more federally recognized tribes serve on the advisory committee, which focuses exclusively on both criminal and civil issues in Indian country. It is responsible for making policy recommendations to the U.S. Attorney General regarding public safety and legal issues.
According to information from the Justice Department, the number of Indian country prosecutions in Oregon has increased significantly in the past two years due to partnerships between tribal and federal law enforcement officers. For example, in Warm Springs, a multi-disciplinary team of social workers, tribal prosecutors, tribal detectives, FBI agents and federal prosecutors meet monthly to review and evaluate ongoing child abuse investigations.
More information on Justice Department efforts to support implementation of the Violence Against Women Act is at www.justice.gov/tribal/vawa-tribal.html.