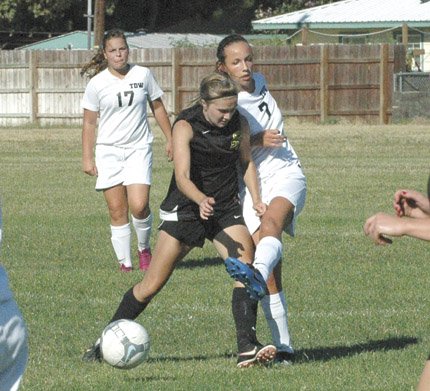 From start to finish, The Dalles Wahtonka played a fundamentally sound 80 minutes of soccer Thursday against 6A juggernaut Century.
After a scoreless first half, the Eagle Indians fell behind 1-0, but freshman Brook McCall scored the game-tying free kick goal at the 78-minute mark to help the Tribe notch a 1-1 tie Sept. 19 in a non-league girl's soccer match in The Dalles.
"The girls put out the effort," said TDW head coach Colby Tonn. "They worked for the 80 minutes. Rather than folding at the end, they were digging deep. Today, we had girls going out with bloody noses, but instead of sitting out, they got it taken care of and were ready to go back in. That is the attitude we need, not looking for excuses, but rather looking for any way to get the job done."
Midway through the second stanza, Cassidy Van Domelen made a cross pass to Trinity Cerna and she blasted a low drive past TDW goalkeeper Nayeli Lopez.
Both teams traded a few other chances over the next 20 minutes, until late in the match when a foul was called on a Century defender.
From 25 yards out, McCall booted a long drive that went over the head of Century's Sydney Fitch into the net.
Two minutes later, the whistle was blown ending the game.
"We got the last foul called, Brooke had a great shot and we had other chances too," Tonn said. "It was great to get the one, but at the same time, we know we could have gotten out of there with a win."
In recent history, Century has enjoyed success against TDW with a shutout win last year and a 4-0 victory in a jamboree match on Aug. 29.
This tie is something Yeli Garcia is hoping can help her squad be re-organized down the road.
"I think we should have played better because in the past, we have beaten them," Garcia said. "It does help us because we know what we need to work on to get ourselves to the next level. We know we can do better than this. We just have to learn from it."
With his team dealing with a few injuries, Tonn had to juggle his roster around to fit some players in certain spots.
Moments before the opening whistle, Tonn moved Ruthie Ford from goalkeeper to forward and Lopez back at keeper.
Blessed with top speed, Ford was able to apply pressure up front and Lopez posted eight saves, including three direct stops to help the team in a pinch.
Lopez also added to the Tribe's counter attack with her booming drop kicks.
"We are going to be getting other people back also, so this is going to make us deeper," Tonn said of the switch. "It will give us more options. Pretty soon, it is going to look like we have a wealth of riches up front. It is better than the other way around. We should be able to sustain that pressure."
While Ford was wreaking havoc up front, the Eagle Indian defense working in unison with Lopez limited scoring chances.
In three matches this year, the Tribe defensive unit has allowed one goal or less going 2-0-1 when that happens.
"I absolutely believe this is a great step for us. I have never seen any of these girls play as well as they did today," said Bri Stavaas-Jamack. "I am really happy with the effort on defense. We were applying pressure at all the right times, we were getting back whenever we needed to and we were doing everything good. I definitely feel that we came out on top tonight."
TDW (2-2-1) overall) next travels to Hillsboro for a match at 5 p.m. Tuesday. Tribe boys shut out by Century
The Dalles Wahtonka boy's soccer team watched their two-match streak without a loss go by the wayside after a 4-0 loss Thursday on the road against Century.
Senior forward Christian Garcia saw his five-match scoring streak go by the wayside, as TDW could not muster enough offensive punch to get a goal past the Jaguar defense.
Senior goalkeeper Bryan Sanchez had a handful of tough stops, but Century managed to capitalize on some quick passes to get past TDW's defense for goals.
"The boys played well, but we are struggling to stay focused for 80 minutes," said TDW head coach Luis Gamez.
TDW (1-3-2 overall) has the weekend off, but they will next host a tough Benson Tech team at 4 p.m. next Thursday.