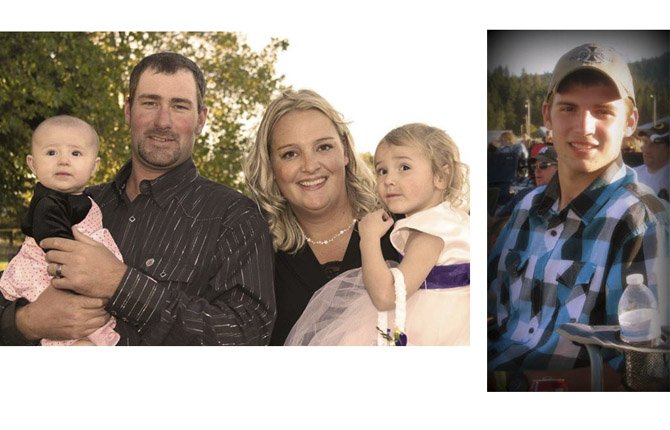 For the first time ever, the annual Pig Bowl, now in its 11th year, will benefit two families.
The fundraising flag football game between Oregon and Washington law enforcement teams is slated to begin at 7 p.m. Sept. 28 at Wahtonka field.
Recipient Donovon Doroski, 19, of Hood River has been battling Hodgkin's disease and will be spending the next four months in Seattle for a bone marrow transplant.
Kadee Herrington, a mother of two from Goldendale, lost her husband last April to a snowmobiling accident. She is out of work and contending with unsuccessful back surgery, while raising her two- and four-year-old girls alone.
The two were picked from a record 10 applicants, said event founder Michael Holloran, a senior trooper with the Oregon State Police. After a long, difficult meeting, the board ended up choosing one from Oregon and one from Washington. The proceeds will be split evenly between the two recipients.
The fundraiser operates by letting donors buy touchdowns for their favorite team. To buy an early touchdown, go to http://pigbowl.net/donate-here.php
Major donors so far from Washington are: Rural 7 Volunteer Firemen $650 (91pts) and Puget Sound Energy, Goldendale $500 (70pts).
Major Oregon donors so far are: John and Mandi Coats (In loving memory of Linda Shearer Erickson) $500 (70pts) and Mid Columbia Medical Center $500 (70pts).
Businesses and individuals that make donations get listed in the program and on the Pig Bowl website in gratitude for their support.
So far, 224 points have been purchased for Washington and 390 points for Oregon.
Doroski, a graduate of Hood River Valley High School, intends to get a degree in law enforcement and criminal justice.
"Back in November 2011, I was diagnosed with Stage 4 Hodgkin's lymphoma," he said in a statement on the Pig Bowl website. "It was such a shock, we didn't know what the disease was when the ER doctor gave us his diagnosis."
He went into a brief remission, but relapsed in September of that year. After two 72-hour rounds of chemo, he got an autologous stem cell transplant and spent 30 days at Providence Cancer Center.
In June 2013, a follow-up PET scan was done. A few days later his mom got the devastating news that the lymphoma was back near his lungs and abdomen. "I stood there looking at her as the tears on her and my own face were rolling down. I couldn't believe that this was happening to me again."
He began a targeted chemo again right away, getting treatments at the infusion center at Providence Hood River Memorial Hospital, where his mom and older sister work. It doesn't make him as sick as traditional chemo.
The plan now is to have a bone marrow transplant. His sister, Coralie, is a half match for him and will be donating bone marrow to him.
He'll be in Seattle for outpatient treatment for four months after spending a week in the hospital. His housing will cost $2,085 a month, but it offers a free shuttle to the hospital, which he will have to visit daily. His parents will be his caregivers since he'll need 24-hour care, meaning they'll need to take unpaid time off work.
"I know that they worry about medical bills, home bills, gas money to drive to Seattle, the cost of lodging and more. We do not know yet how we will manage it, but my parents reassure me that it will all work out."
His full story can be found at http://pigbowl.net/donovan-doroski.php
Kadee Herington tells on the Pig Bowl website about kissing her husband, Tom, goodbye on April 28 and telling him she loved him and to have fun snowmobiling with friends on Mt. Adams.
Later two law officers and her dad came to her door to tell her Tom was killed in an accident.
The Herringtons met July 5, 2008 and married exactly two years later.
"Tom provided us with a good life with lots of fun and laughter. We have two very beautiful and very young daughters."
They live on her parent's ranch in one of the old farm houses, and both girls enjoy riding horses.
"The girls are adjusting to our new life but it is going to take a long time before it feels like our new normal. We talk about their Dad often and he will always be watching over us and in our hearts."
Herrington is a preschool teacher, and had unsuccessful back surgery in July.
"At this point, the future of my back is uncertain and the bills are huge even with insurance. Now that I am a single mom, I am trying to make ends meet and I am so thankful for charities like the Pig Bowl."
Her story can be found online at http://pig
bowl.net/kadee-herrington.php
Holloran founded the event in 2003 when he wanted to raise money for a buddy who needed a bone marrow transplant. Someone suggested reviving the football games law enforcement used to have in the 1980s, and the Pig Bowl was born.
That first fundraiser generated $3,000 for his friend, who is doing well today. Now, the event raises more than $20,000 per year, a number that really increased once the Pig Bowl became a non-profit three years ago and donations became tax deductible.
"This has certainly grown into a pretty amazing thing," Holloran said. "God has really blessed us. We give him all the glory because we certainly couldn't have done it without his help."
The games were initially between police and employees at his buddy's work, Les Schwab, and the game was billed as cops vs. Schwabbers.
When the Pig Bowl decided to donate its annual proceeds to the family of a slain Washington law enforcement officer in 2007, the game shifted to a Washington vs. Oregon law enforcement lineup.
Nobody told the Washington officers that the idea was to fundraise by having people buy points during the game. Instead, they solicited a bunch of points before they even took the field "and they beat us really bad," Holloran said. The idea caught on, and now, most of the fundraising is done before the game, he said.
The games now routinely see each side make over 1,000 points.
The two teams also keep score of the real game of flag football being played, and this year, Oregon will have an FBI agent in its lineup, Holloran said. He's the spouse of an employee in the Hood River County district attorney's office.
All sales at the event also go to the recipients, Holloran said. Food is donated and sold, and pig noses sell for $2 each, and kids buy bracelets to play in a bouncy house. Kids can also pay $5 for the chance to snort like a pig over the PA system.
"We raise a lot of money just making pig noises," Holloran said. So much snorting goes on, he said, that game announcer Rod Runyon hardly has a chance to talk about action on the field.