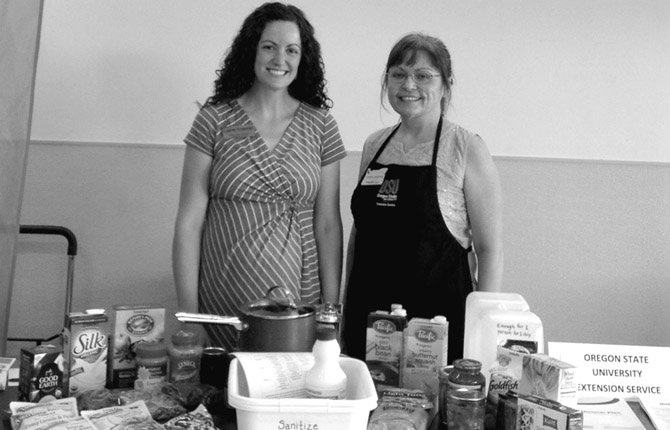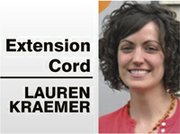 September is National Preparedness Month. Throughout the nation, various agencies like the American Red Cross, Extension Services, Federal Emergency Management Agency (FEMA), local fire departments and emergency medical services staff, churches and utility companies are partnering to sponsor "Get Ready" events.

These Saturday events are designed to highlight local resources available in communities to help residents prepare for and respond to emergencies and disasters in their region.
Our local OSU Extension Service was invited to participate in events this month to highlight ways that families can prepare for disasters in the Columbia River Gorge.

Being the healthy eating and food preservation advocate that I am, my take on disaster preparedness focused mostly on food. I'll be the first to admit that even I was dragging my feet preparing for disaster; sure we have lots of canned, dried, and frozen goods throughout our house, but none of it was packed up and ready in a single place in the event of a serious disaster or evacuation. I decided that if I was going to be hosting a booth on developing emergency food kits, I'd better have one myself—even if I had to make it before the night of the event.
I had always assumed preparing for disaster was a fairly painstaking and time-intensive practice. There are so many overwhelming lists of things you need to have packed up and ready to go at a moment's notice. Who really does that aside from "preppers" and "hoarders?" What I learned was actually pretty shocking. It took me one hour and $100 to prepare a food kit for my family. There was no excuse not to have a kit.

I chose to develop a three-day (or 72 hour) emergency food kit that fits nicely into a see-through tote that is now labeled "72 Emergency Food Kit." This corresponds to the American Red Cross recommendation to have a 3-day kit ready in the event of an evacuation. Most evacuation notices only happen in very serious circumstances — impending fire, flood, explosion, nuclear waste, tsunami, etc., so you don't have much time to get out. When you are stressed, it's easy to forget the water but remember the photo albums, or throw in the canned foods but not the can opener, or remember the dog food but not the copies of birth, marriage, and death certificates and other important documents. When you try to prioritize what you need out of your home for an unknown amount of time and you only have 15 minutes, it's easy to forget some really important stuff. Having at least your food ready in a single location and anything else you need to open it, prepare it, and eat it means you have a few extra minutes to grab some clothes, the photo albums, and the important documents.
So what's the first step? I made a simple menu with foods that I know our family would like and would be comforting in the event of disaster—oatmeal for breakfast, macaroni and cheese with tuna packets for lunch, pasta with marinara sauce and canned vegetables for dinner, and some snacks — even a bag of peanut M&Ms — one has to keep their spirits up after all! The key is to choose foods that you normally eat so that you can cycle new foods into your kit at least once a year.
You want things to be at least relatively fresh when you need them and also be somewhat nutrient dense. I chose whole grain pastas, low-sodium canned foods, and lots of dried fruits to snack on and add to oatmeal. The last thing you need in a disaster is digestive upset because you are suddenly eating MREs three times a day or other things not normally in your diet. The next step is to go shopping. As I mentioned, it took me about an hour to prepare the kit — 45 minutes at the grocery store and about 15 minutes at home to pack it all up into the tote. The next step is to store it someplace that will be easy to get to — for now, ours is in the basement so the foods won't freeze in the winter or get too hot in the summer. The ongoing step is to open it up every now and then, eat and replace the food so it is fresh, and update the kit as your family or needs change. Don't forget children, elderly parents or grandparents, long-term guests in your home, or pets that you may need to prepare for.

Here in the gorge, we have some type of disaster at least once a year. This summer Goldendale and The Dalles were affected by fires that required some of our neighbors to evacuate their homes. During the winter, it is not uncommon for I-84 to close or for some communities to lose power for extended periods. The geography and weather of our region, as well as its location, mean we are at risk for any number of potential disasters and history has shown that they'll happen at one point or another. Luckily, they don't affect every single household, but we're only as prepared as our neighbors. In serious emergencies, the households that are prepared are often times called on to support, willingly or unwillingly, those households that aren't prepared. So make a kit, tell your neighbors to make a kit, and be ready.
Here is my sample menu and shopping list to help you get started:
Menu Plan —
2 people for 3 days
Multiply as needed for additional family members or additional days:
Breakfast (for each day)
2 Oatmeal packets each with dried raisings, cranberries and walnuts
Lunch
Day 1 – one packet Lentils each with shared rice packet and applesauce
Day 2 – macaroni and cheese with one tuna or salmon packet per can and canned green beans
Day 3 – butternut squash soup and applesauce
Dinner
Day 1 – box whole wheat pasta, one jar marinara sauce, add canned mixed veggies
Day 2 – black bean soup and applesauce
Day 3 – half bag or box whole wheat pasta, one jar marinara sauce, add can mixed veggies
Snacks
Day 1 – granola bars, goldfish, Wheat Thins with peanut butter
Day 2 – peanut M&Ms, granola bars
Day 3 – trail mix, goldfish
Check these out:
• Get Ready Event in The Dalles, Saturday, Sept. 28. noon to 4 p.m., Water's Edge 551 Lonepine Blvd., The Dalles
• Helpful resources on building a kit & preparing for disaster:
http://www.ready.gov/ Federal Emergency Management Agency
http://www.redcross.org/prepare American Red Cross
http://eden.lsu.edu Extension Disaster Education Network
Lauren M. Kraemer, MPH, is Extension Family and Community Health faculty for Oregon State University/Wasco and Hood River County Extension.